3. M33 SS DAGGER DOUBLE MARKED EICKHORN
EXCELLENT PLUS SS M33 DAGGER WITH NEAR MINT DOUBLE MARKED RZM 941
EICKHORN 35 TO 41 TM BLADE. SCABBARD IS THE PAINTED TYPE WITH 98%
ORIGINAL PAINT. HILT HAS PLATED FITTINGS THAT ARE VERY NICE FOR THE
TYPE AND GRIP HAS A NICE ENAMEL SS BUTTON AND SILVER EAGLE. WOOD GRIP
SHOWS SOME ROUGHNESS NEXT TO LOWER CROSSGUARD WHICH I NORMAL ON THESE
RZM PIECES. VERY HARD TO FIND SS M33 TYPE AND PRICED AT $2995 PLUS $25
SHIPPING STATESIDE
4. POSTSCHUTZ LEADER'S DAGGER BY WEYERSBRG
HERE IS ONE OF THE RARE THIRD REICH ISSUE DAGGERS; THE POSTSCHUTZ
LEADER'S DAGGER. IN VERY GOOD CONDITION IT HAS A NICK FREE BLADE IN
VERY GOOD POLISH BY PAUL WEYERSBERG. NICKEL PLATED FITTINGS WITH LOWER
CROSSGUARD MARKED DRP WITH ISSUE NUMBER 1355 AND NICE ENAMEL SWASTIKAS.
NICKEL SILVER CHAIN WITH USUAL DRGM MARKED CLIP. SCABBARD PAINT RATES
APPROXIMATELY 70% ORIGINAL BLACK AND SHOWS PERIOD WEAR, BUT NO DENTS.
BLACK WOODEN GRIP HAS SOME MINOR SMALL CHIP NEXT TO CROSSGUARD THAT
WOULD BE COVERED BY PORTEPEE AND POSTSCHUTZ GRIP INSIGNIA IS IN PLACE.
PRICE IS $3450 PLUS $35 STATESIDE SHIPPING
2. M33 SS DAGGER BY RZM 807/36
ALL TOO OFTEN THESE 807 MARKED DAGGERS ARE REPRODUCTIONS, BUT
HERE IS YOUR CHANCE TO ADD AN ORIGINAL ONE IN SUPER CONDITION TO ADD TO
YOUR COLLECTION. BEAUTIFUL BLADE IN EXCELLENT PLUS TO NEAR MINT
CONDITION WITH NICE CROSS GRAIN FINISH. TRADEMARK IS CLOSE TO THE LOWER
CROSSGUARD AS IT SHOULD BE. NICKEL SILVER FITTINGS AND GRIP IS VERY
NICE WITH NICE ENAMEL SS BUTTON. BLACK PAINTED SCABBARD IS CLOSE TO
100% ORIGINAL PAINT AND NO BAD DINGS OR DENTS. PRICE IS $3250 PLUS $25
SHIPPING STATESIDE.
5. GERMAN POLICE SWORD WITH SILVER & BLACK SWORD KNOT BY LUNEESCHLOSS
This beautiful sword is in super condition with the scarce plated blade in near mint condition, nice plated hilt with dark copper colored police eagle wreath and swastika and chip free grip with silver wire wrap. Wonderful black striped silver bullion sword knot. Has leather washer and dent free scabbard with 96% original paint and nice bright silver fittings. If you have always wanted a nice police sword, this is the one for you. Price is 1750.00 plus shipping.
6. LUFTWAFFE SWORD WITH SILVER FITTINGS AND HANGER BY WEYERSBERG.
Excellent condition with silver plated fittings and nice leather with the original leather moon shaped hanger sewn in place to the two rings on scabbard (many times missing). Waffen Amt marked bright Weyersberg plated blade with no sharpening or nicks, but a minor ripple to the intact tip. Brass swastika discs and nice wire wrapped grip. Just a nice, used Luftwaffe Sword with hanger and priced at $1350.00 plus shipping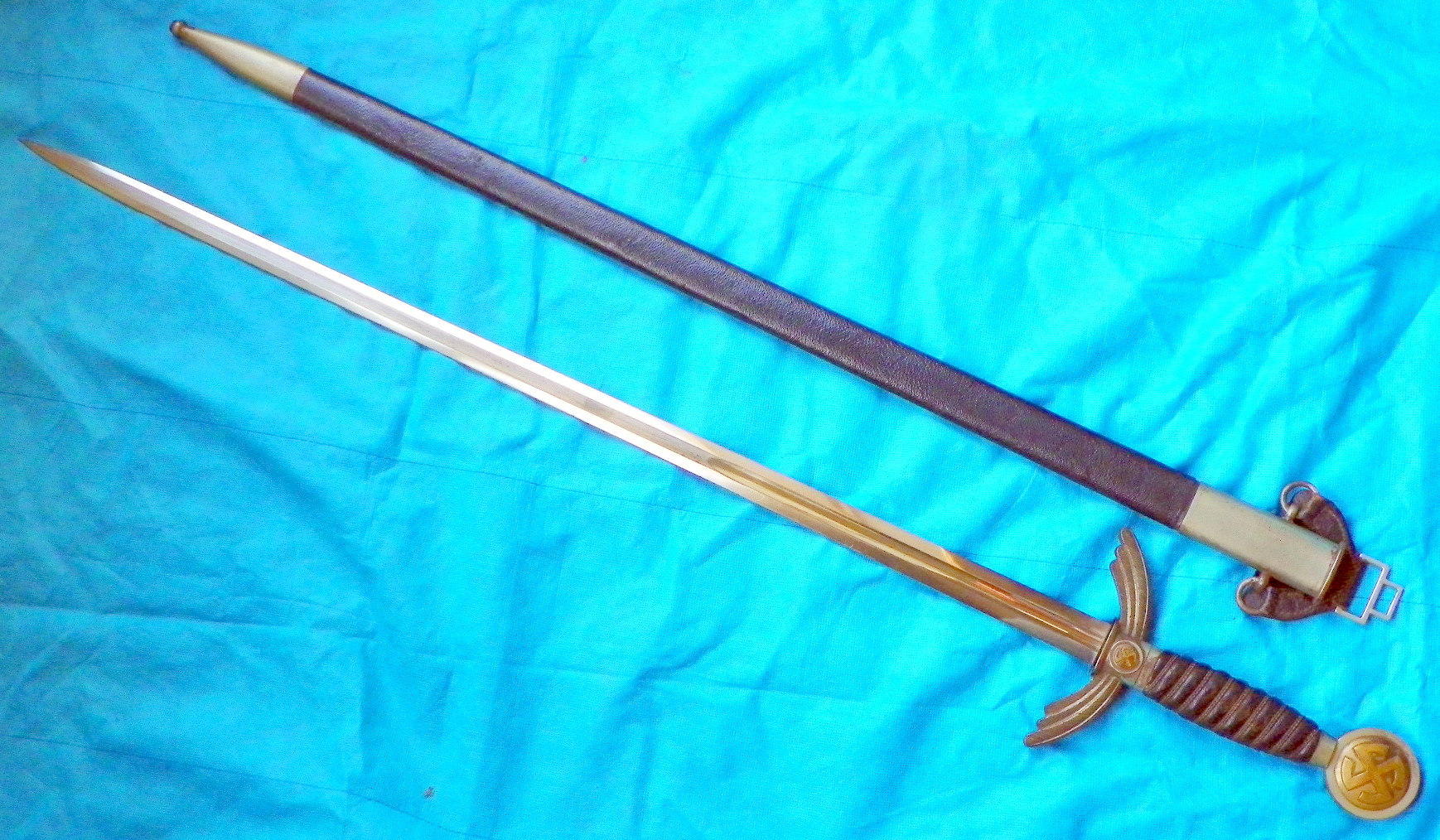 1. Rare Manufacturer Karl Tiegel excellent plus blade. Nice Grip with
aluminum eagle and swastika and enamel SS Button is excellent with no
cracks, but has a couple of dings (see photos). Plated fittings are
excellent and dent free scabbard has 96% original black paint. Rare
maker and price is $2995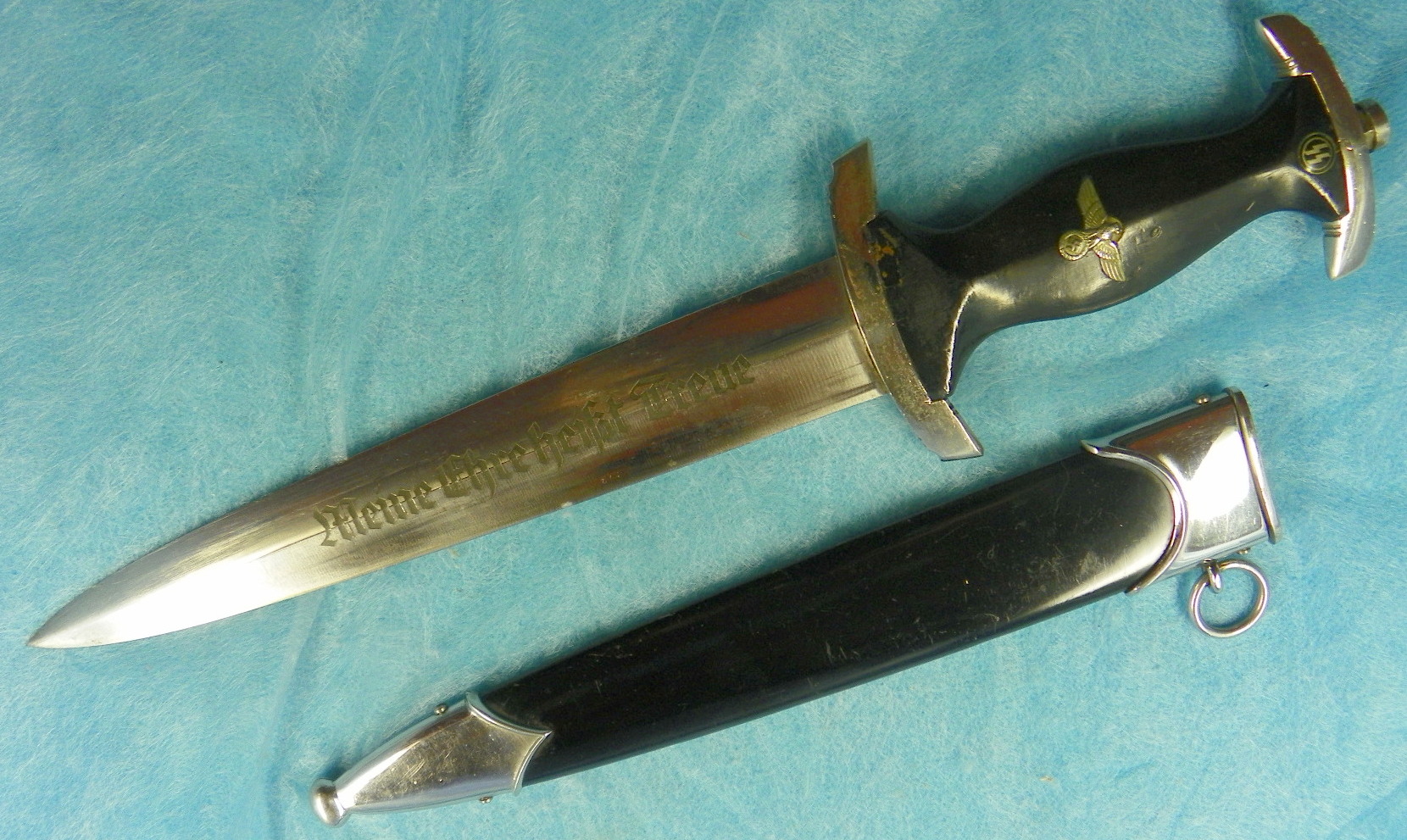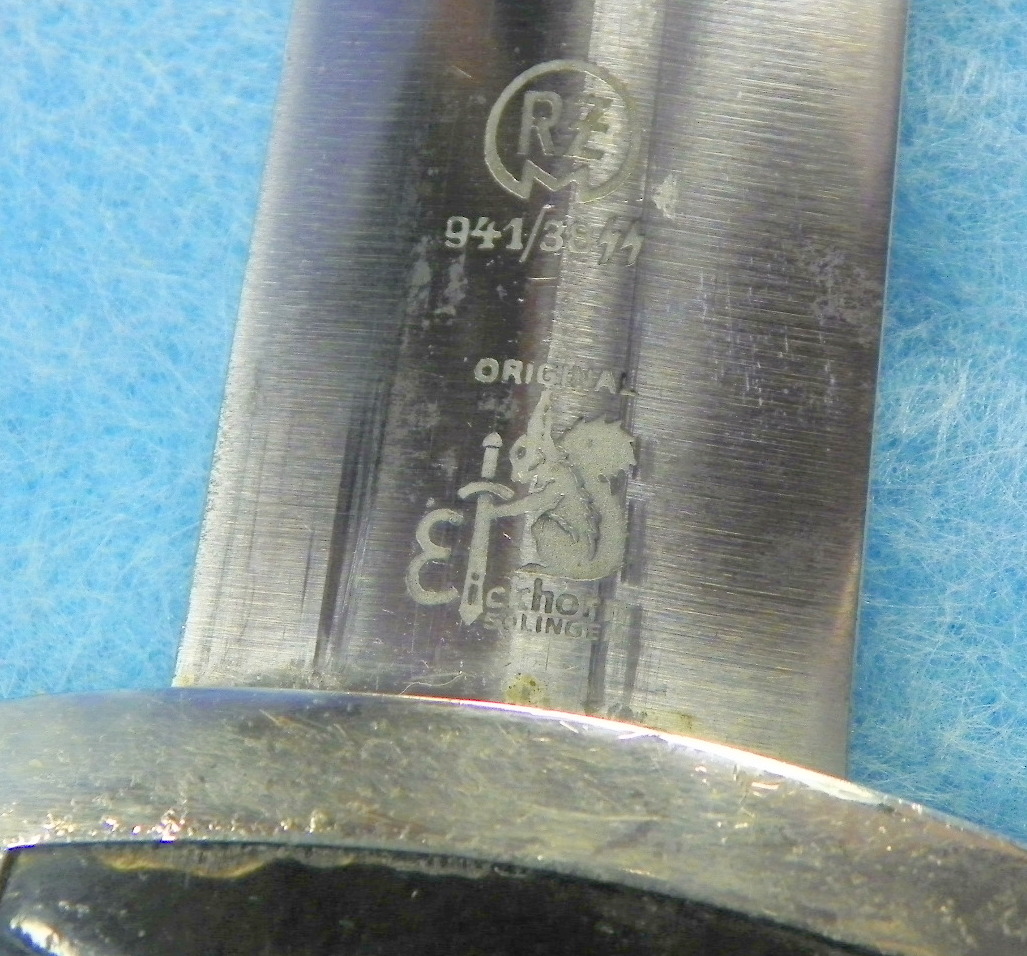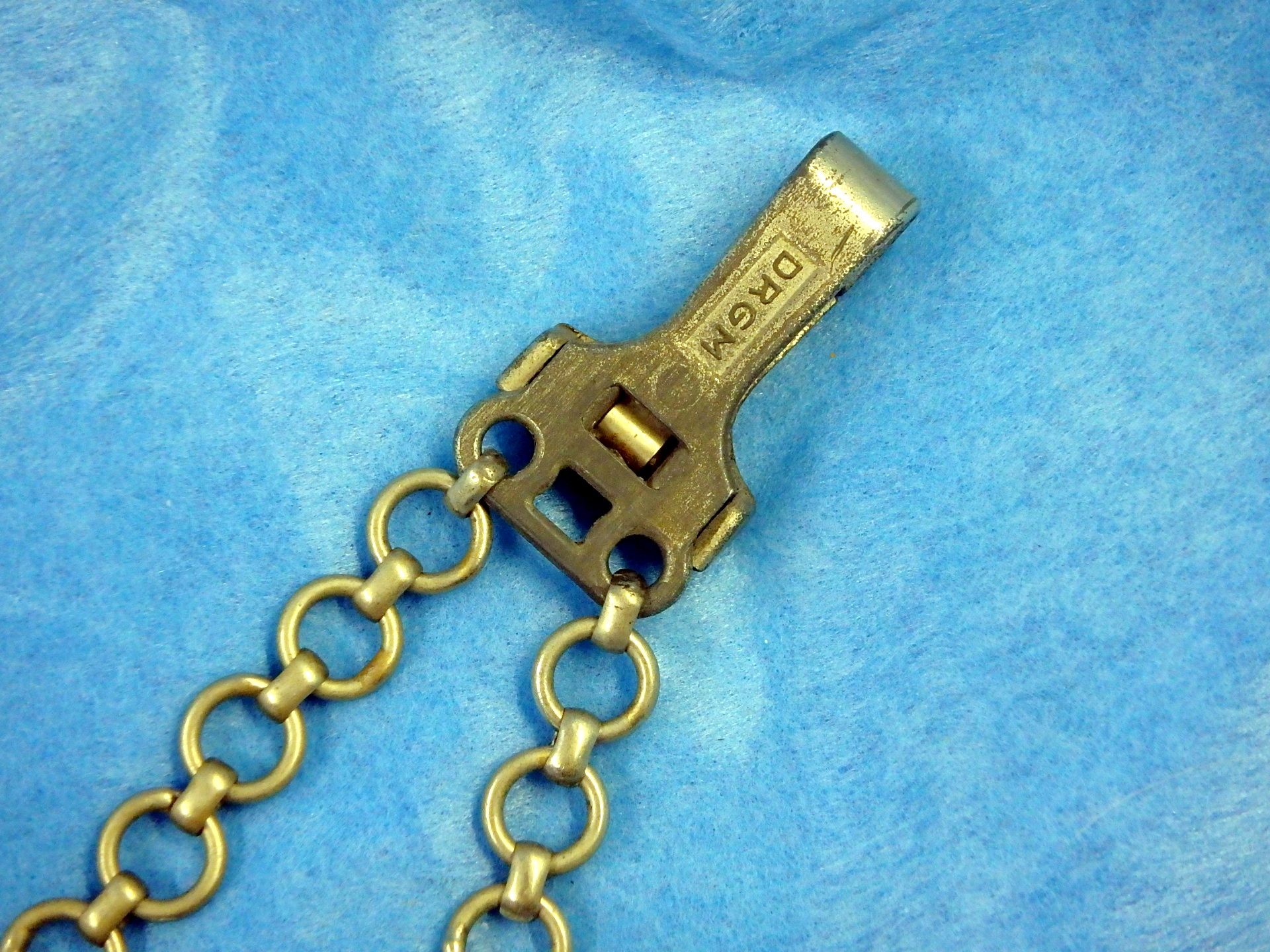 7. CHOICE NEAR MINT TO MINT TeNo HEWER #3241 MATCHING. Just a beauty with
frosty blade (no sharpening or nicks) with etched Eickhorn Trademark,
TeNo Eagle and etched Serial Number under the crossguard. Hilt has near
ALL plating with only a very minor pin head size flake to the backside
of the eagle head and the front strap between the grip plates.
Wonderful darkening to the TeNo Eagle crossguard and Cog Wheel at the
top. Scabbard is dent free and 99% original black paint. They just
don't come any better than this one. Price is $4495 plus shipping.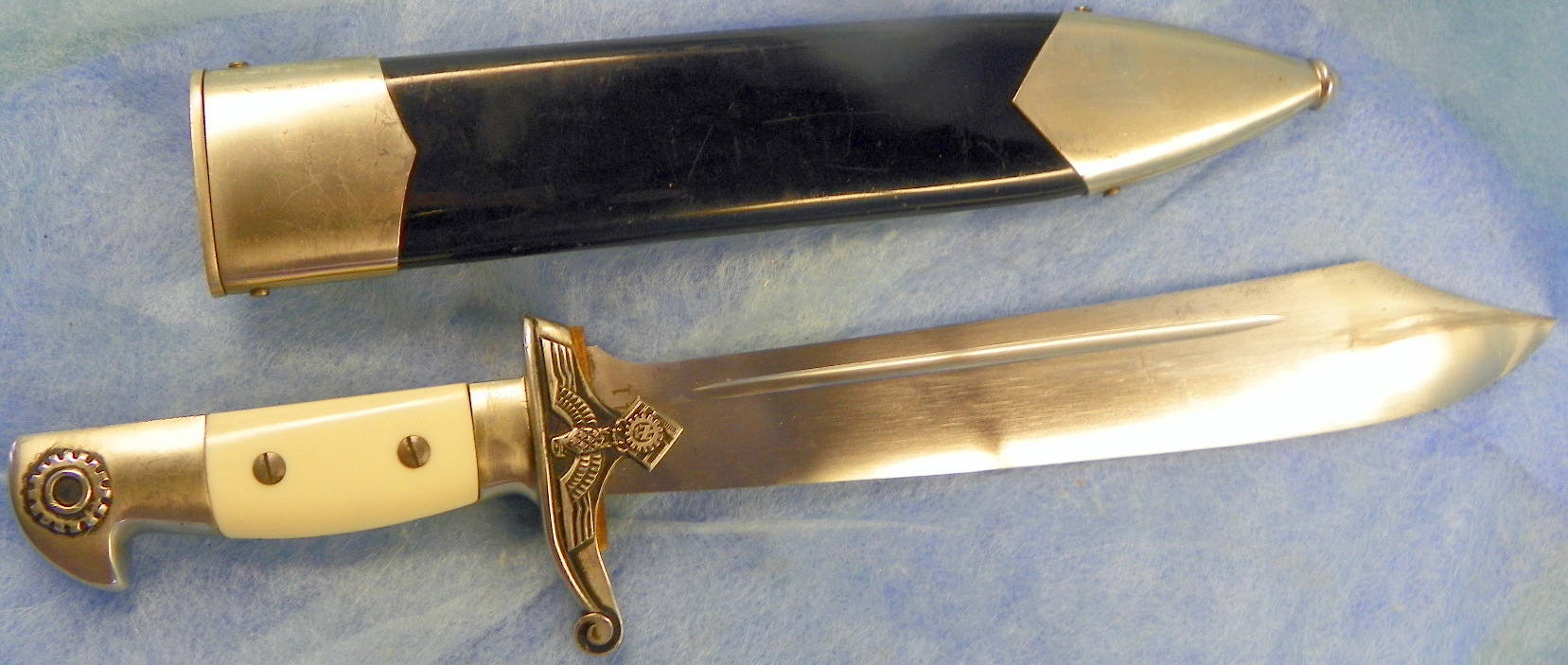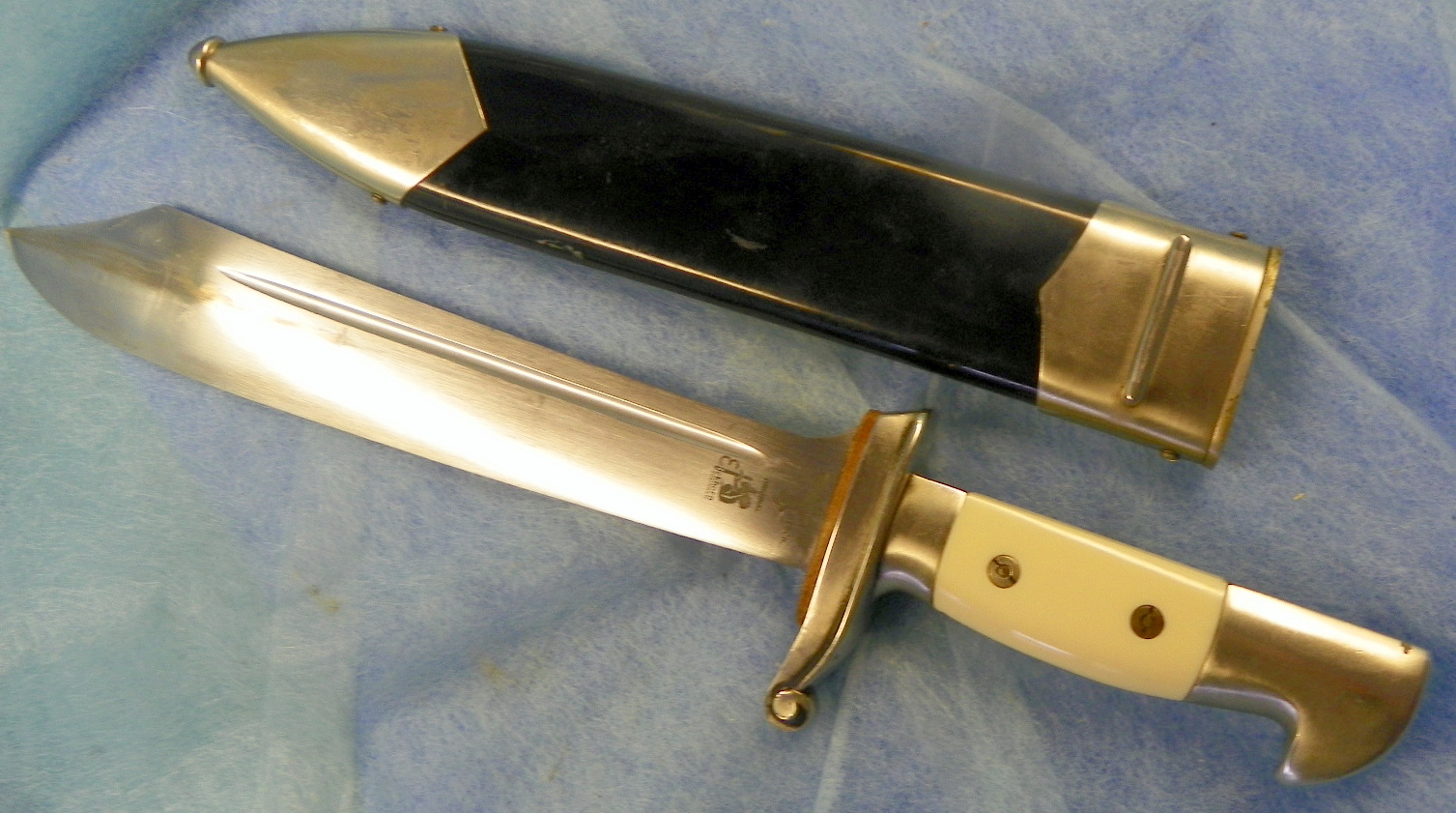 8. DLV FLYER'S KNIFE BY GEBR. HELLER (THE BALLOON MAN).
Nice blade in near mint condition with nice cross grain polish and no
sharpening or nicks and large Balloon Man Heller trademark. Heavy
silver fittings with great patina and K stamped on end of crossguard
with perfect enamel in swastikas. Sky Blue Leather grip and scabbard
that has not been shoe polished to a dark blue like so many on the
market today and is all original finish and no missing pieces. Dent
free scabbard has tarnishing silver fittings and ball is intact on lower
fitting. Scabbard Throat has DLV Winged Insignia stamp. Nice Brown
Leather Hanger with nickel silver clip and proper oval connecting
plate. As nice as you will find today. Price is $1795 plus shipping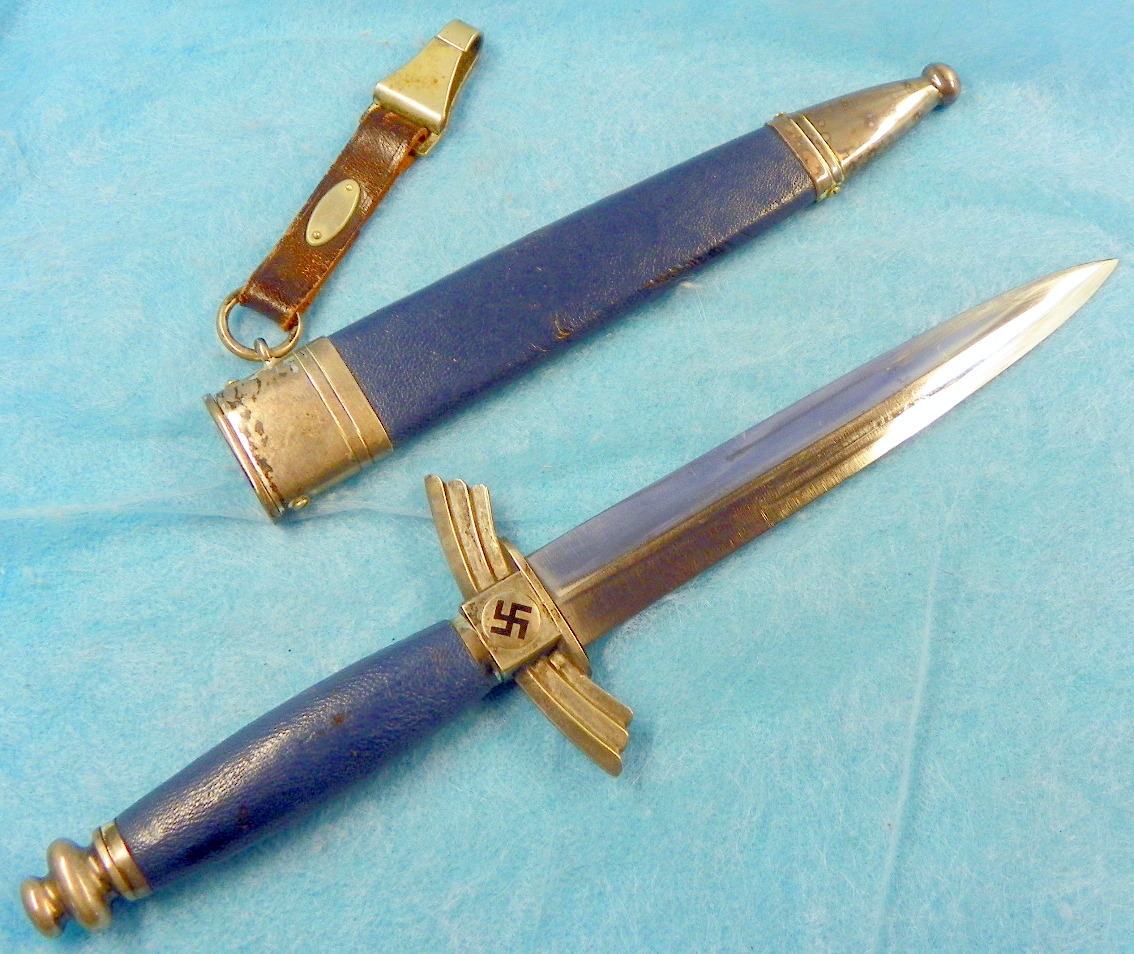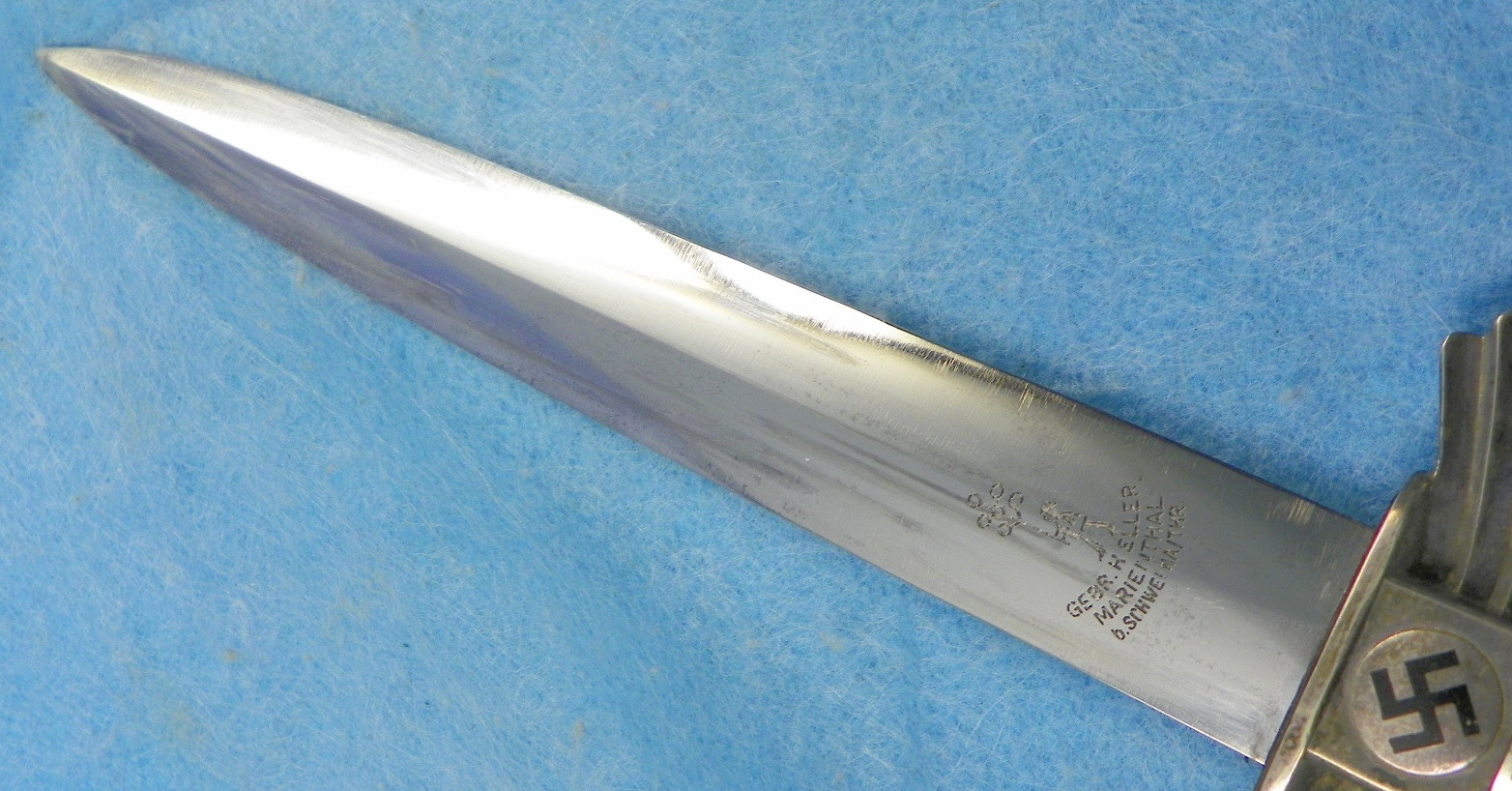 9. TRANSITIONAL NSKK DAGGER BY M7/11 1939 E. KNECHT & CO. SOLINGEN
Choice near mint Blade with beautiful cross grain polish and double
trademark M7/11 and back to back Deer's Heads with date 1939. No nicks
r sharpening to edges. Wonderful plated Crossguards with almost NO
bubbling and only a spot to the lower reverse guard center next to the
wood grip. Lacquered Grip is nice with nickel silver eagle and nice
enamel SA Button. 99% Original Black Painted Scabbard is dent free and
plated fittings show only a couple of minor bubbling spots to places
where a leather hanger sat in contact over the years that has been since
removed. Lower fitting ball is intact and dent free. $945 plus shipping.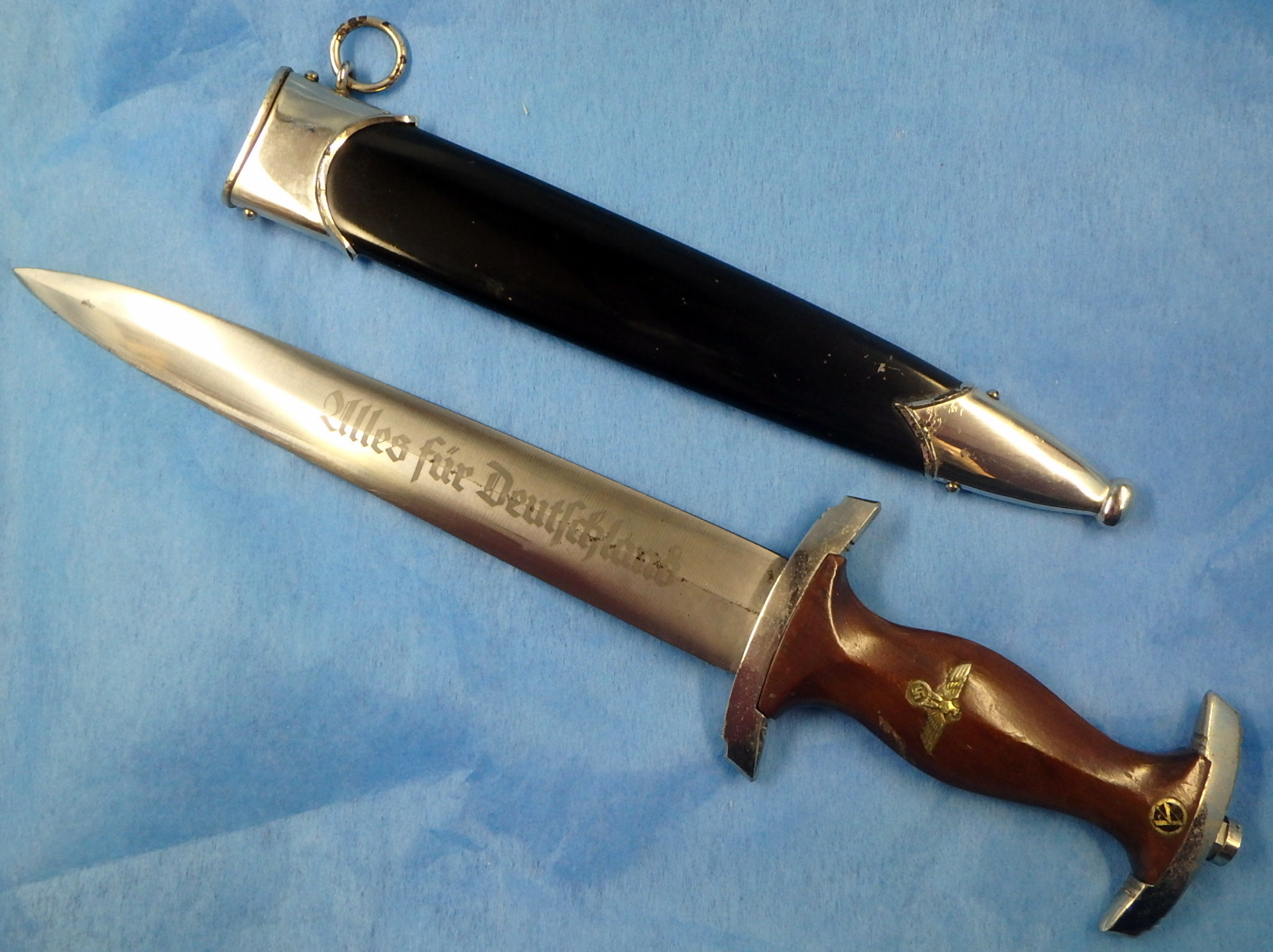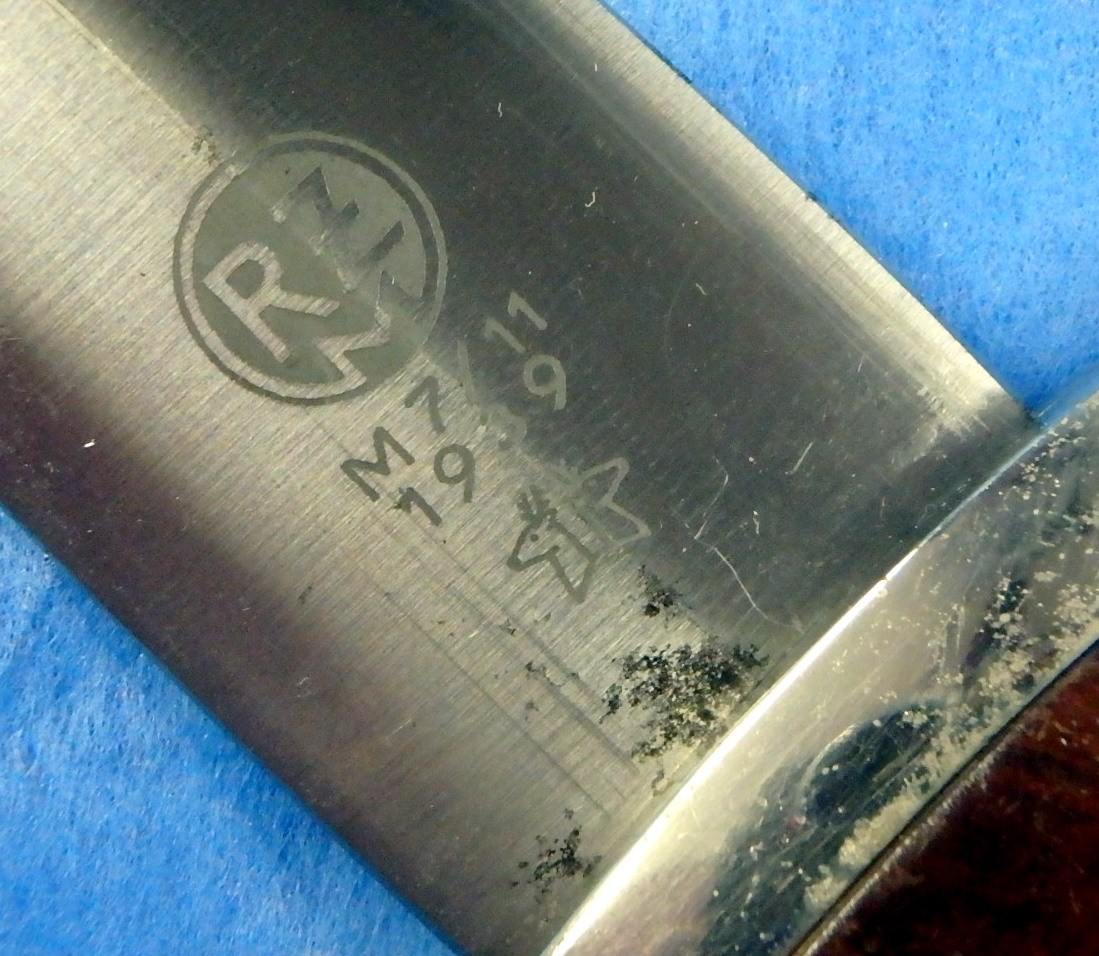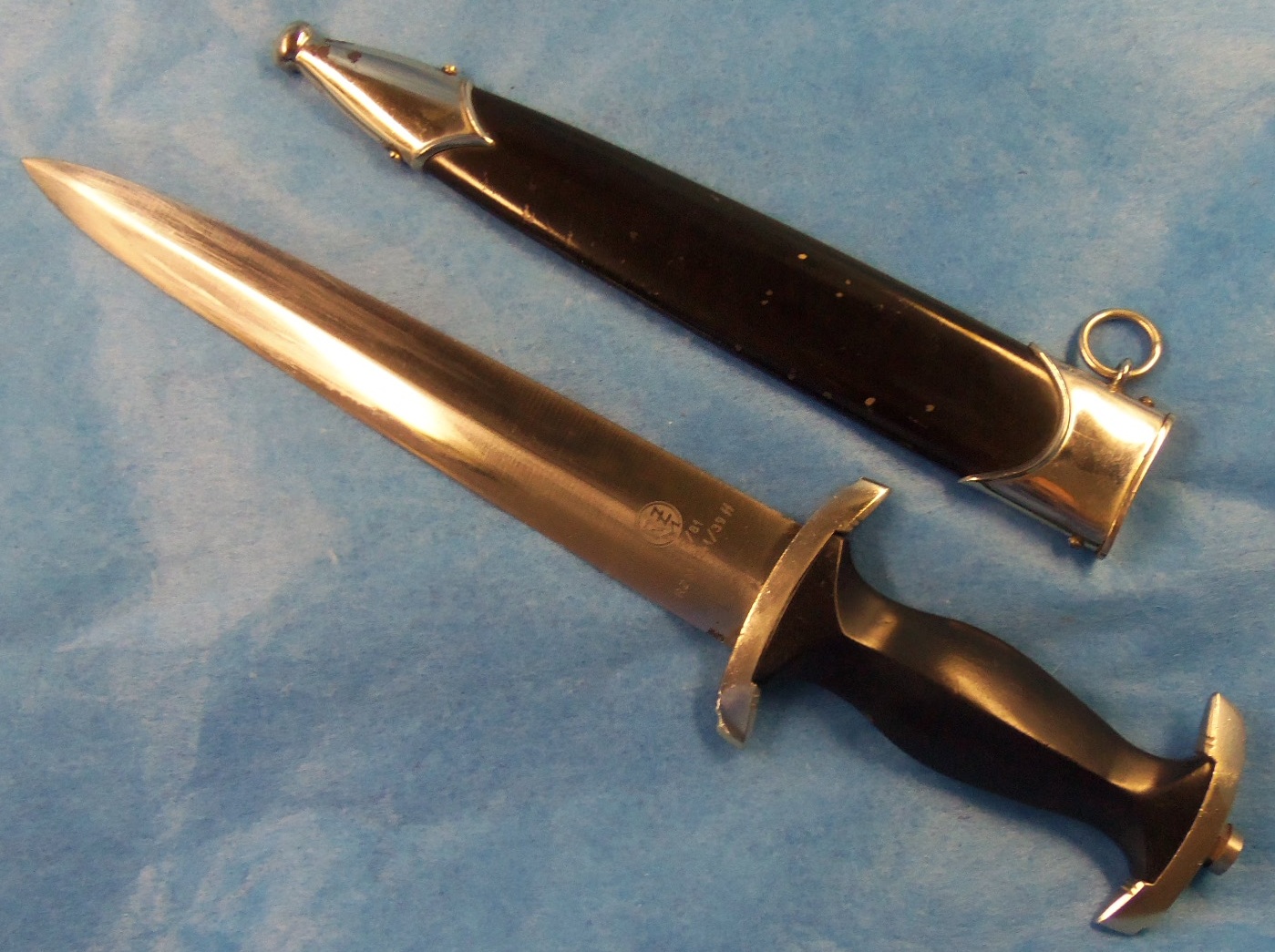 10. RED CROSS (DRK) HEWER IN EXCELLENT CONDITION. Blade has nice
cross grain and only has a few dark spots mainly on the back side near
the hilt. Hilt has chip and crack free grip plates and nice hilt
fittings and no plating loss to any degree. Scabbard has 95% original
black paint with one minor depression to the reverse lower center about
the size of a nickel. Appears to have been manufactured by P.D.
Luneschloss. Prices is $725 plus shipping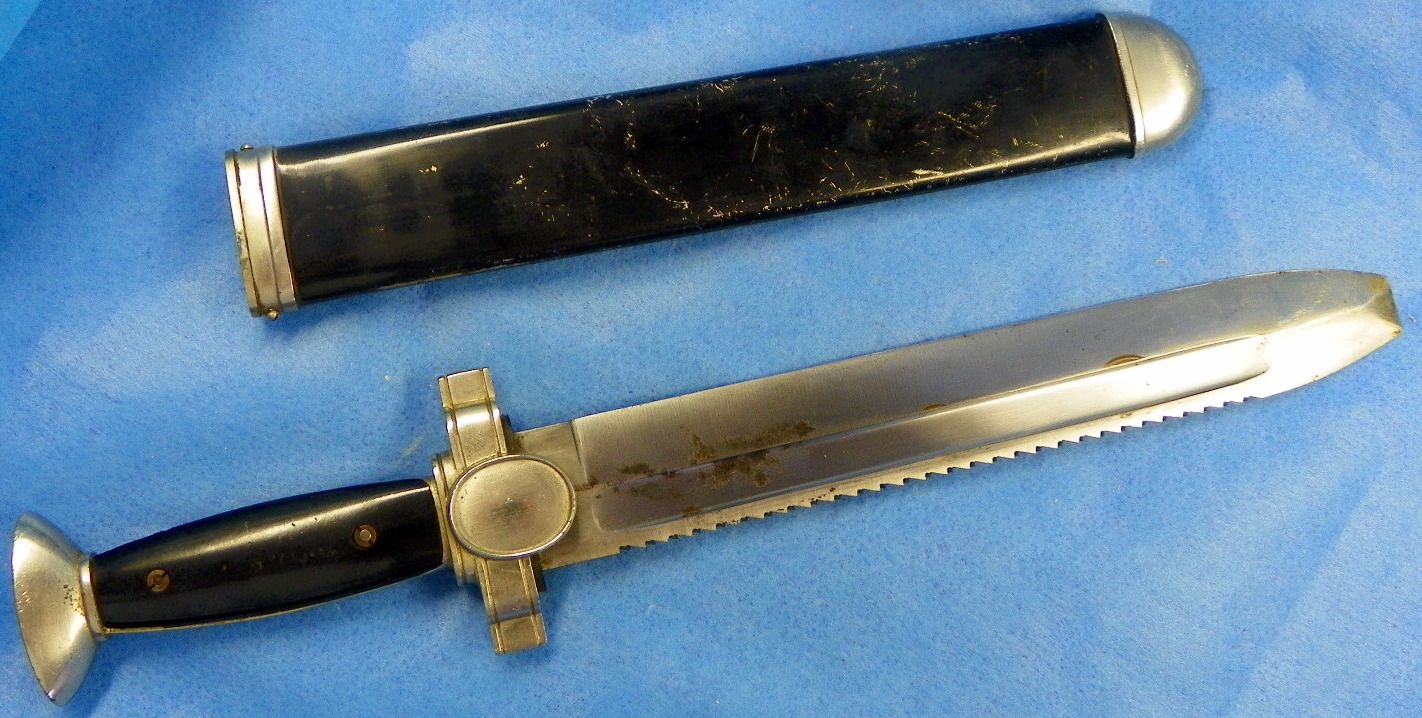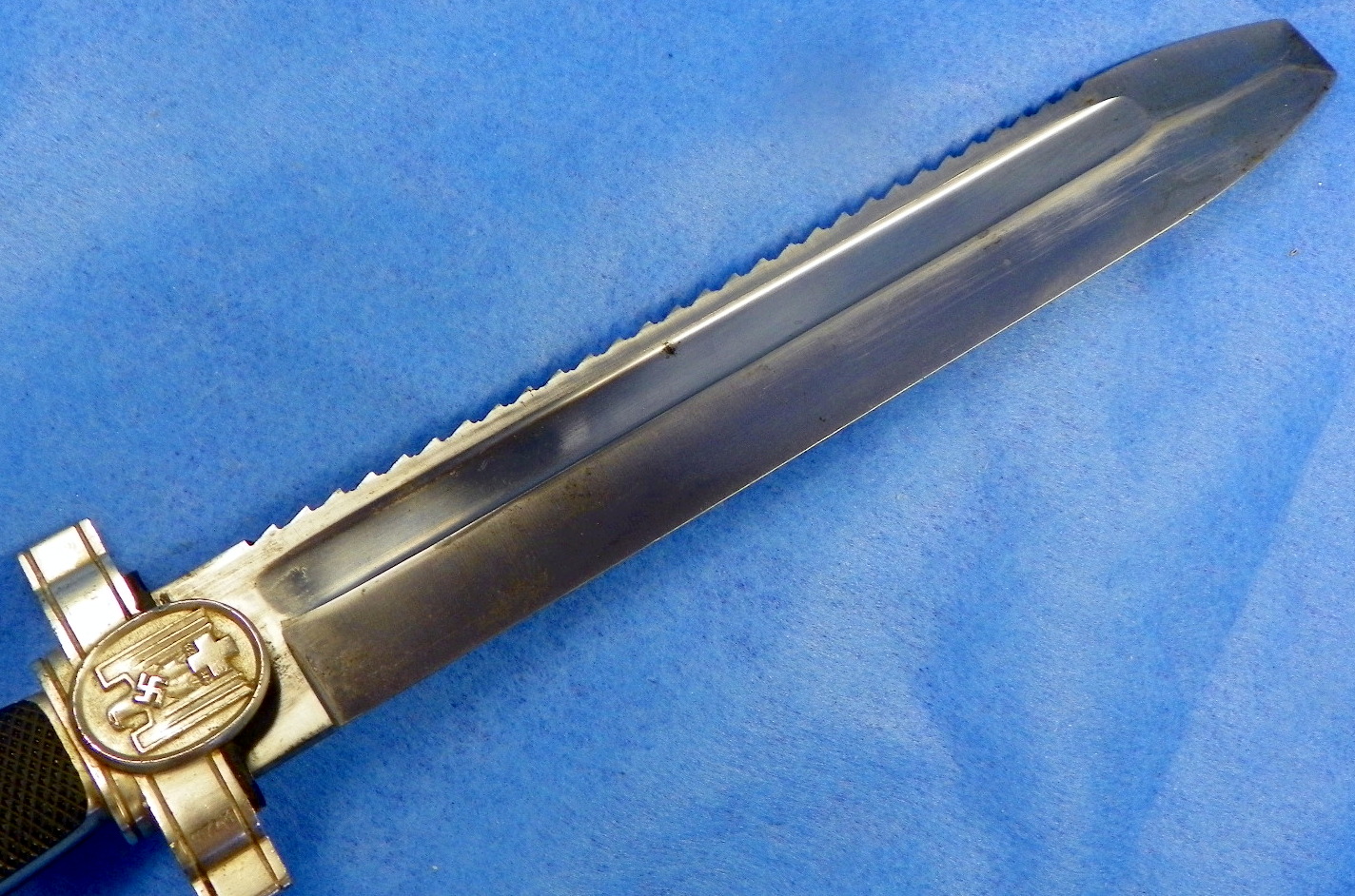 11. PRESENTATION SA DAGGER WITH OLYMPIC 1936 INSCRIPTION 1936 BY BONTGEN & SABIN
EXCELLENT CONDITION SA DAGGER WITH EXCELLENT BLADE WITH FACTORY ETCHED PRESENTATION:
In kameradschaft von den deutschen SA kameraden Olympia
1936. Rare to find with scarce manufacturer and scabbard has some
original lacquer and is dent free with lower fitting ball intact.
Nickel silver fittings and light brown grip has one small chip to
reverse edge by lower crossguard Nrh Gau mark. Price is $1950 plus shipping
12. GERMAN SOCIAL WELFARE OFFICIAL'S DAGGER
More scarce than the RED CROSS OFFICER"S DAGGER, this Social Welfare
Official Dagger is in excellent condition. Blade has no nicks or
sharpening and surface shows very minor shadowing and still has cross
grain polish and no major damage. Nice hilt with no major damage to top
nut's grooves. Excellent deep yellow crack and chip free grip and had
nice leather blade washer. Scabbard has one very shallow dent to lower
section and corresponding shallow dent to reverse with a few small dark
spots above the dent (see photos). NOTE To enlarge photos, right click
on photo and choose view image. This dagger has not been over polished
and still retains typical dull silver original finish that is missing
from most. Price is $1375 plus shipping.