GERMAN NCO POLICE SWORD BY HERMANN RATH
Exceptional condition German NCO Police Sword by the desirable manufacturer Hermann Rath. Satin finished blade is choice near mint and shows almost no wear or problems and has the stamped Rath trademark on the ricasso. Beautiful hilt with wonderful Police Eagle, Wreath and Swastika showing almost no wear or damage (unusual) and bright finish. I have never seen one this clean. Great scabbard and original paint, just an exceptional beauty. If you have been waiting for just the right one, this is it. Price is $1295.00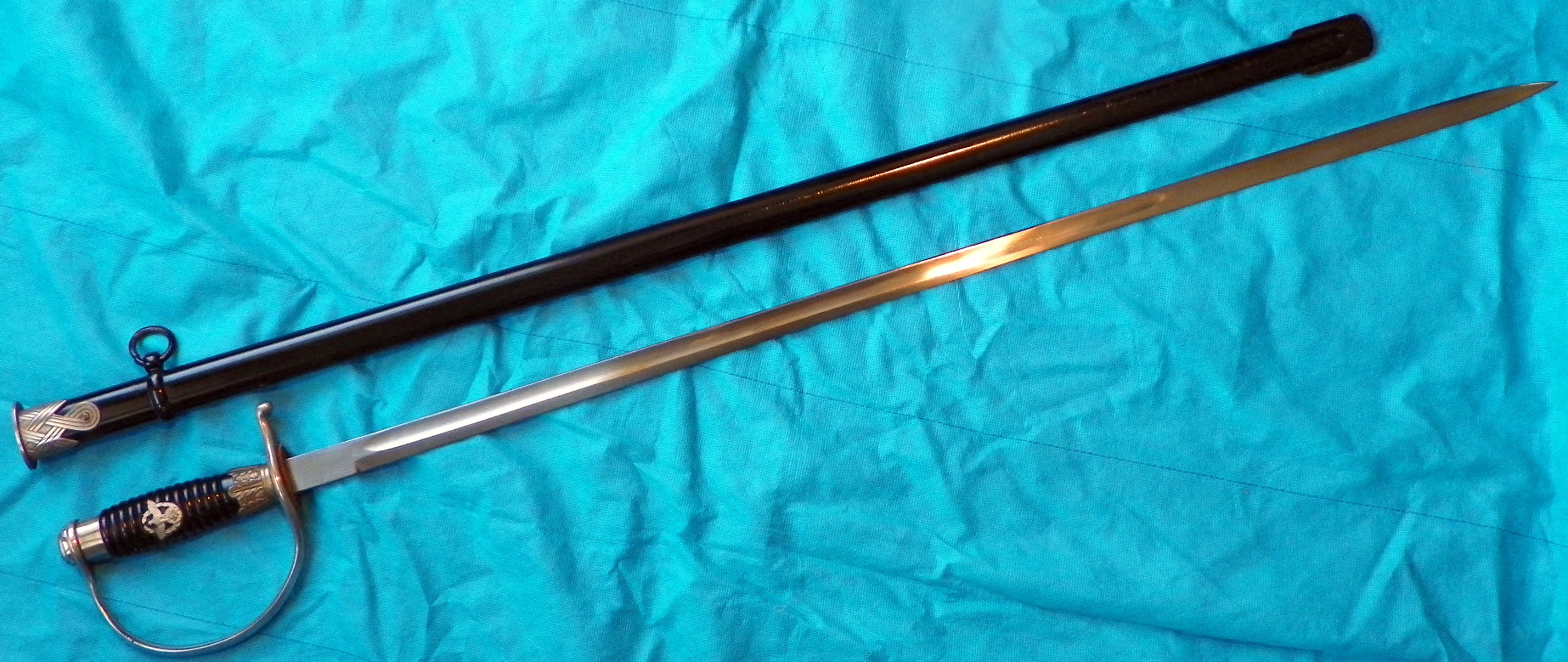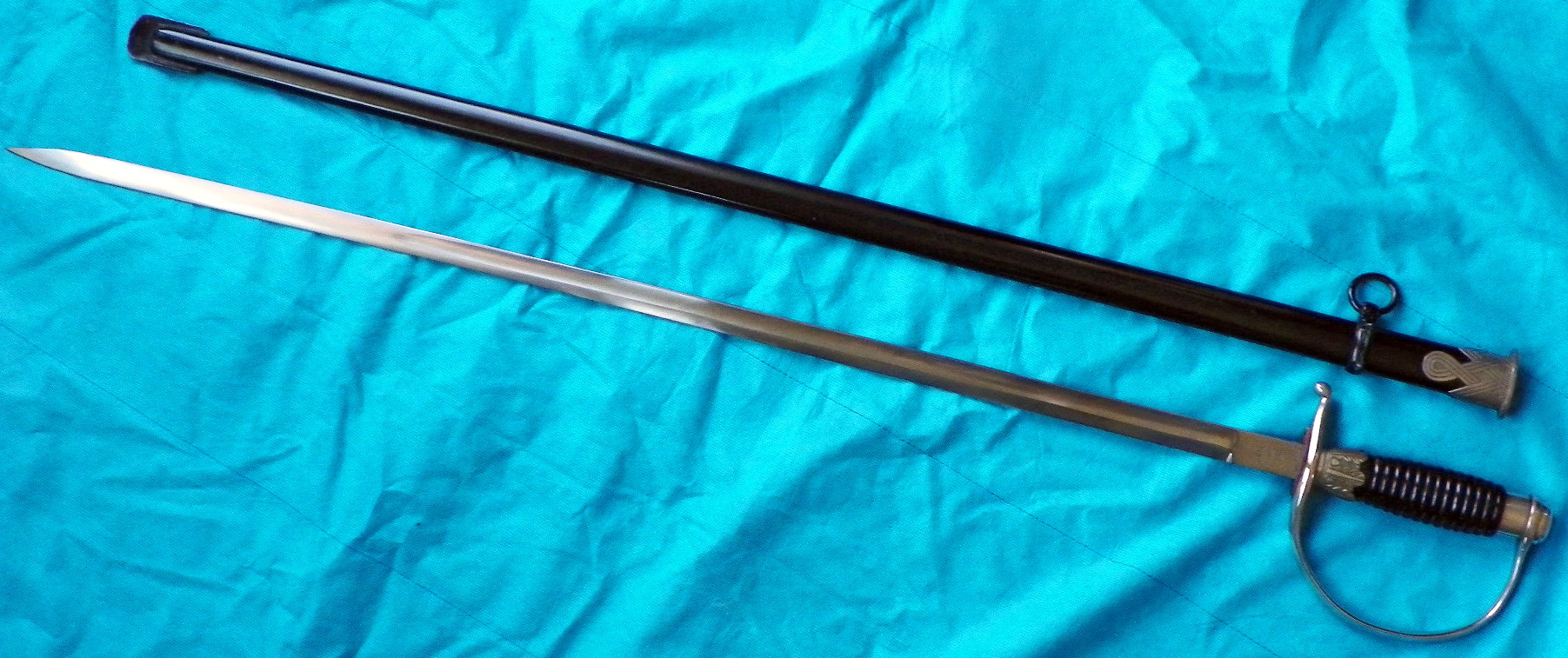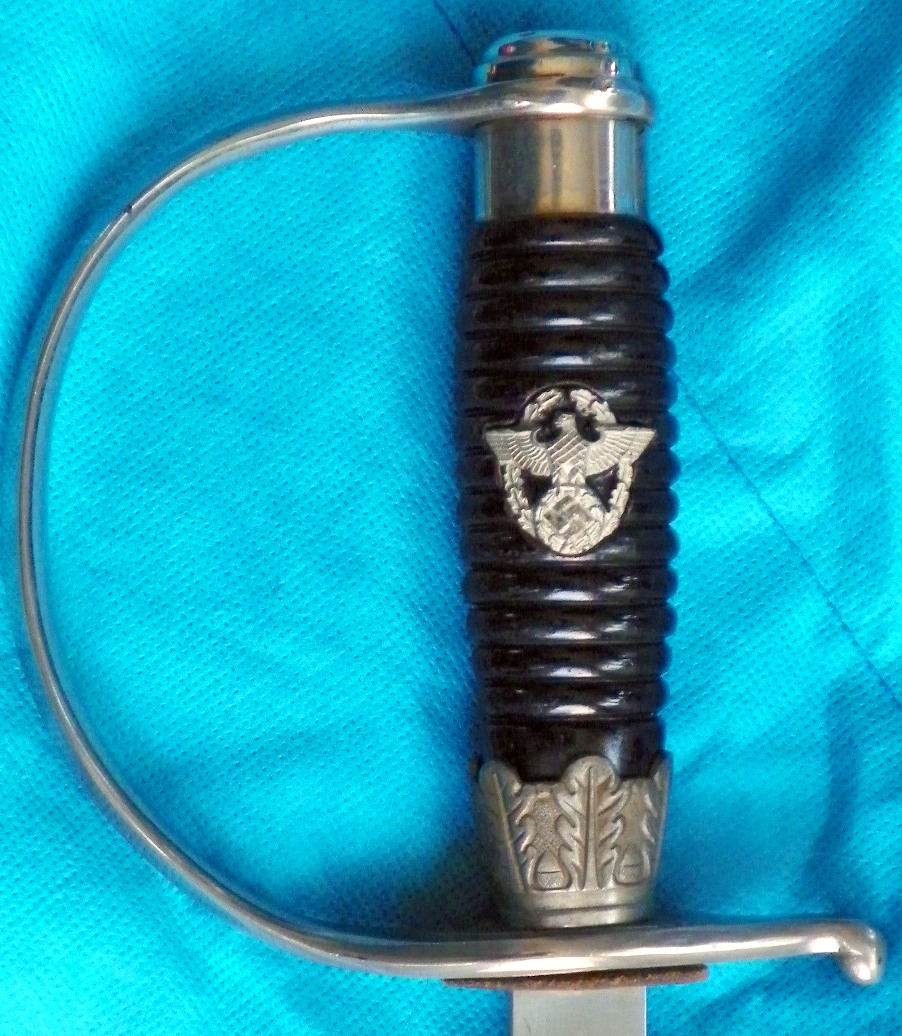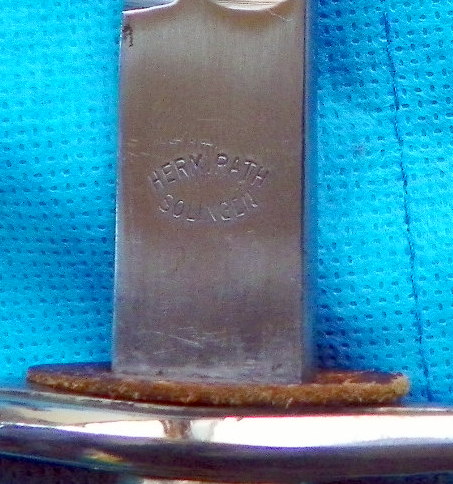 2. LUFTWAFFE DAGGER BY PUMA (SCARCE MAKER)
Nice 2nd Luftwaffe Dagger by the scarce maker: PUMA. Blade grades near mint with famous Puma Cat Head
2nd MODEL LUFTW
Trademark. Beautiful crack and chip free orange wire wrapped grip and grey aluminum fittings with traces of dark finish toned gold on swastikas. Dull finished grey scabbard that is dent free and shows light wear. Blade has very small monogram scratched by TM of SH. Overall in excellent condition and priced at $750.00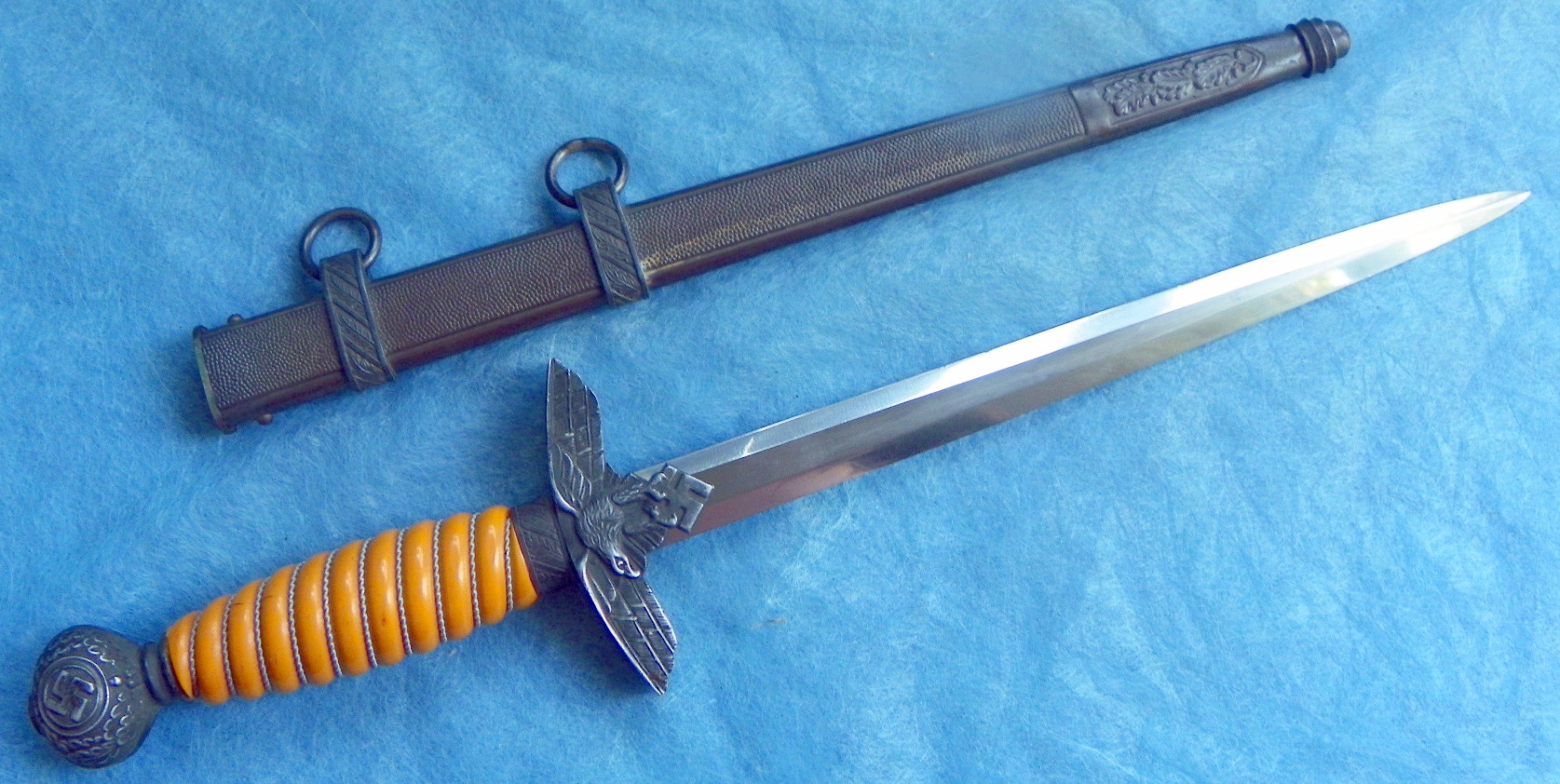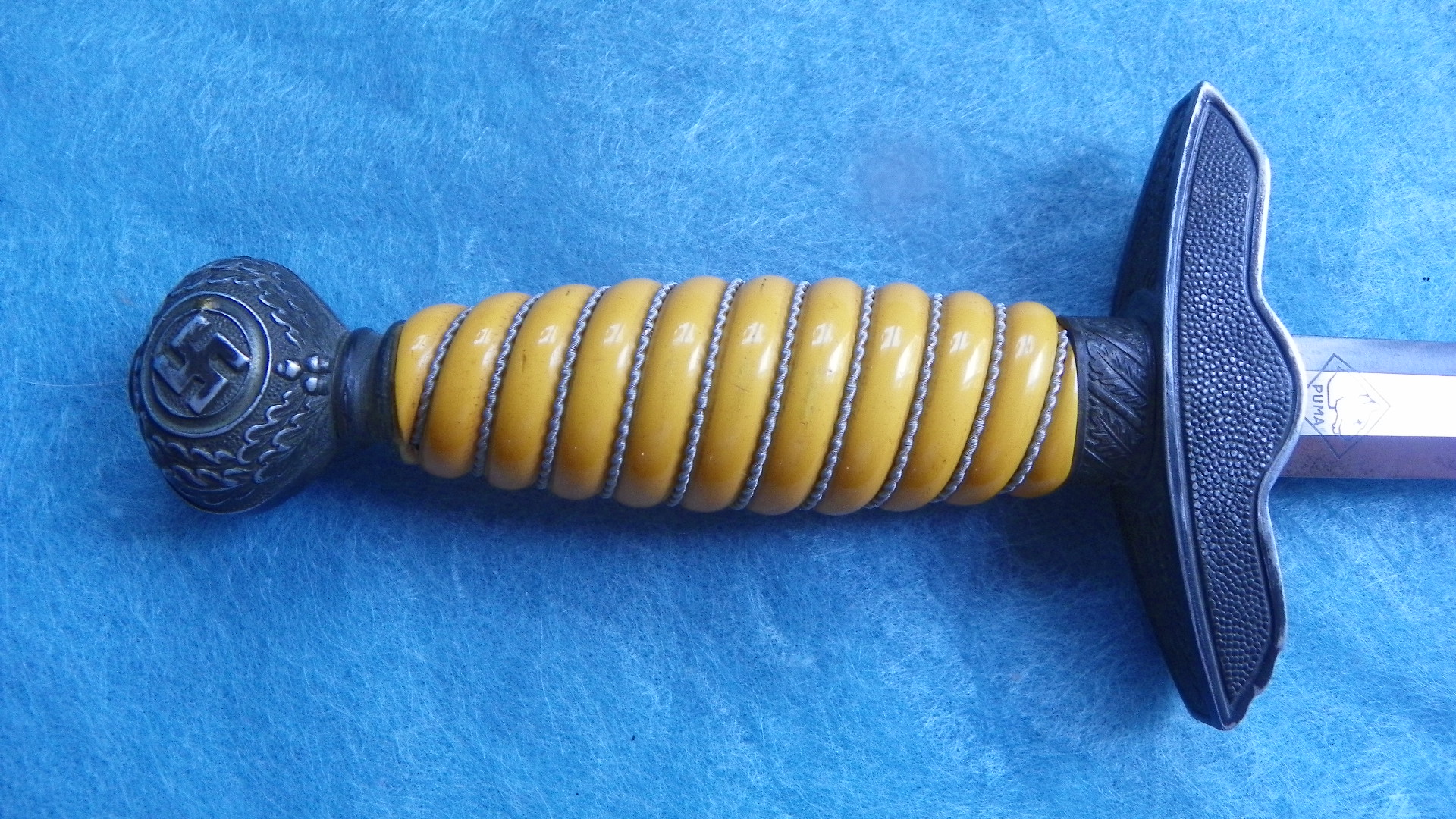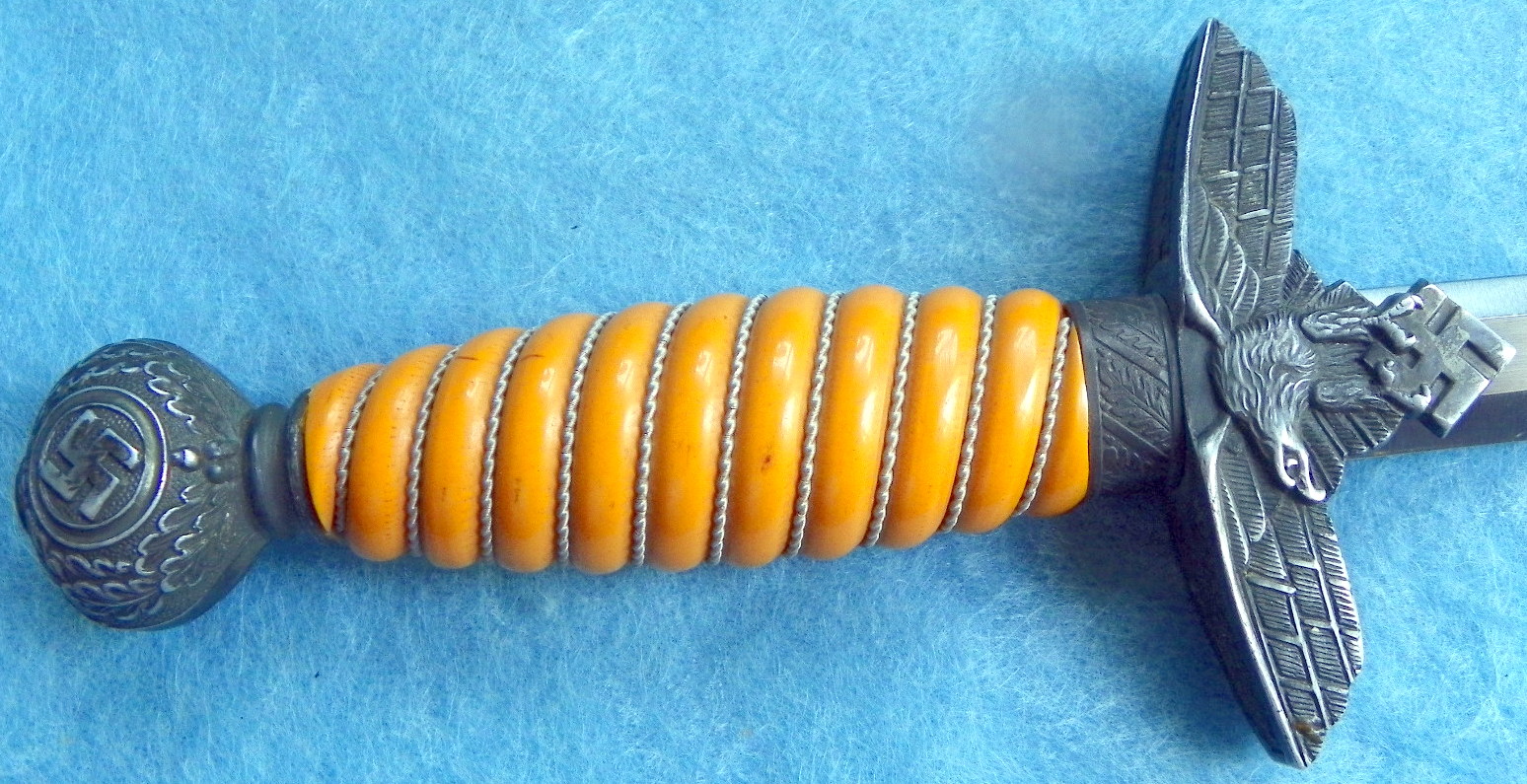 3. MID-WAR ARMY OFFICER'S DAGGER BY WKC
Typical mid-war silver grey finished Army Dagger in near mint condition. Silver grey fittings show minor wear and no damage with very nice yellow orange chip free grip. Choice near mint blade with WKC Knight's Head trademark showing great finish and no sharpening or nicks. Dent free scabbard and comes with Army Dagger Knot in unusual tie that does show some swing wear. Overall excellent. Price is $595.00 plus shipping.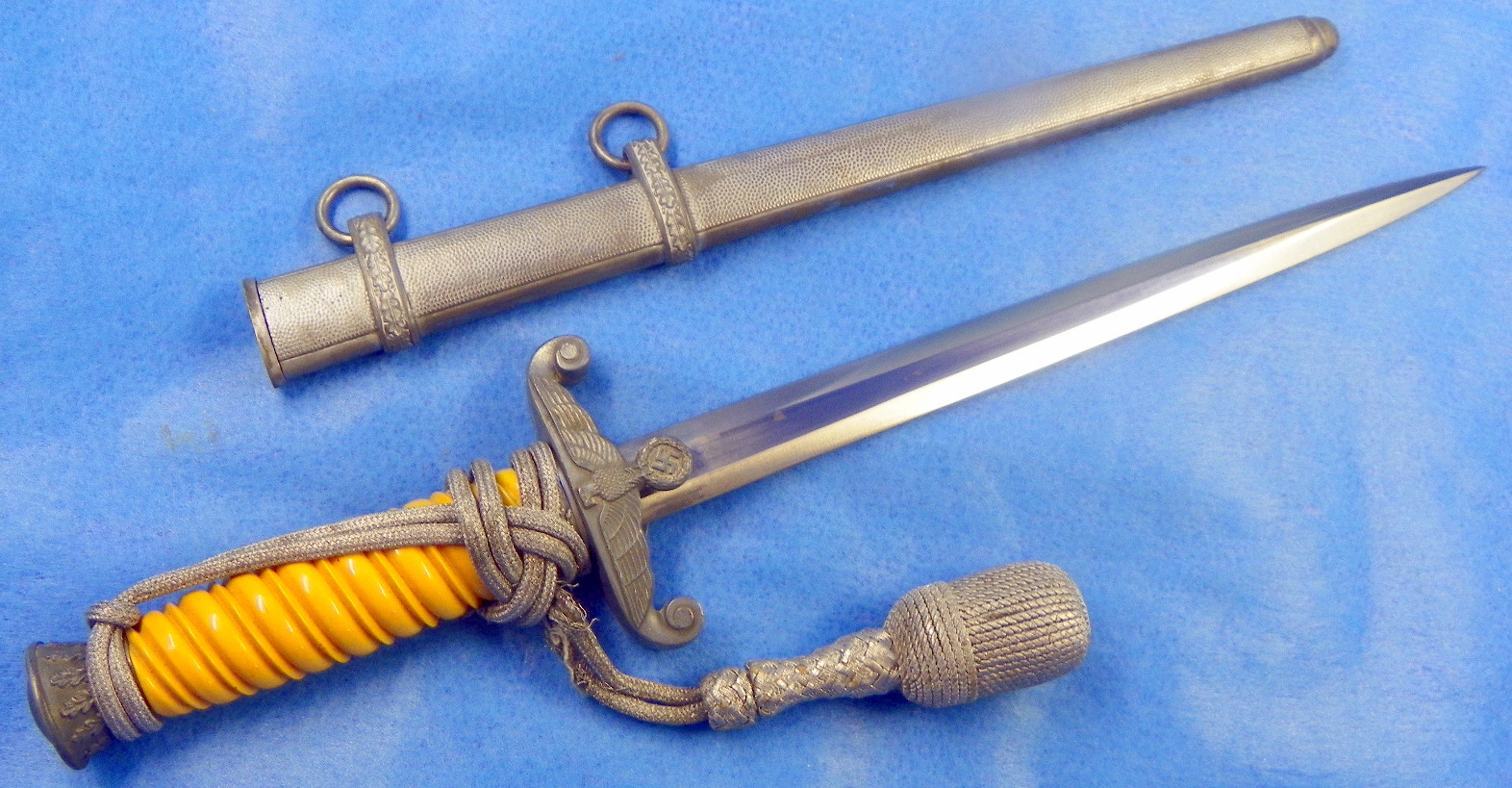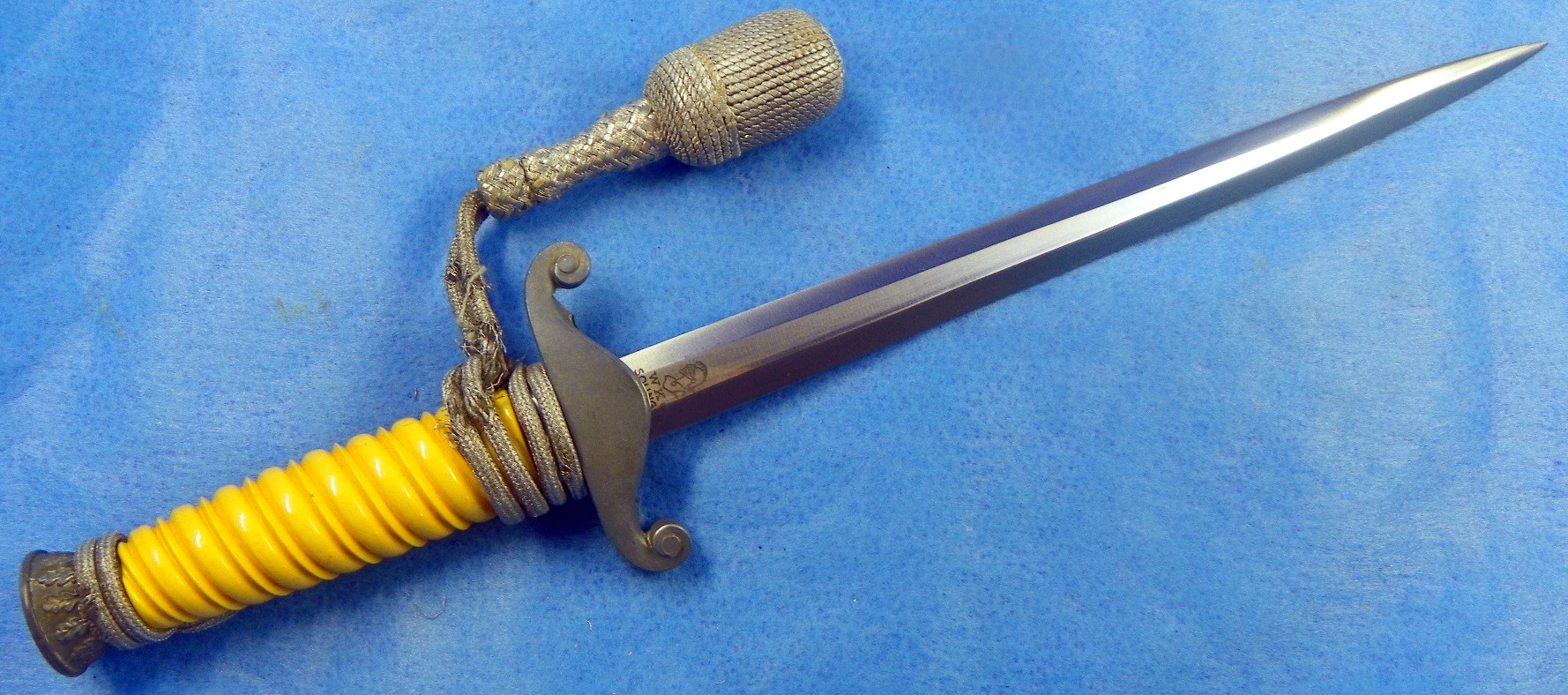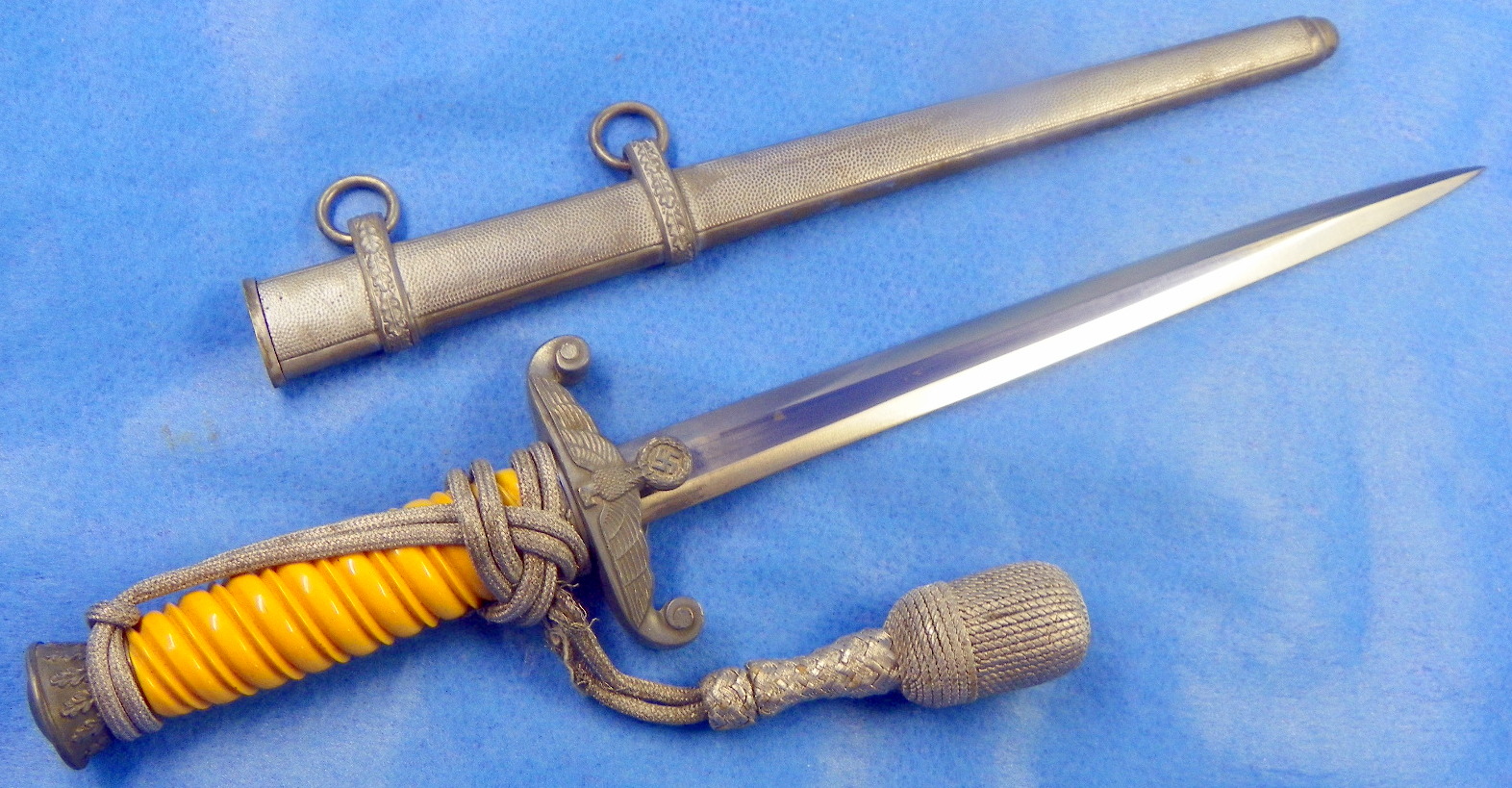 4. SA DAGGER M7/36 WITH SHIPPING BAG
Choice condition SA Dagger with original shipping bag. RZM M7/36 Horster SA in super condition with very good conditioned brown paper issue bag marked M7/36. Bag shows opening and average 70 year old wear and tear. Usual terms and guarantee. Price is $1795 plus stateside shipping.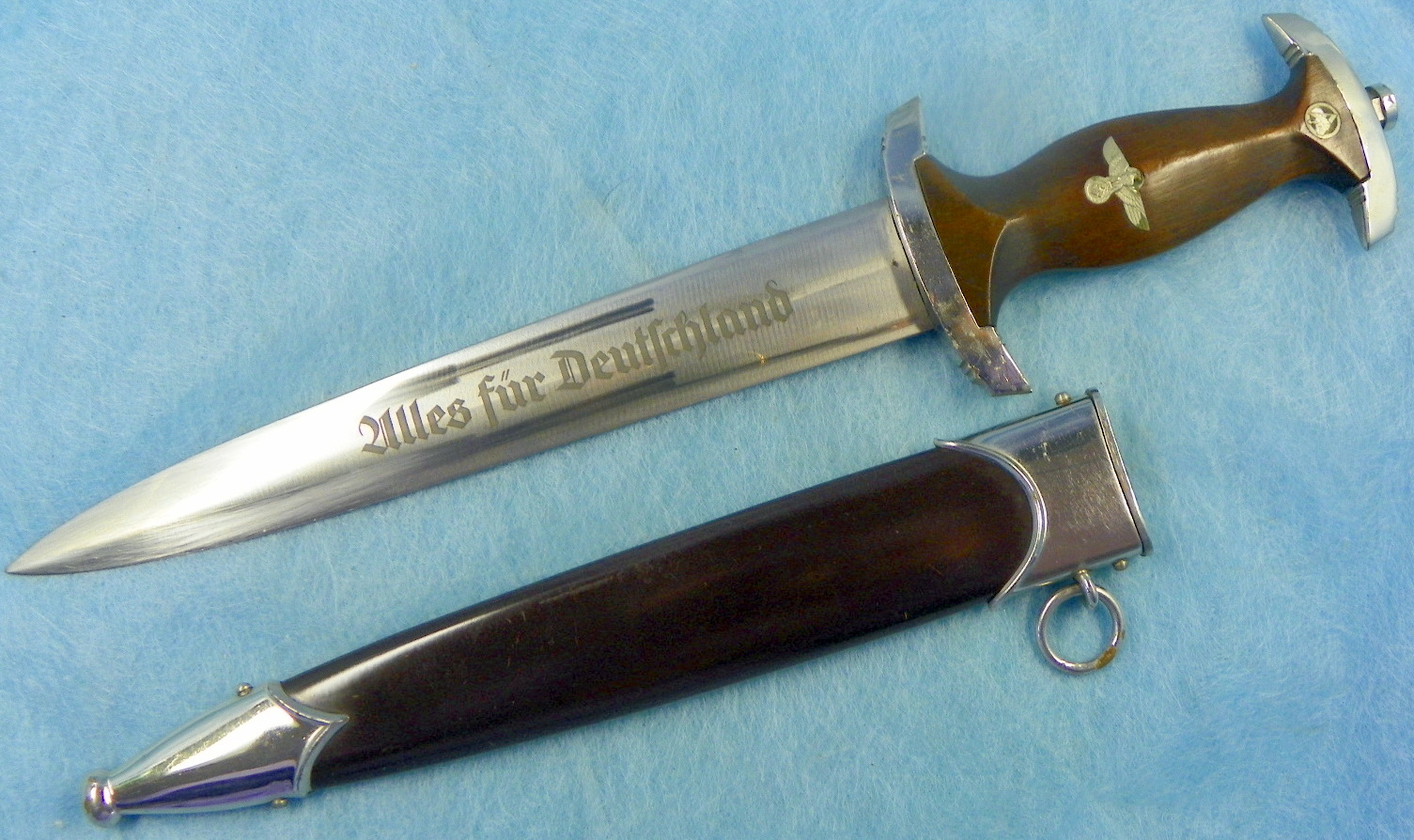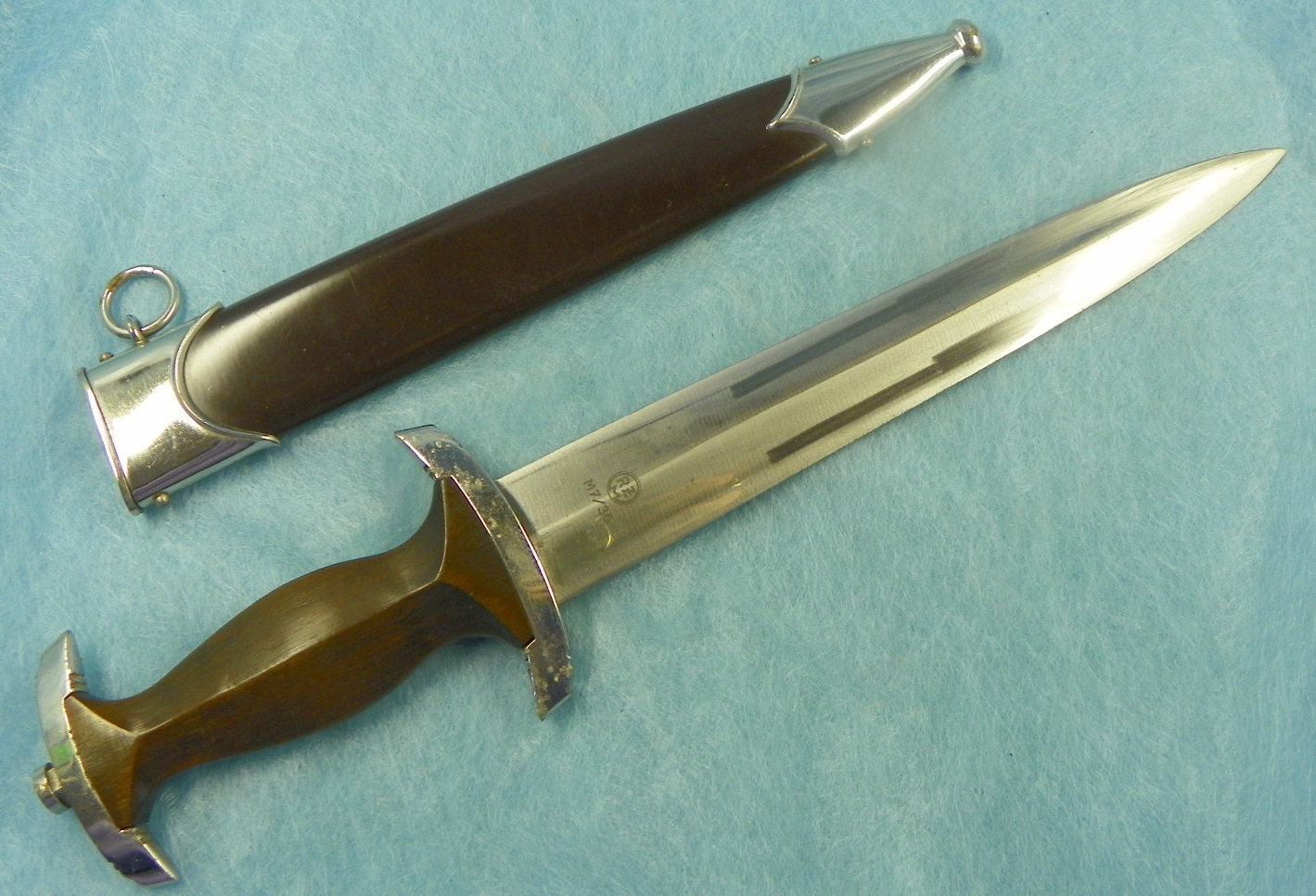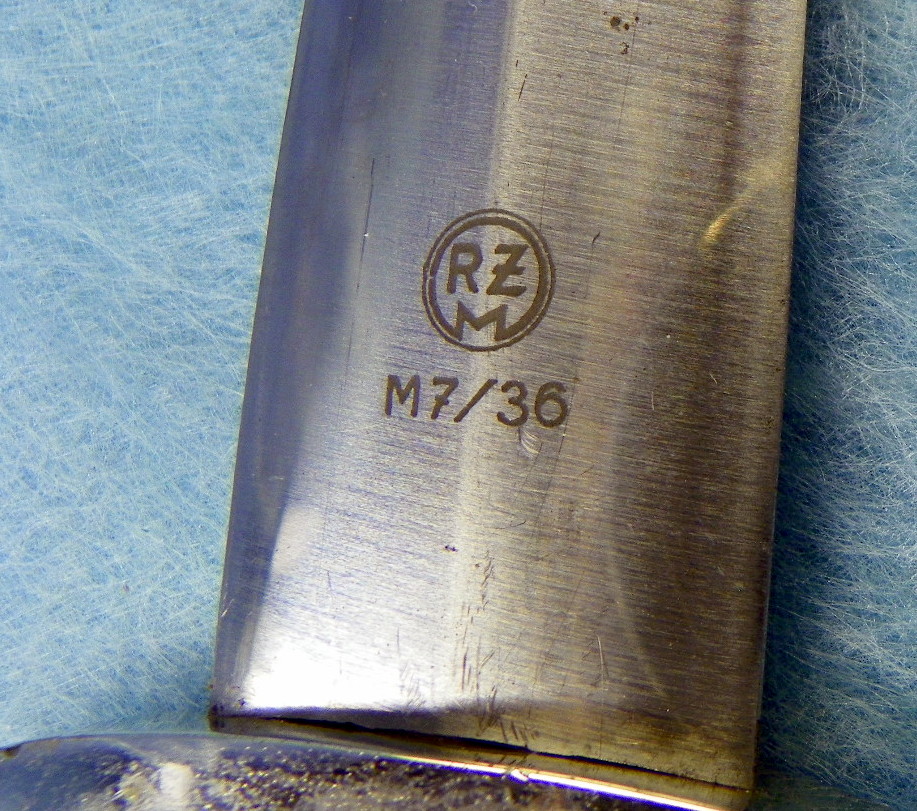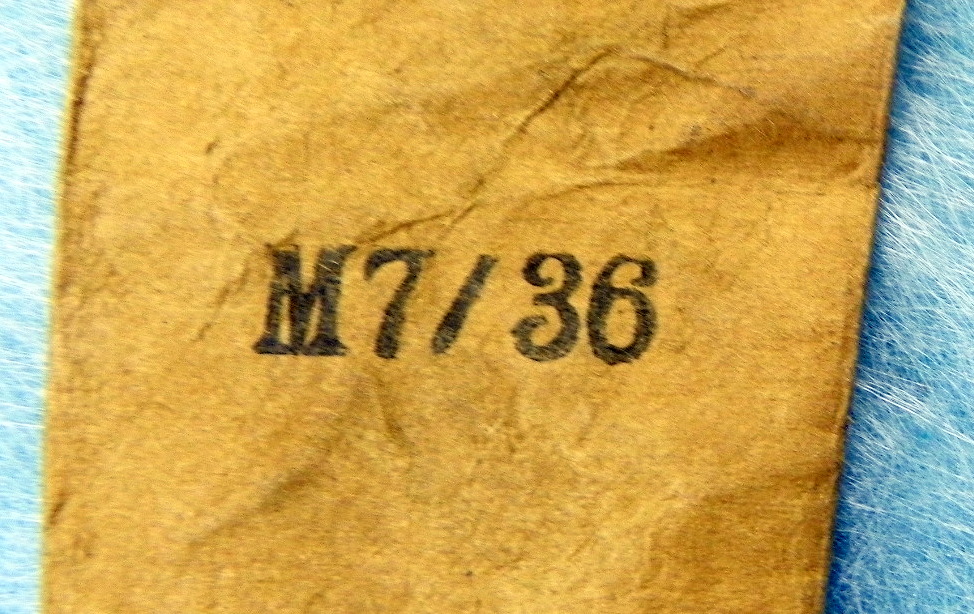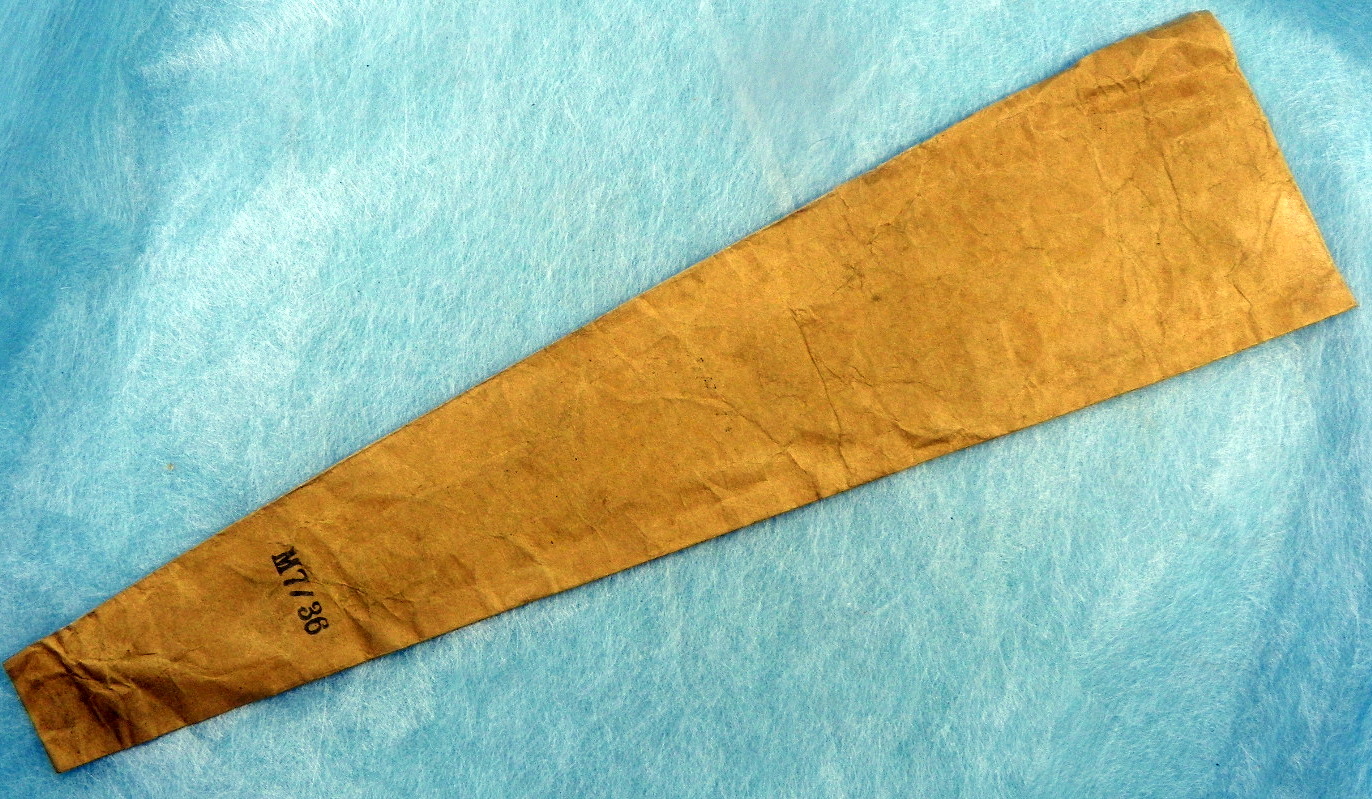 5. Directly out of an estate sale, here is a near mint M7/14 SA DAGGER W. TH ORIGINAL RZM PAPER TAG still fastened around the upper grip. Hard to find and has near mint to mint blade with nice cross grain and only light in and out scratches. Aluminum grip eagle and nice wooden grip with no chips or damage. Crossguards have the typical bubbling and the top one is the worst of the two. Scabbard has 98% original brown paint and fittings have some minor spots from long storage. Tag is intact, but does show age, foxing and some wear (see photos). Very hard to find with tag and in much demand today. Usual terms and guarantee.
Price is $1650 plus $25 shipping DD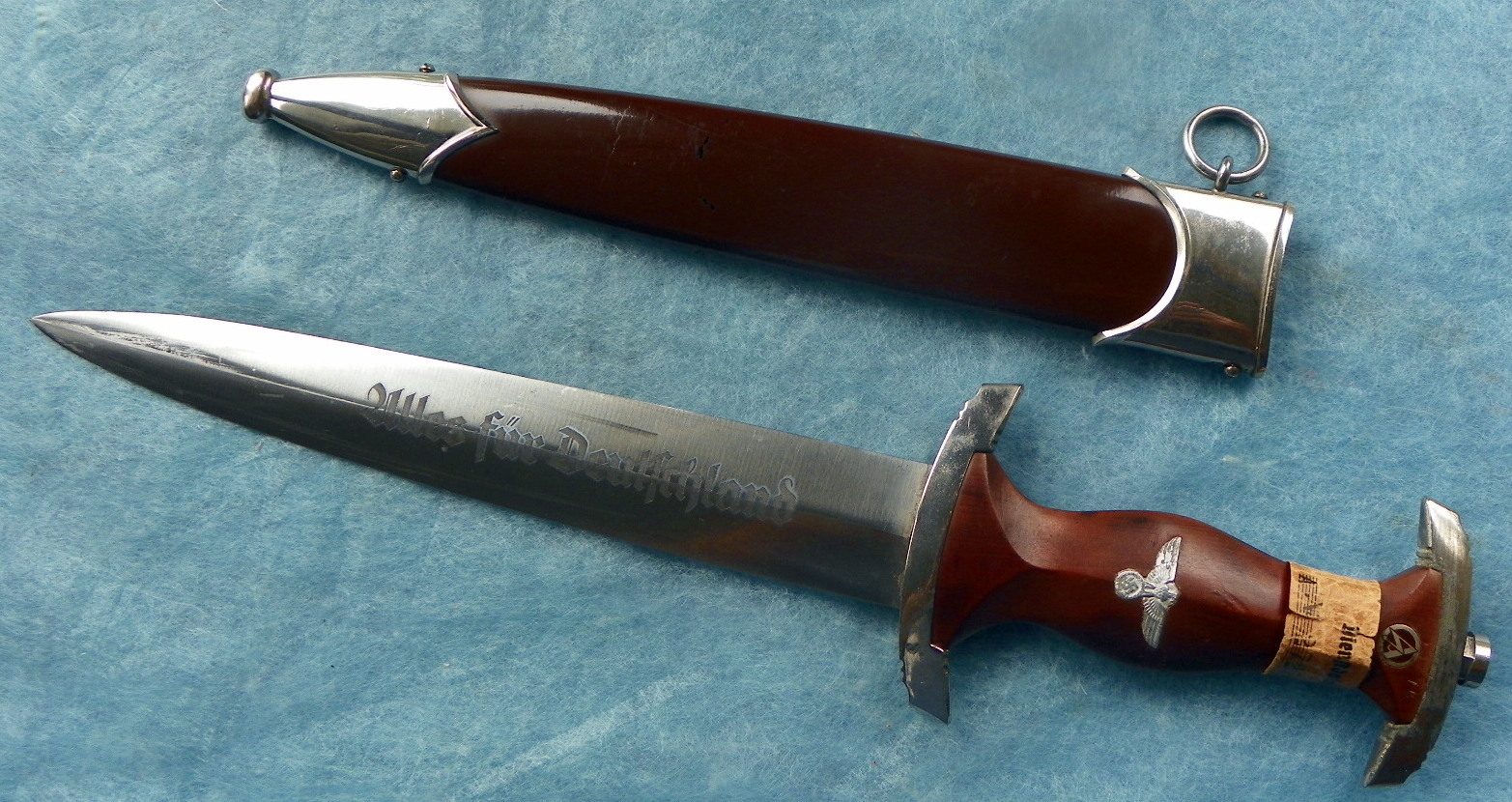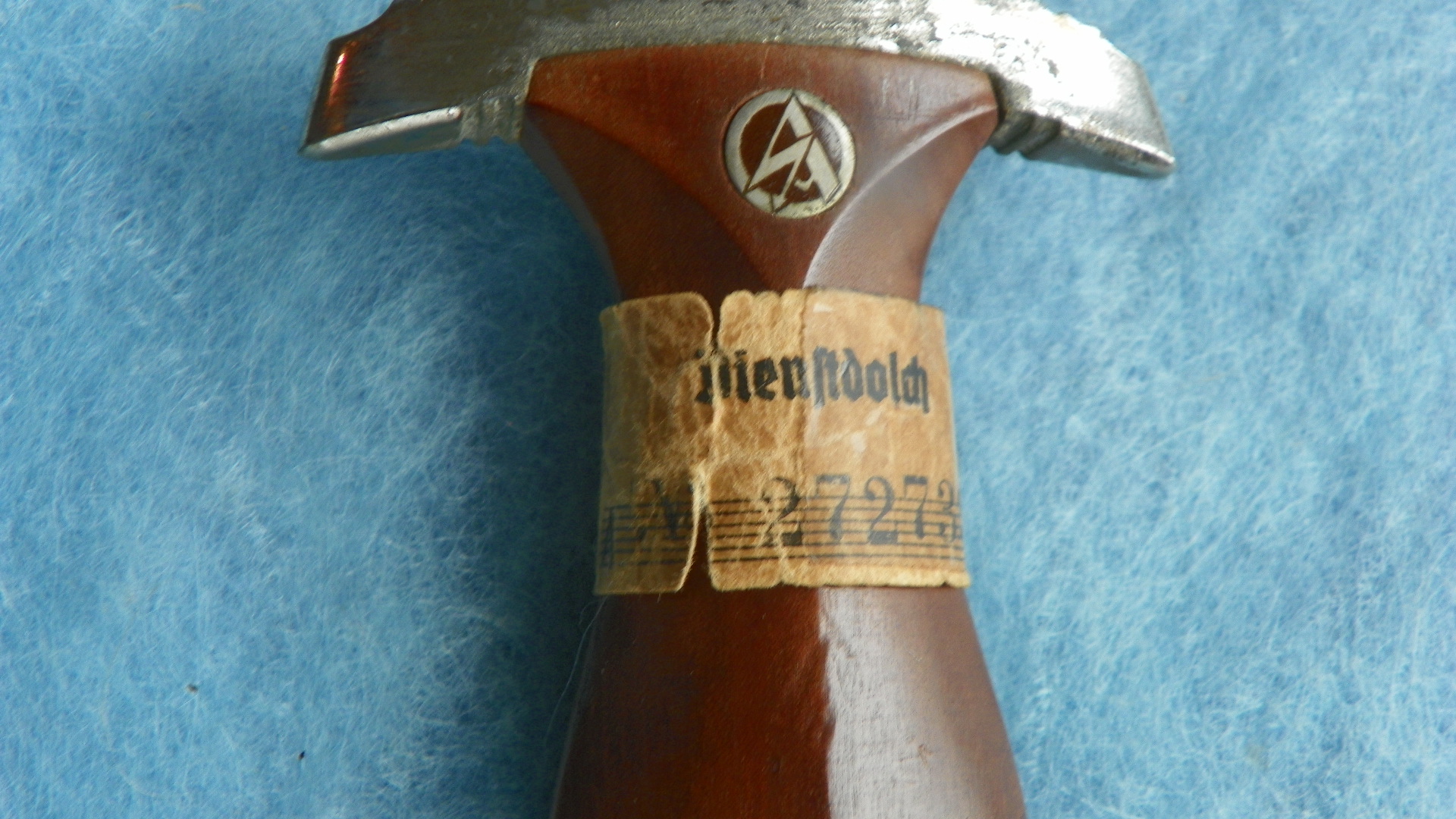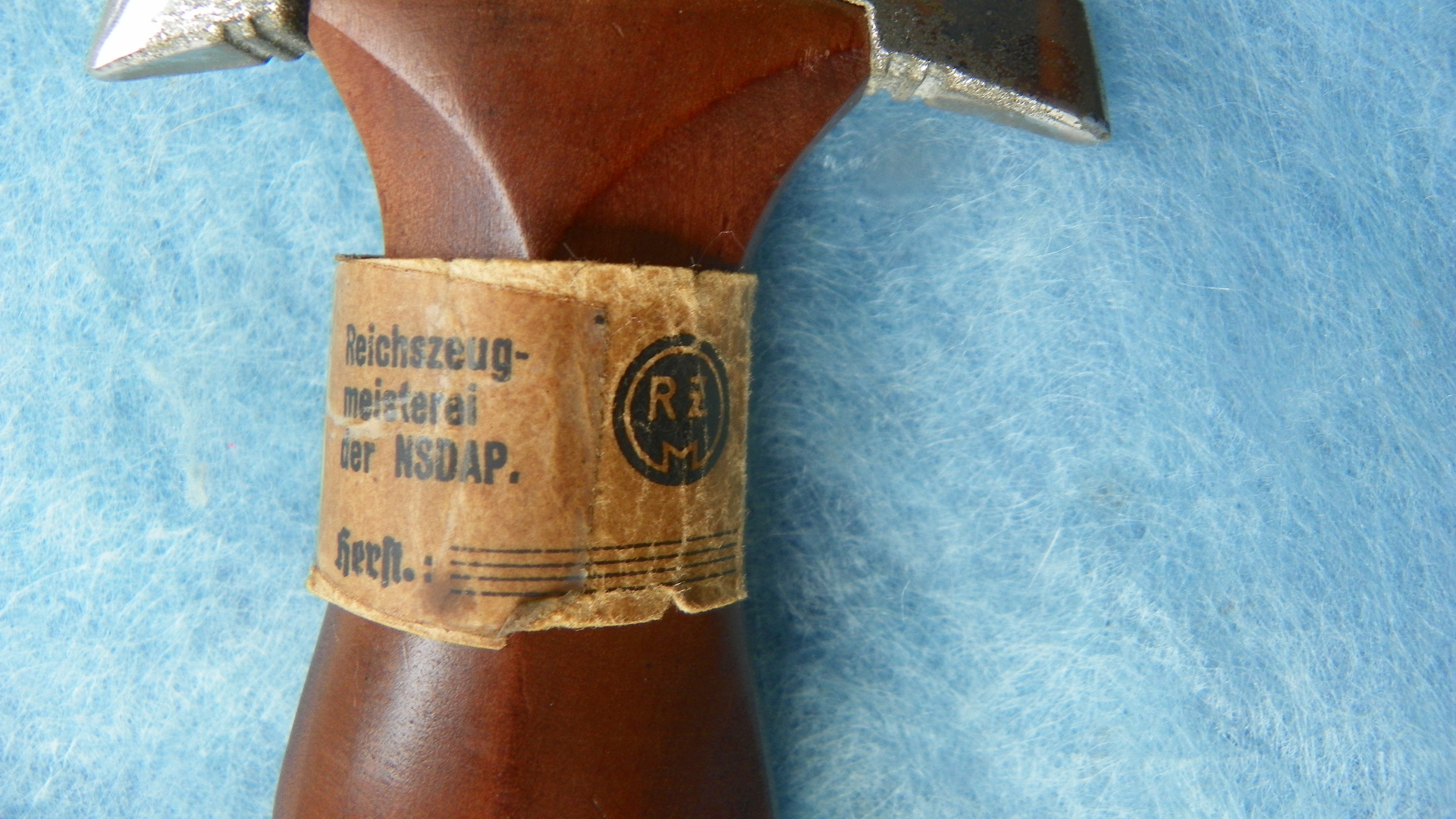 6. SA DOUBLE MARKED TRANSITIONAL DAGGER BY HENCKELS M7/10
Fresh out of a PA Veteran's estate, here is a scarce DOUBLE MARKED SA DAGGER BY HENCKELS M7/10 1938. Near mint blade with only in and out marks and has Twins trademark and RZM M7/10 1938 (very hard to find). Chip and crack free grip with aluminum eagle and plated fittings with minor bubbling next to wooden grip. Brown painted scabbard has 99% original paint with a typical film of nicotine from a smoker's den and fittings are fine. Usual terms and guarantee