4. GERMAN POLICE SWORD WITH SILVER & BLACK SWORD KNOT BY LUNEESCHLOSS
This beautiful sword is in super condition with the scarce plated blade in near mint condition, nice plated hilt with dark copper colored police eagle wreath and swastika and chip free grip with silver wire wrap. Wonderful black striped silver bullion sword knot. Has leather washer and dent free scabbard with 96% original paint and nice bright silver fittings. If you have always wanted a nice police sword, this is the one for you. Price is 1750.00 plus shipping.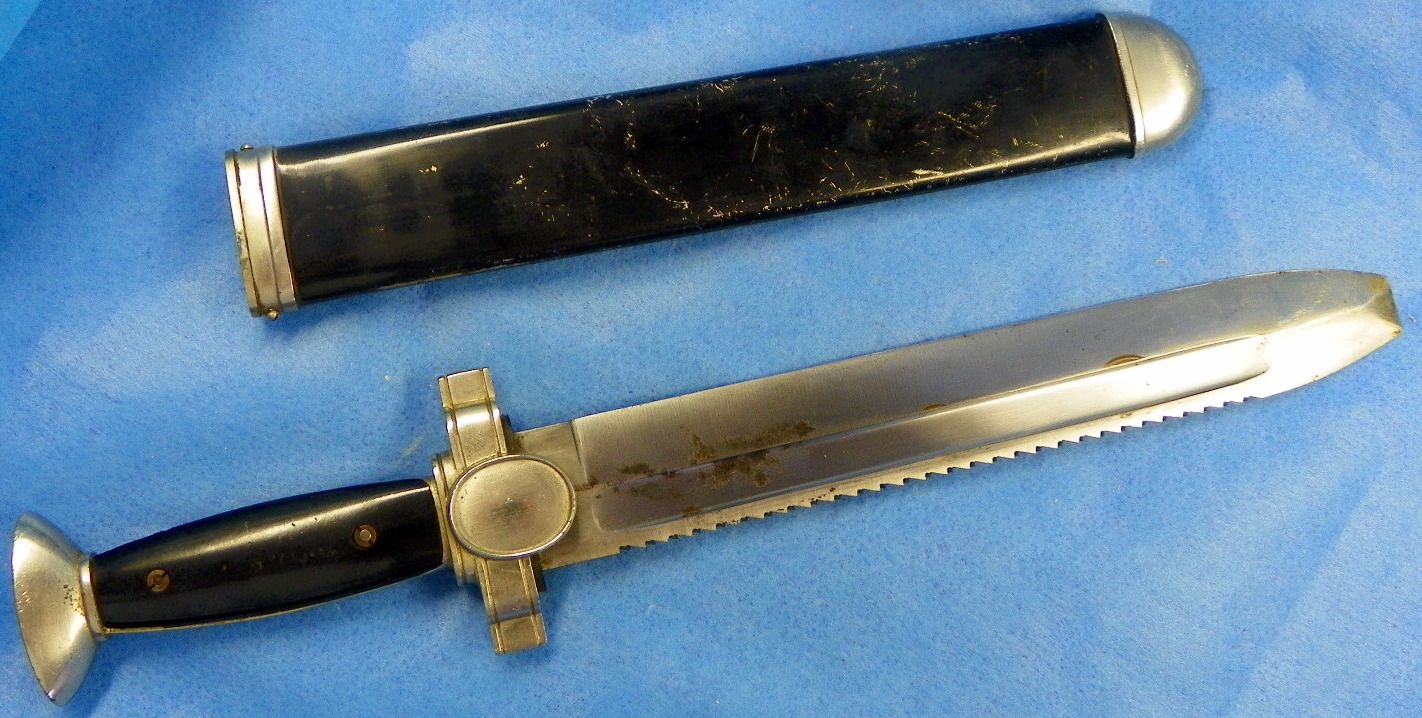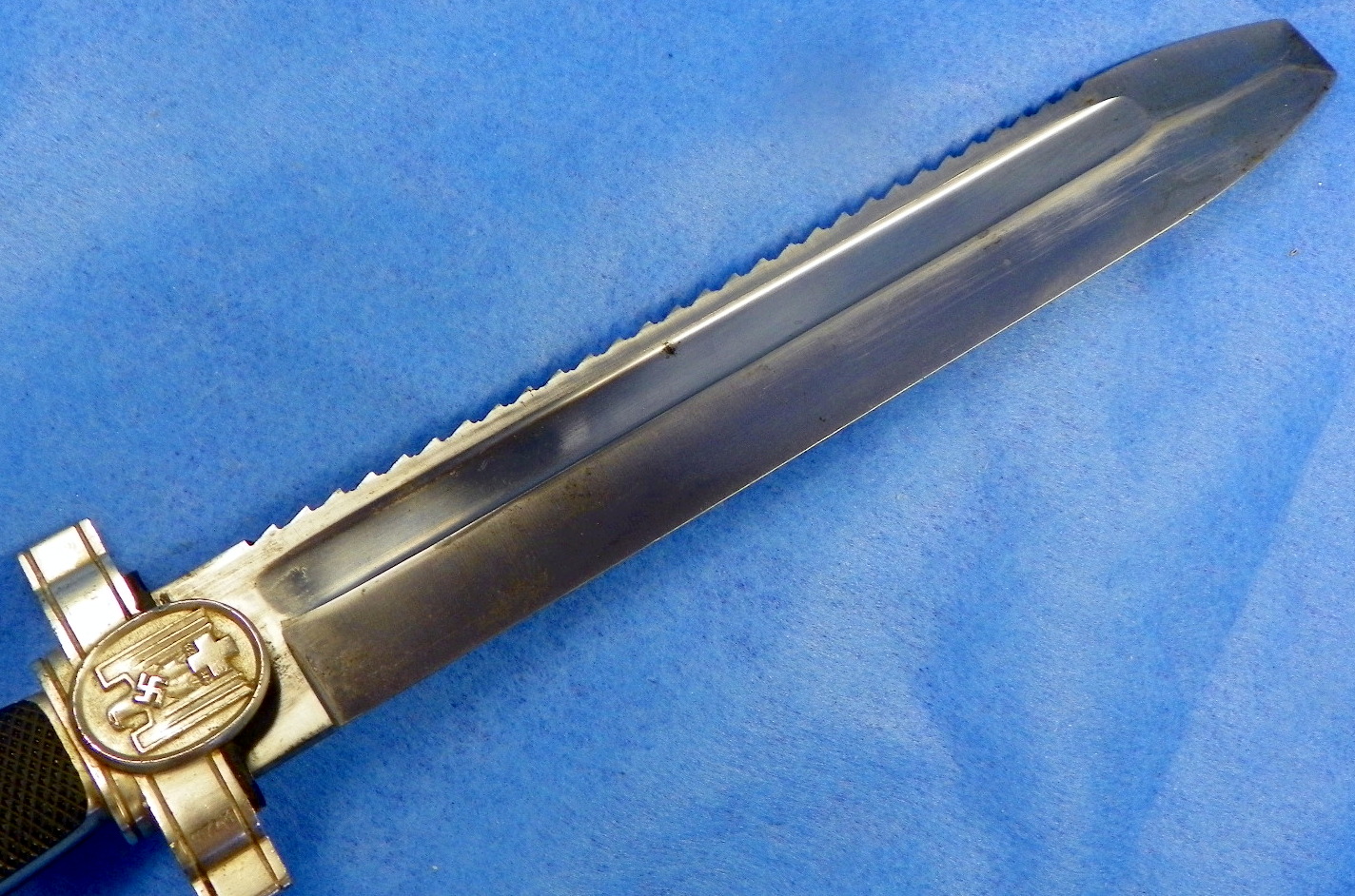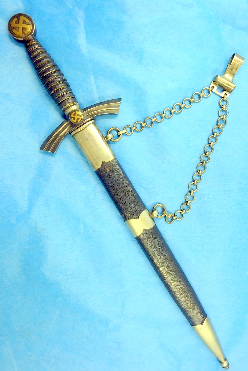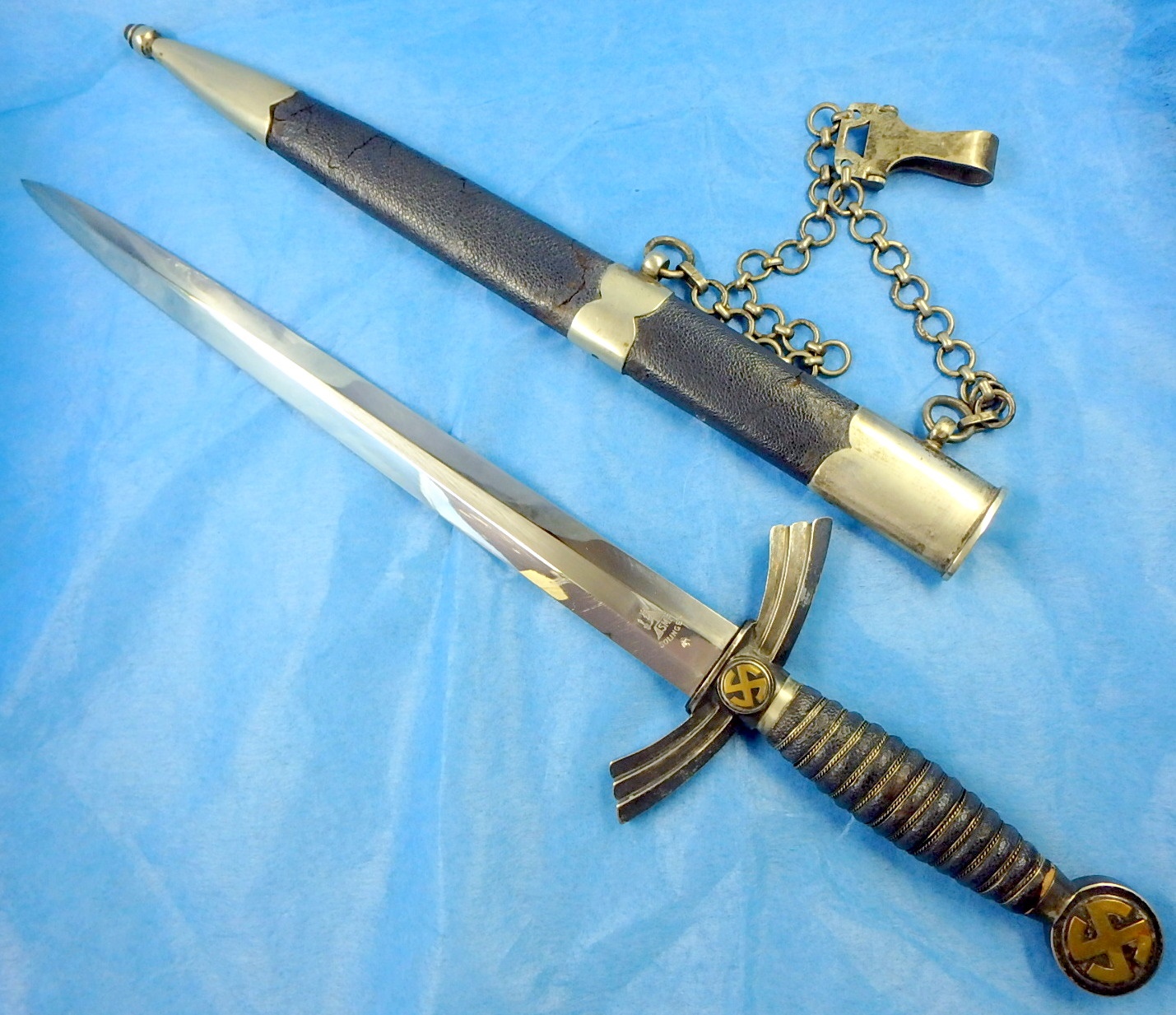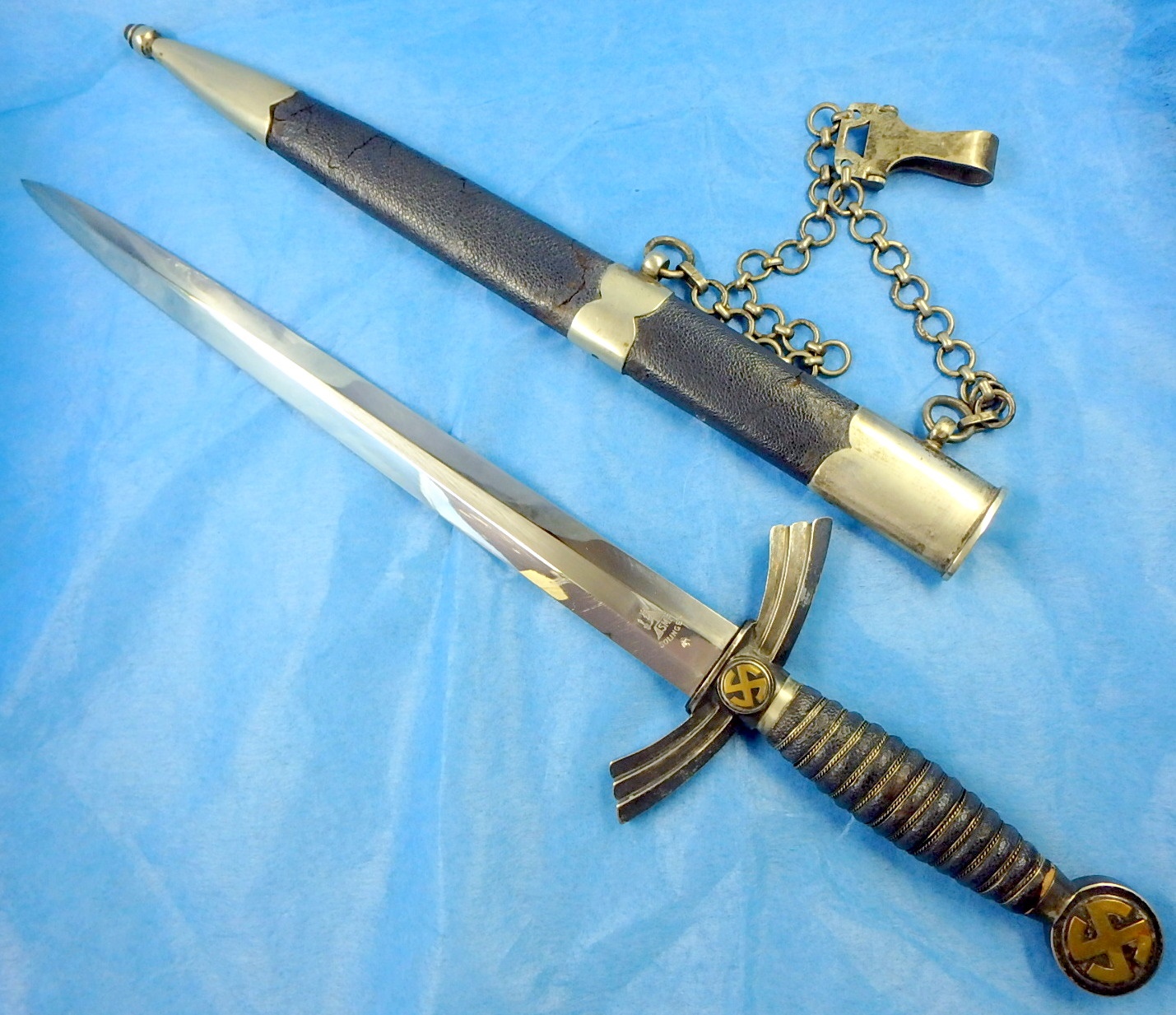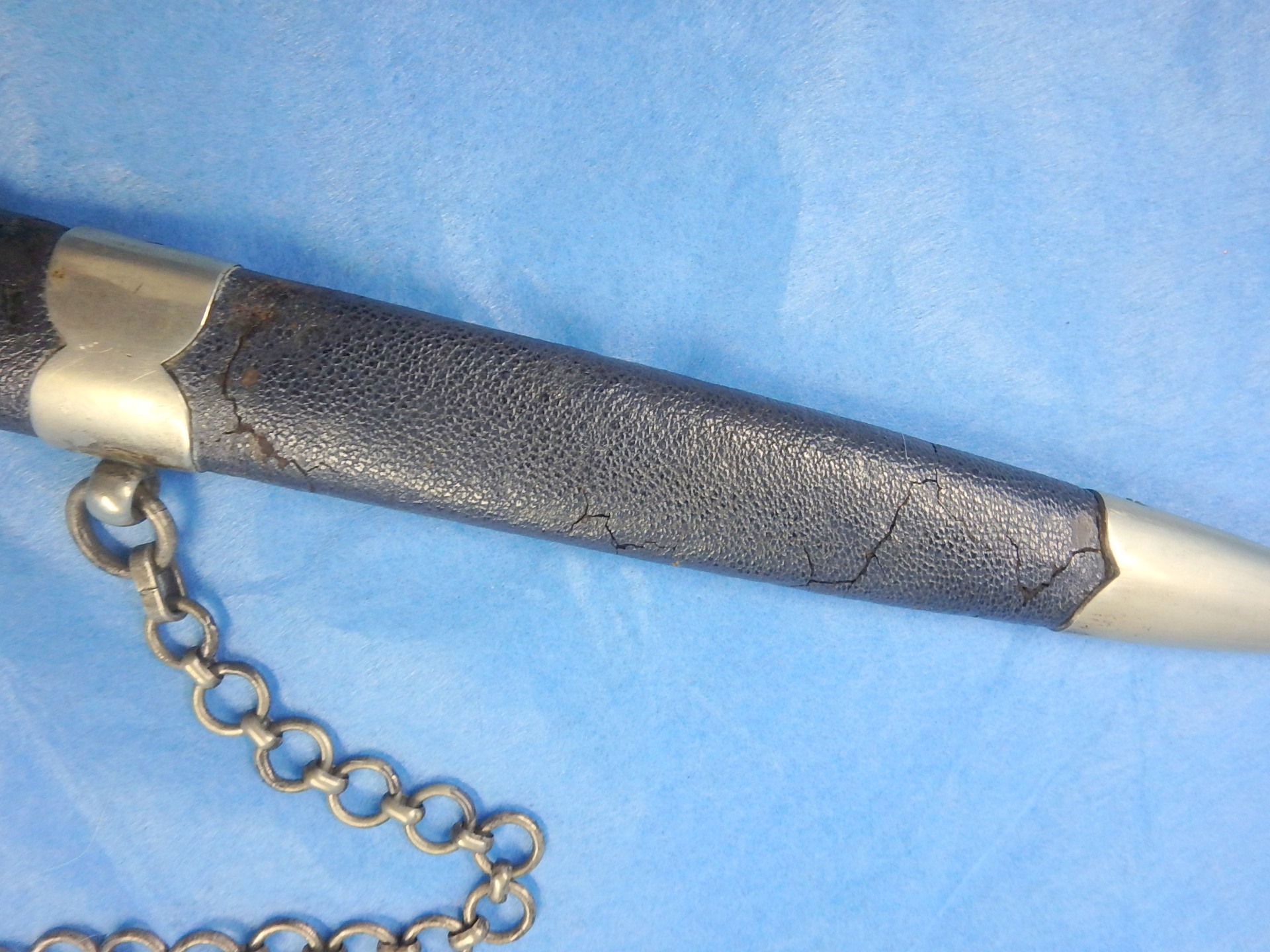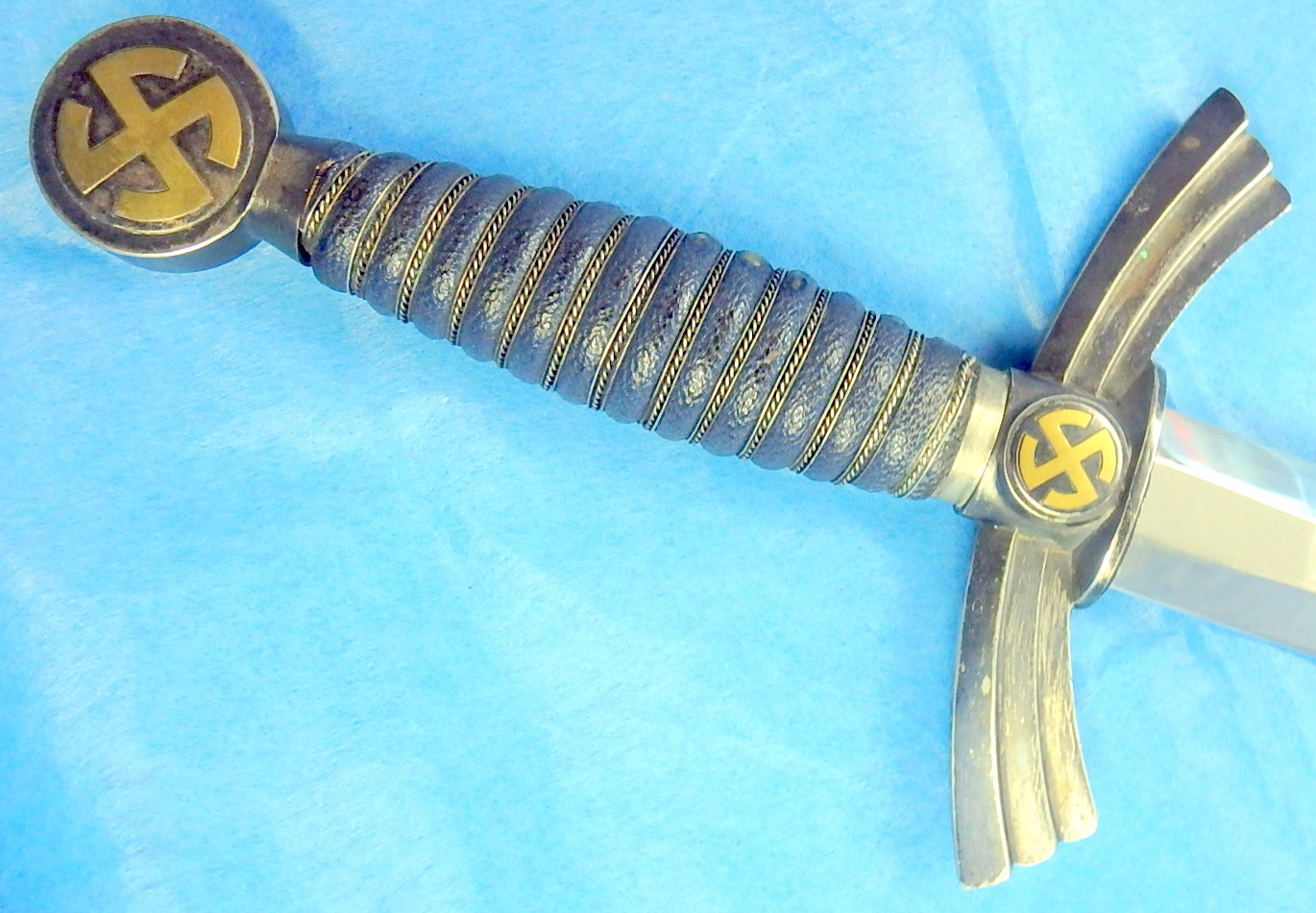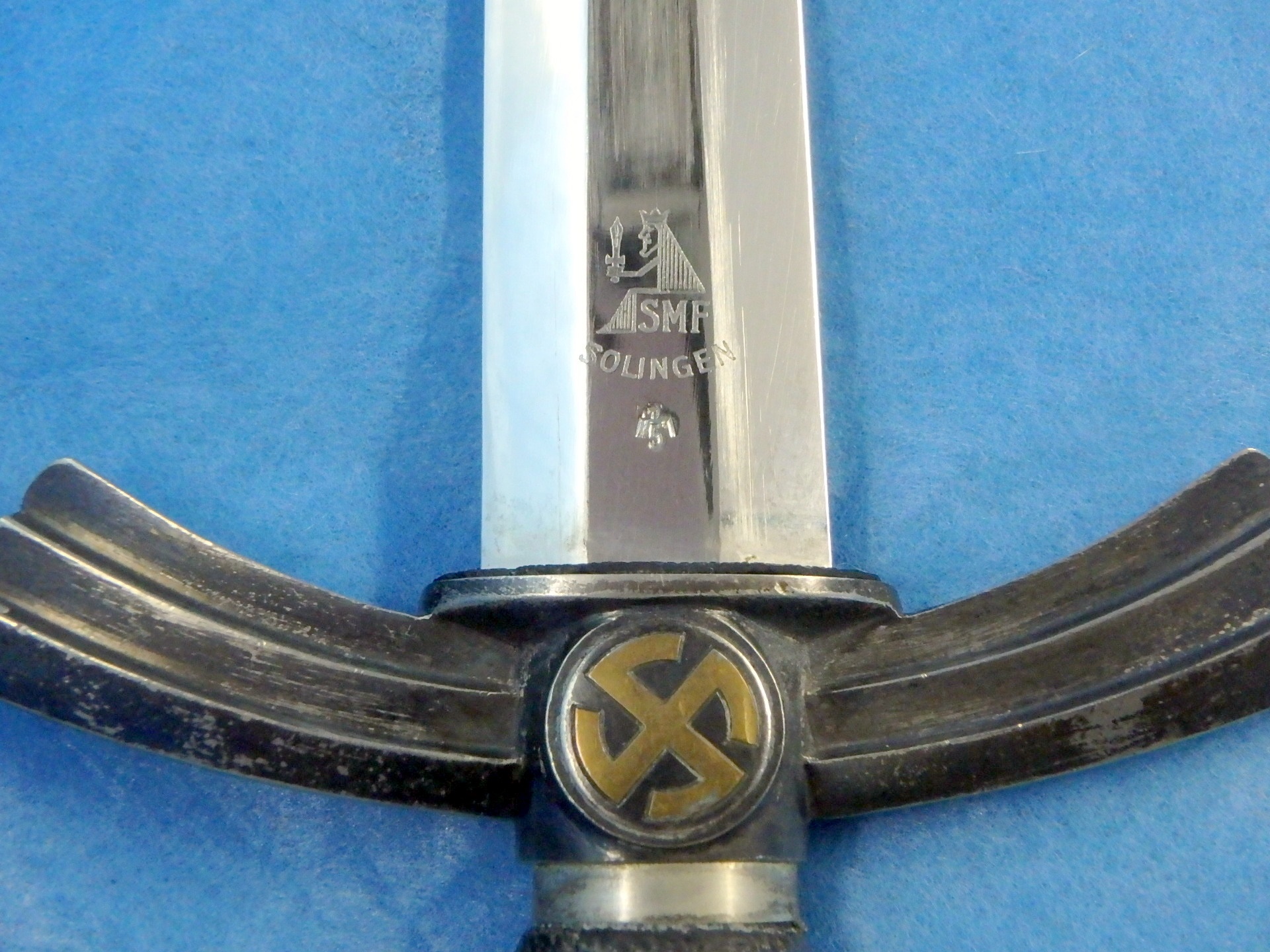 6. RLB OFFICER'S DAGGER 2ND MODEL CONVERSION
Reichsluftschutzbund Officer's Dagger by Alcoso. A scarce
conversion of a 1st Model to a 2nd Model during the period. Choice
excellent plus blade with early style Alcoso trademark. Silver plated
fittings with leather covered grip with period replaced 2nd Model grip
insignia (that shows much wear to black enamel swastika). Crossguard
has RLB waffenamt eagle & 93 proof on end as seen on 1st model RLB
Daggers. Scabbard is a 1st Model with conversion added middle
suspension ring fitting. Leather is decent, but small missing piece
above bottom fitting (partly due to age shrinking). Unfortunately, the
lower original 1st Model fitting shows wear and period dents, as is
typical of 1st model RLB Daggers (it also appears to have one screw
replaced during the period). Just a great conversion piece with much
toning to silver fittings. Usual terms and guarantee. Price is
$2250.00 plus shipping.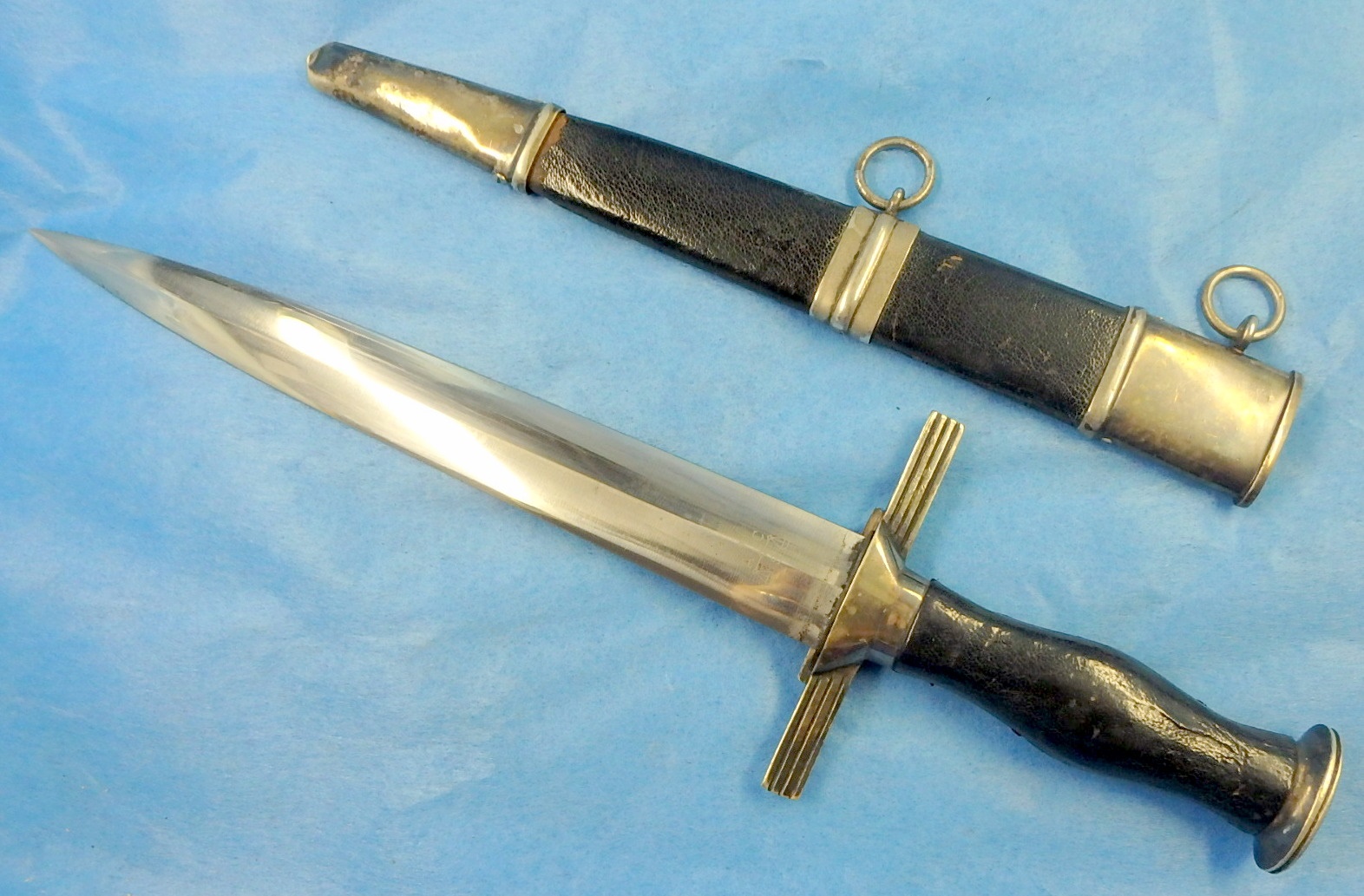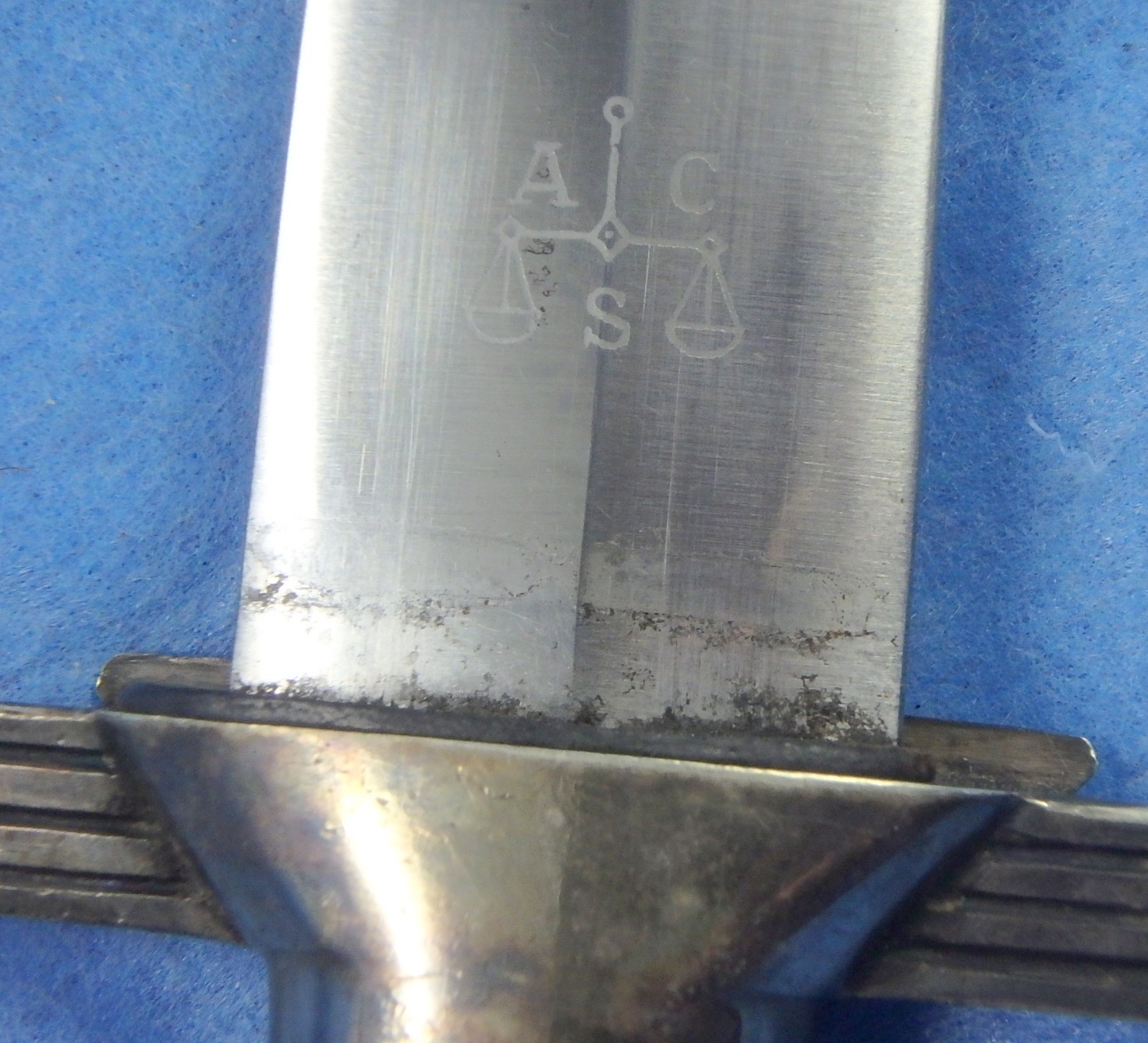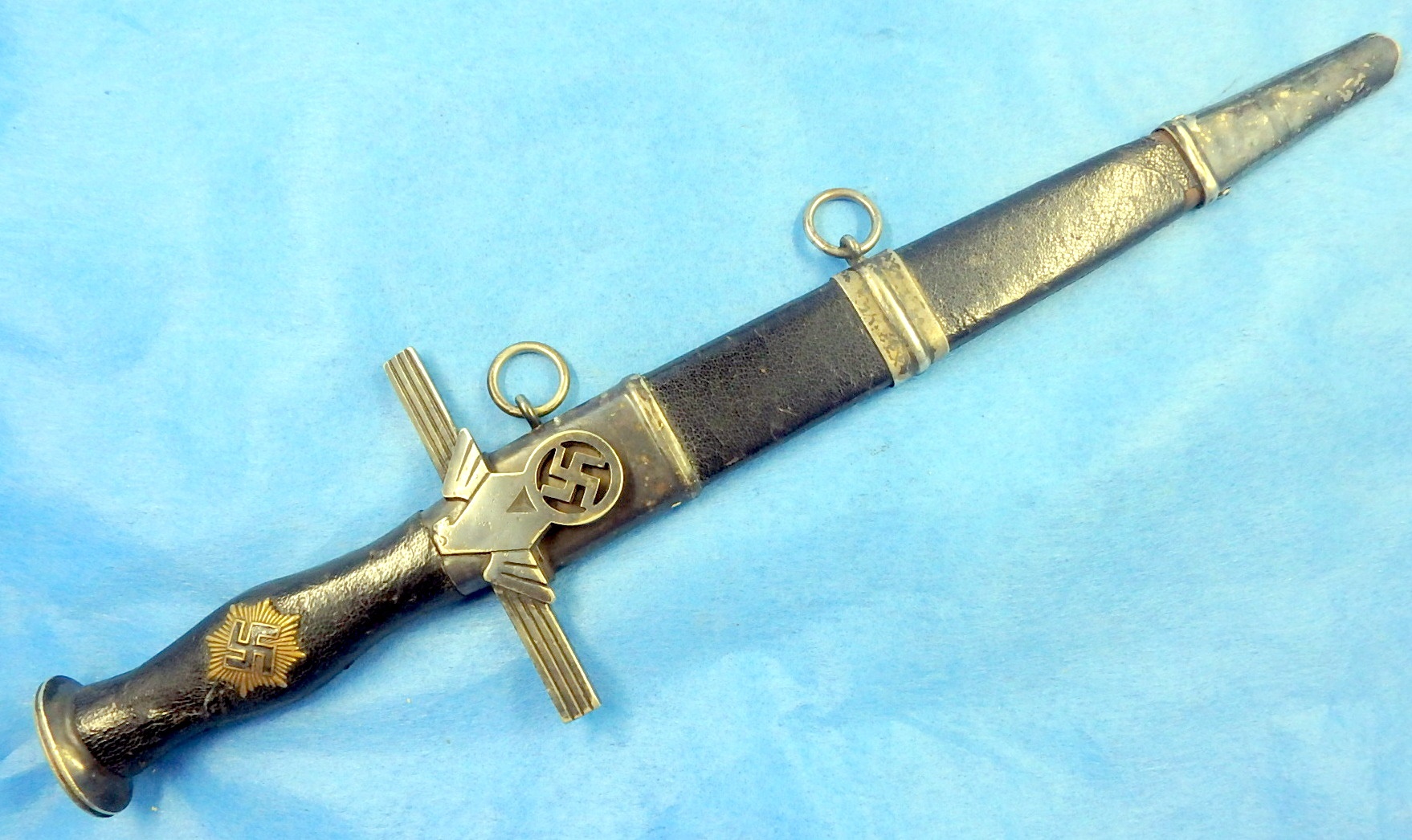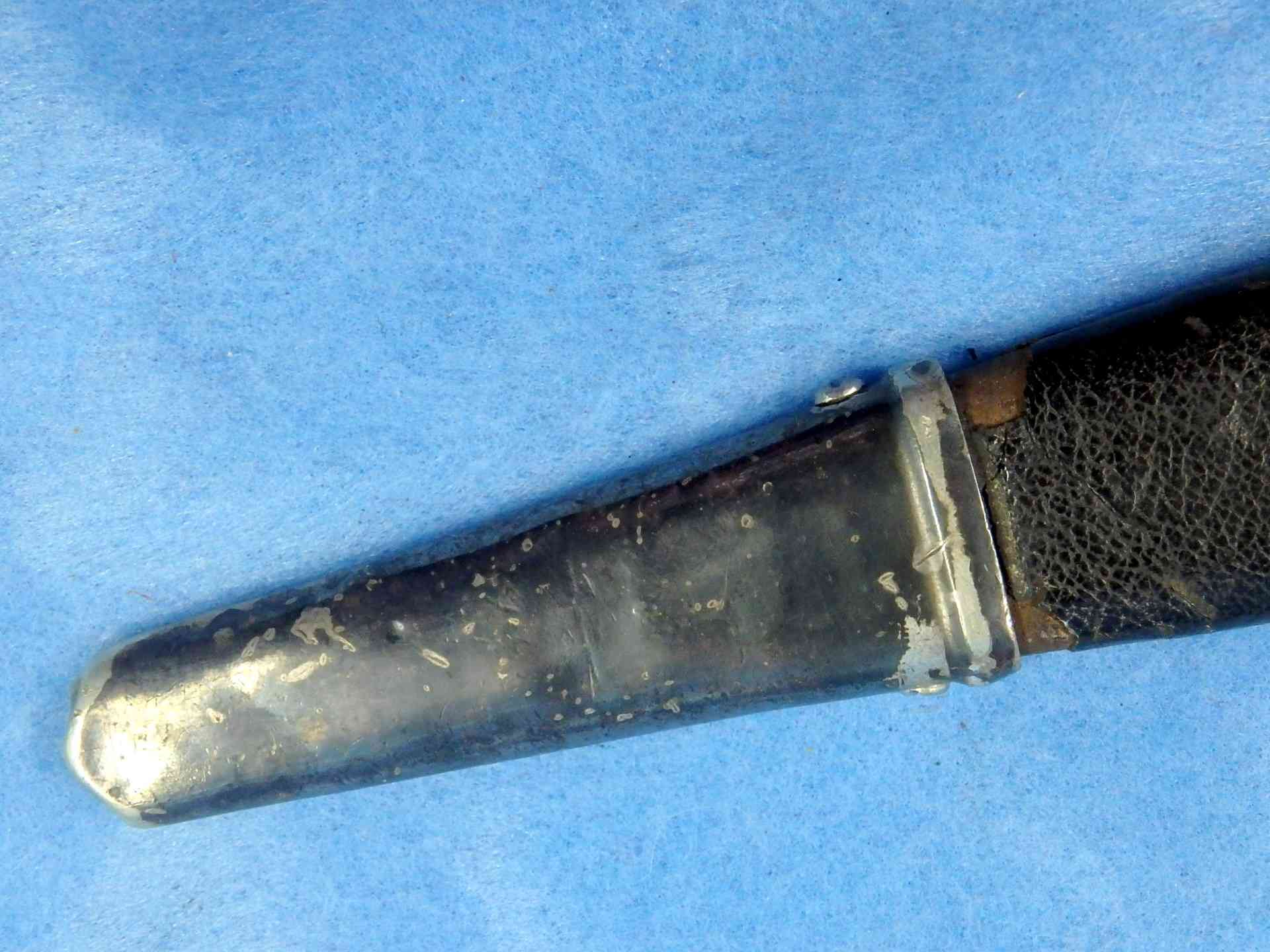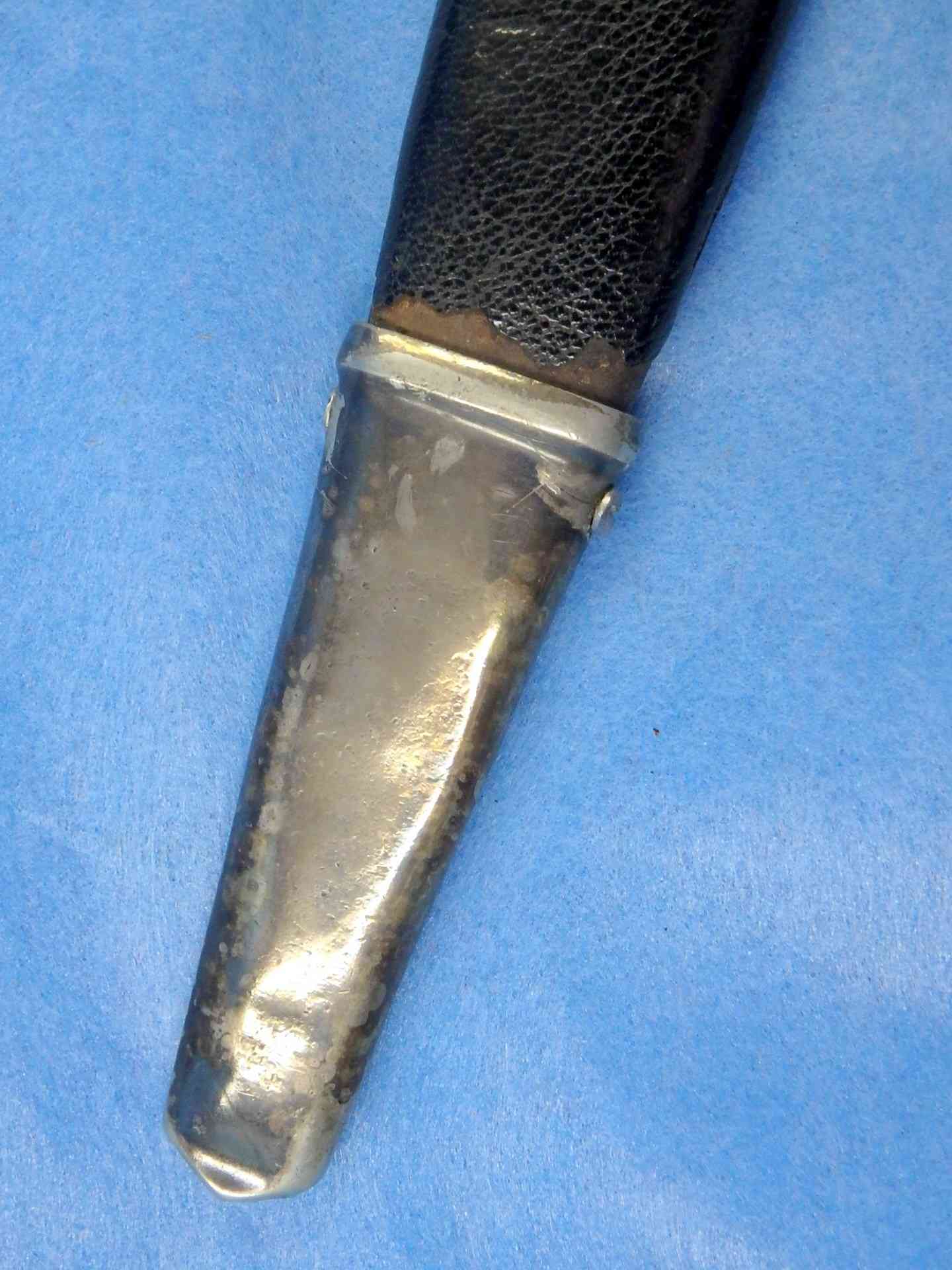 2.1ST MODEL LUFTWAFFE DAGGER BY SMF. Very early 1st Luft with Brass
inlaid Swastikas in hilt nickel silver fittings, Wire wrapped leather
grip in nice condition with only a couple of minor wear spots. Dent
free scabbard with nickel silver fittings and early vintage nickel
silver chain and functioning clip. Scabbard leather, while nearly
complete, does have a couple of minor spots and crack to finish mainly
on the reverse (see photos). Leather is the original blue color, not
dark shoe polished that is usually seen on today's market. Beautiful
plated blade with Luftwaffe Waffenamt eagle 5 proof under the SMF
trademark. It is becoming impossible to find nice early 1st Lufts, so
don't hesitate on this one. My usual terms and guarantee. Price is
$1395.00 plus shipping..
5. RED CROSS (DRK) HEWER IN EXCELLENT CONDITION. Blade has nice
cross grain and only has a few dark spots mainly on the back side near
the hilt. Hilt has chip and crack free grip plates and nice hilt
fittings and no plating loss to any degree. Scabbard has 95% original
black paint with one minor depression to the reverse lower center about
the size of a nickel. Appears to have been manufactured by P.D.
Luneschloss. Prices is $725 plus shipping
7. RLB 2nd MODEL OFFICER'S DAGGER BY ERNST WITTE (KRONECK).
Verynice bright blade with good cross grain polish, but has some light edge
scratching in spots. Nice strong Witte trademark. Typical Witte
aluminum crossguard. Very nice grip with chip free 2nd model grip star
burst RLB insignia and nice leather covering. Dent free scabbard with
very nice leather. Very hard to find in this condition. Price is $2795
plus $25 stateside shipping by priority signature required.
.
3. CUSTOM'S OFFICIAL'S DAGGER BY CLEMEN & JUNG
EARLY PRODUCTION LAND CUSTOM'S OFFICIAL'S DAGGER BY CLEMEN & JUNG. Blade is near mint and has the dull frosty polish finish and only
detraction is a slight ripple at the tip. Aluminum hilt fittings and
brass double wire wrap leather grip showing minor wear. Scabbard has
the silver plated steel fittings with one minor crease to the lower
fitting. Green leather is very nice with only a couple of very minor
scrapes to the leather and the body is dent free. Comes complete with
knot showing a couple of freyed swing spots. MK initials scratched into
the reverse of the crossguard. Clemen & Jung was the major supplier of
Customs edged weapons.
PRICE IS $2395 PLUS $25 STATESIDE SHIPPING.
ALSO HAVE HANGERS AVAILABLE AT $850
8. LABOR KORPS (RAD) LEADER'S DAGGER BY WKC
Near mint blade with Arbeit Adelt RAD motto and WKC Knight's Head TM and
a couple of rub spots to the reverse edge (see photos). Very nice silver
plated hilt with no missing plating (beautiful toning) and decent grip
plates with one hairline crack (center left side) to front plate with no
missing pieces. Nice dent free scabbard with some original lacquer
still intact. Just a great RAD Leader here and hard to find with nice
hilt plating. Price is $2595.00 plus $25 shipping stateside.
10. MUNICIPAL POLICE DRESS BAYONET, SLOTTED CUTDOWN,
MATCHING NUMBERS
Hard to find a MATCHING NUMBERED (S. Ar. II 235) SLOTTED MUNICIPAL
POLICE BAYONET in this great condition. Beautiful cutdown blade in
super condition with Alcoso/ACS trademark. Heavy nickel plated hilt
with nice stag grip plates and aluminum police insignia the wiggles just
a little like collectors like to see. Black leather scabbard body that
doesn't have the bulges that you mostly see in these and stitching is
intact. Chrome plated fittings are missing the upper staple on the
reverse, but condition is nice. Excellent plus and priced at $850.00
plus $25 shipping stateside Priority Mail signature required
.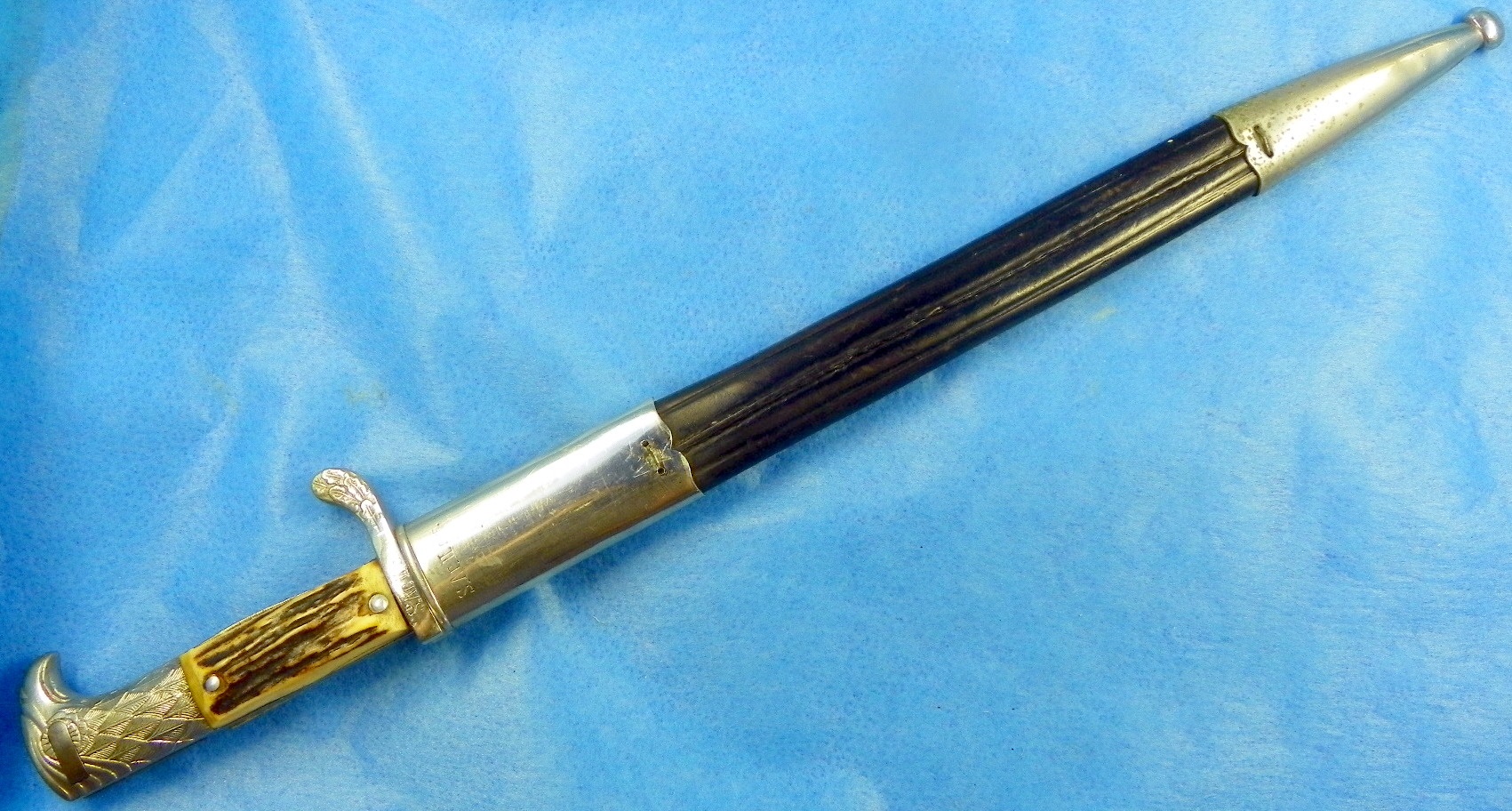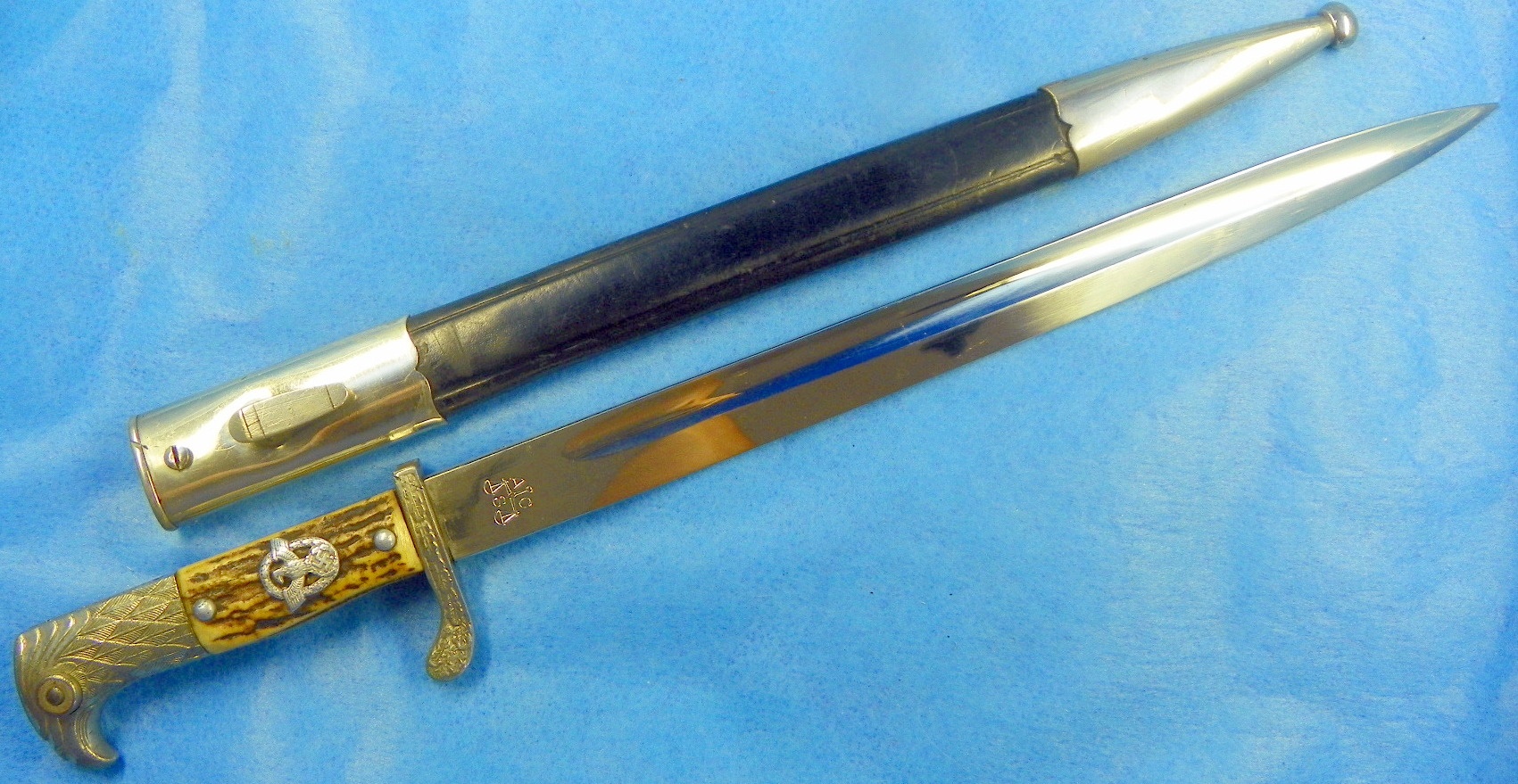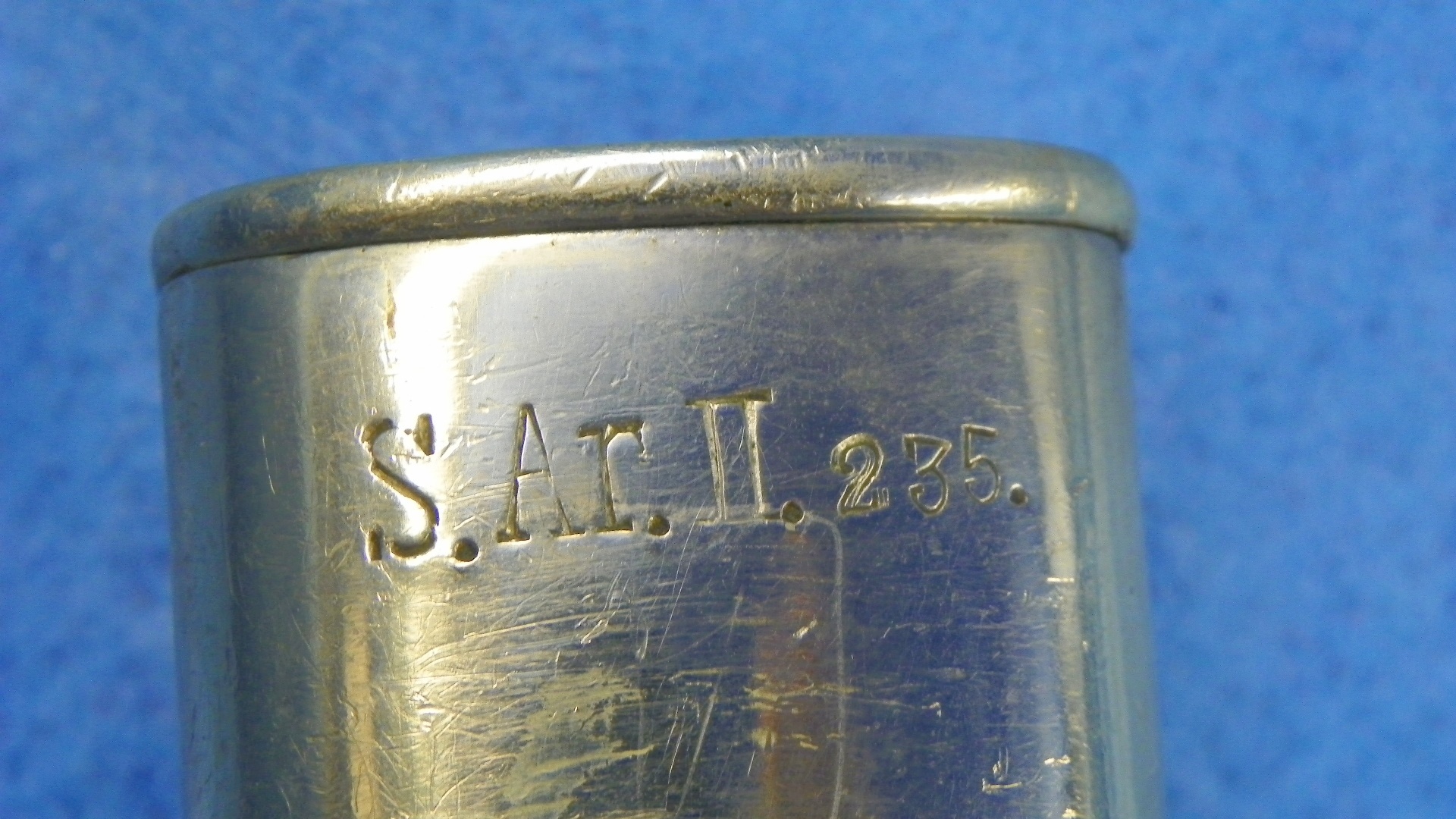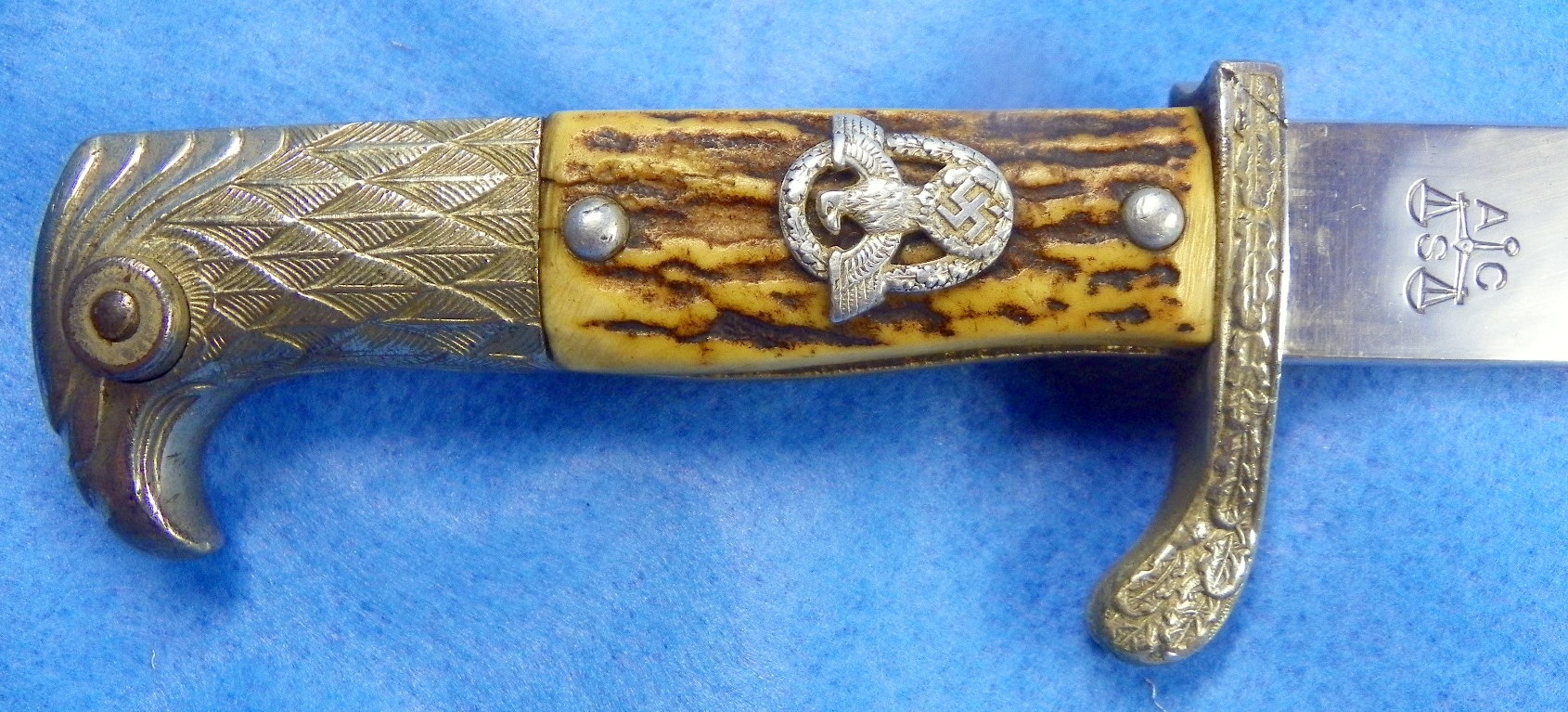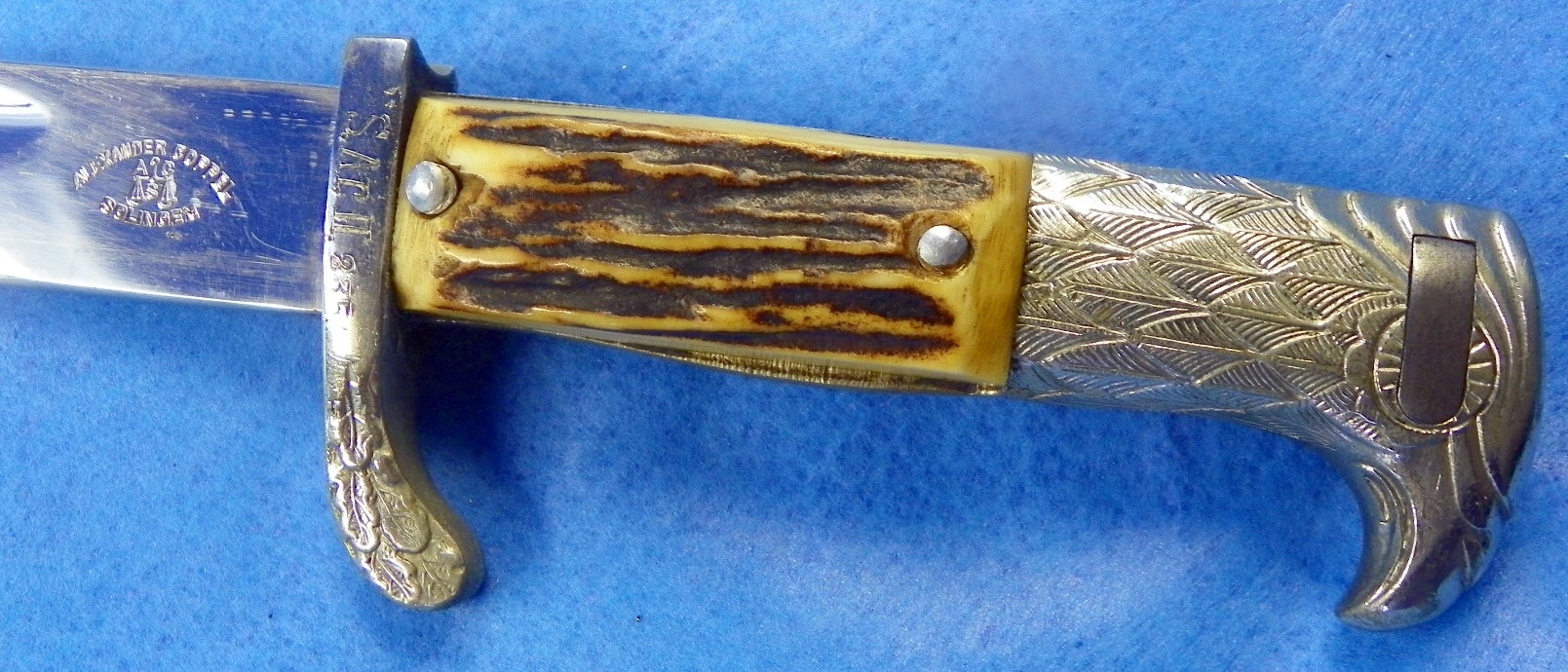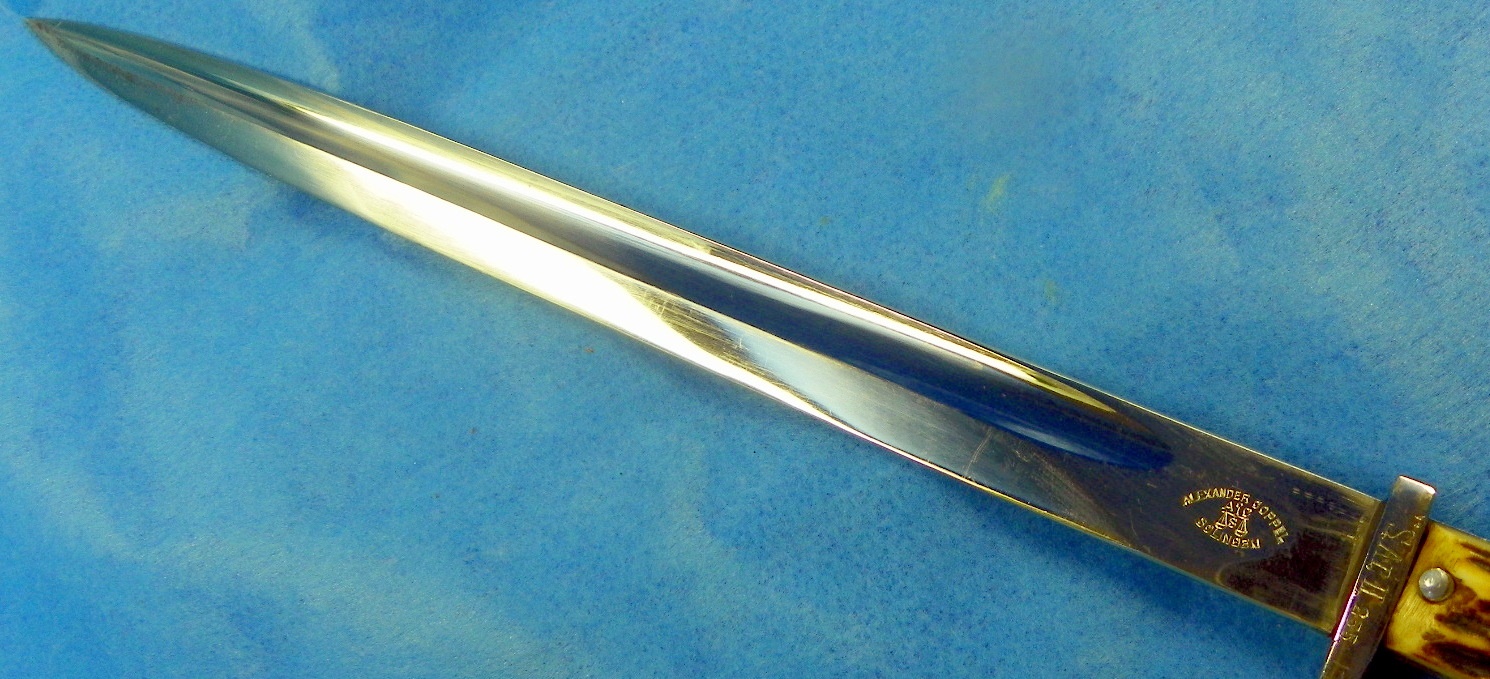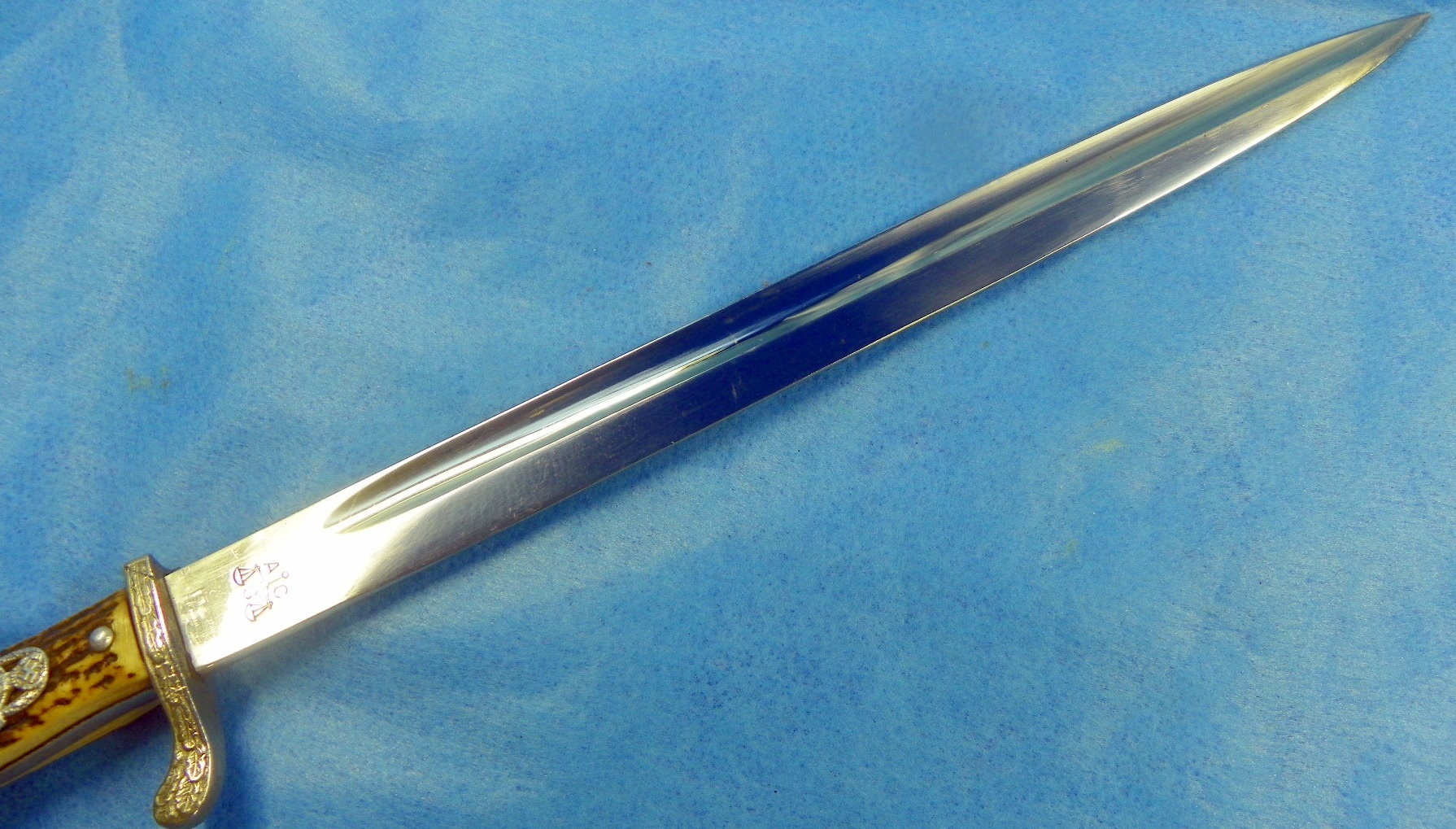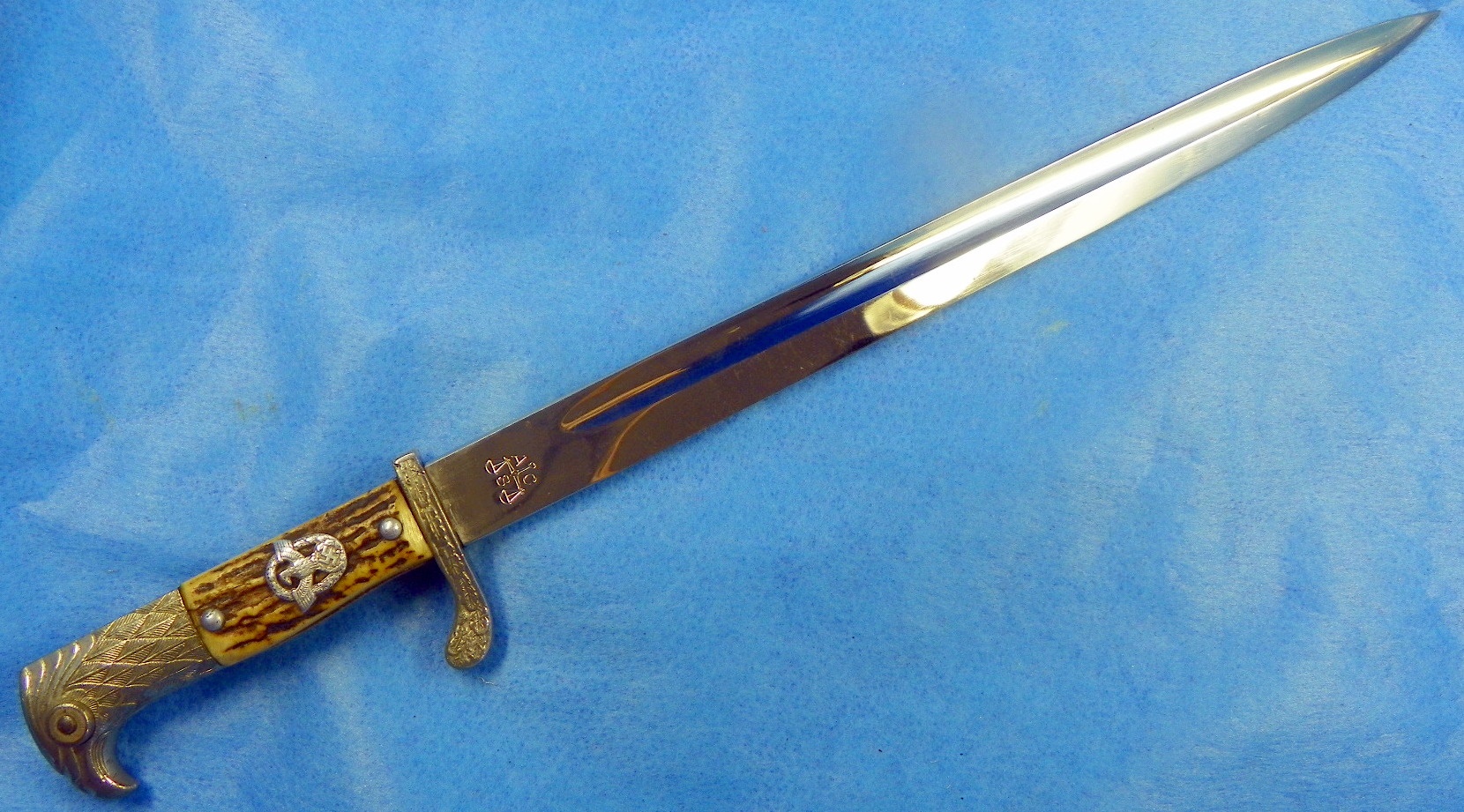 11. LABOR KORPS LAEDER (RAD) DAGGER BY EICKHORN
Near Mint Blade by Eickhorn with 35 to 41 trademark. Nice silver hilt
fitting with no missing plating. Grip plates have one small repaired
area to top edge by the bottom. Nice dent free scabbard has no plating
loss. Price is $2195.00 plus $25 stateside shipping
12. LABOR CORPS LEADER'S HEWER BY WKC
RAD (LABOR CORPS-REICHS ARBEIT DIENST) LEADER'S FEWER BY WKC (KNIGHT'SHEAD TRADEMARK).
Choice near mint blade with cross grain polish and nosharpening or nicks and frosty grey motto ARBEIT ADELT. Very nice
silver plated hilt with very minor bubbling and no pits. White grip
plates with no missing pieces and only one minor crack to the obverse
plate from the center to the edge that is hardly noticed. Beautiful
silver plated scabbard with no dents or missing plating and still has
some original lacquer. As nice as you will find on the market today and
beautiful toning to silver. Price is $2595.00 plus $25.00 Priority
Shipping stateside signature required.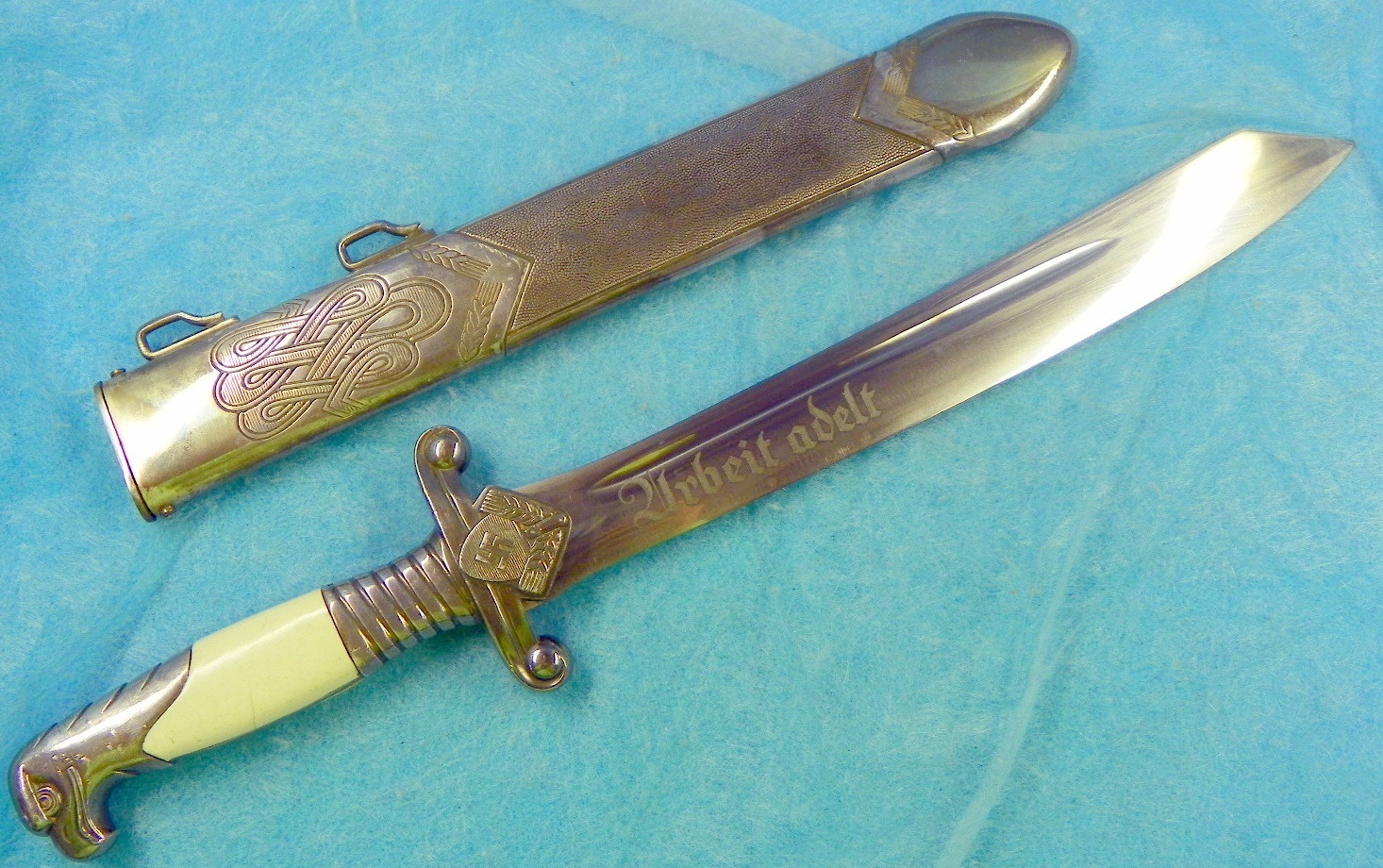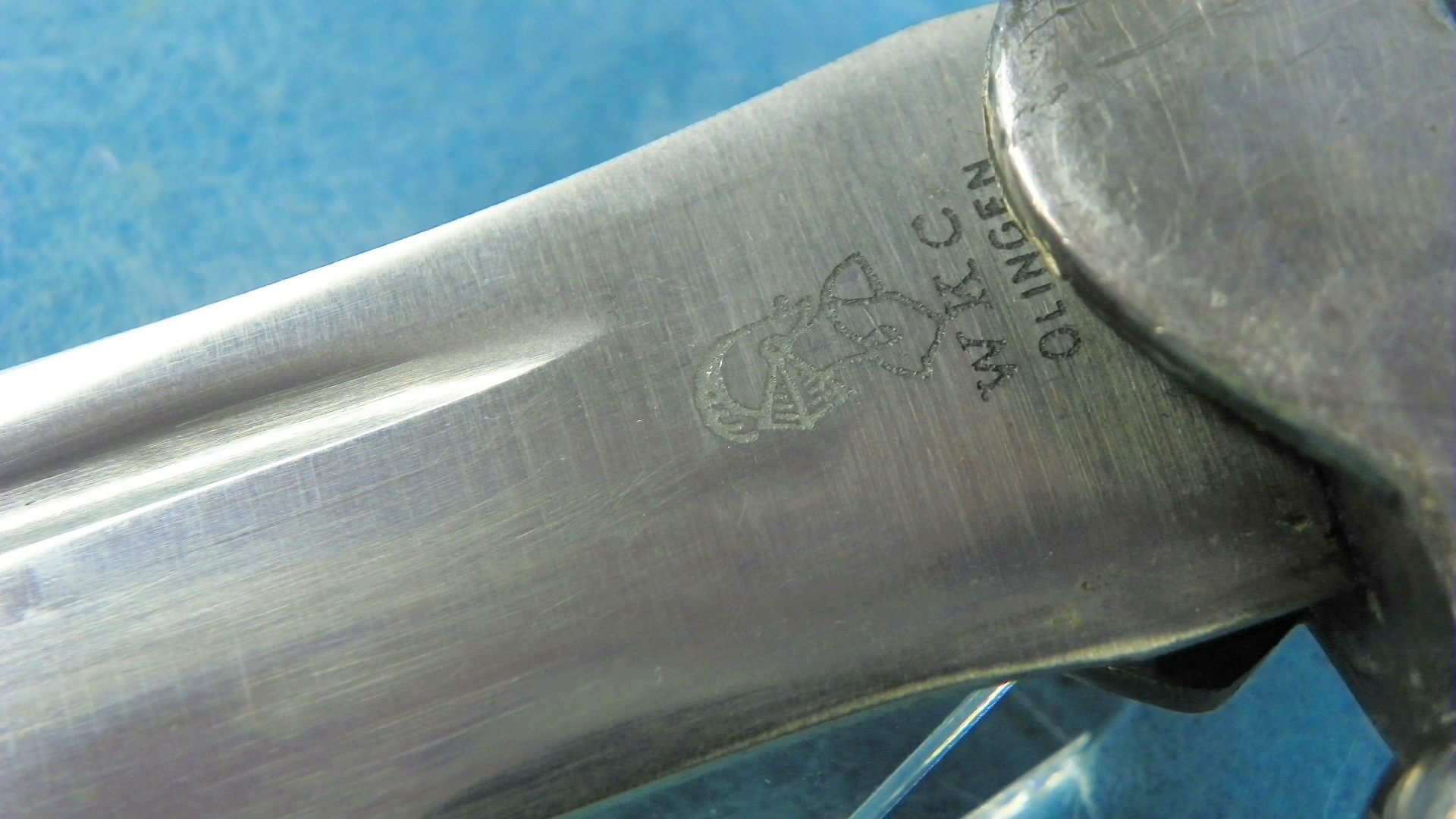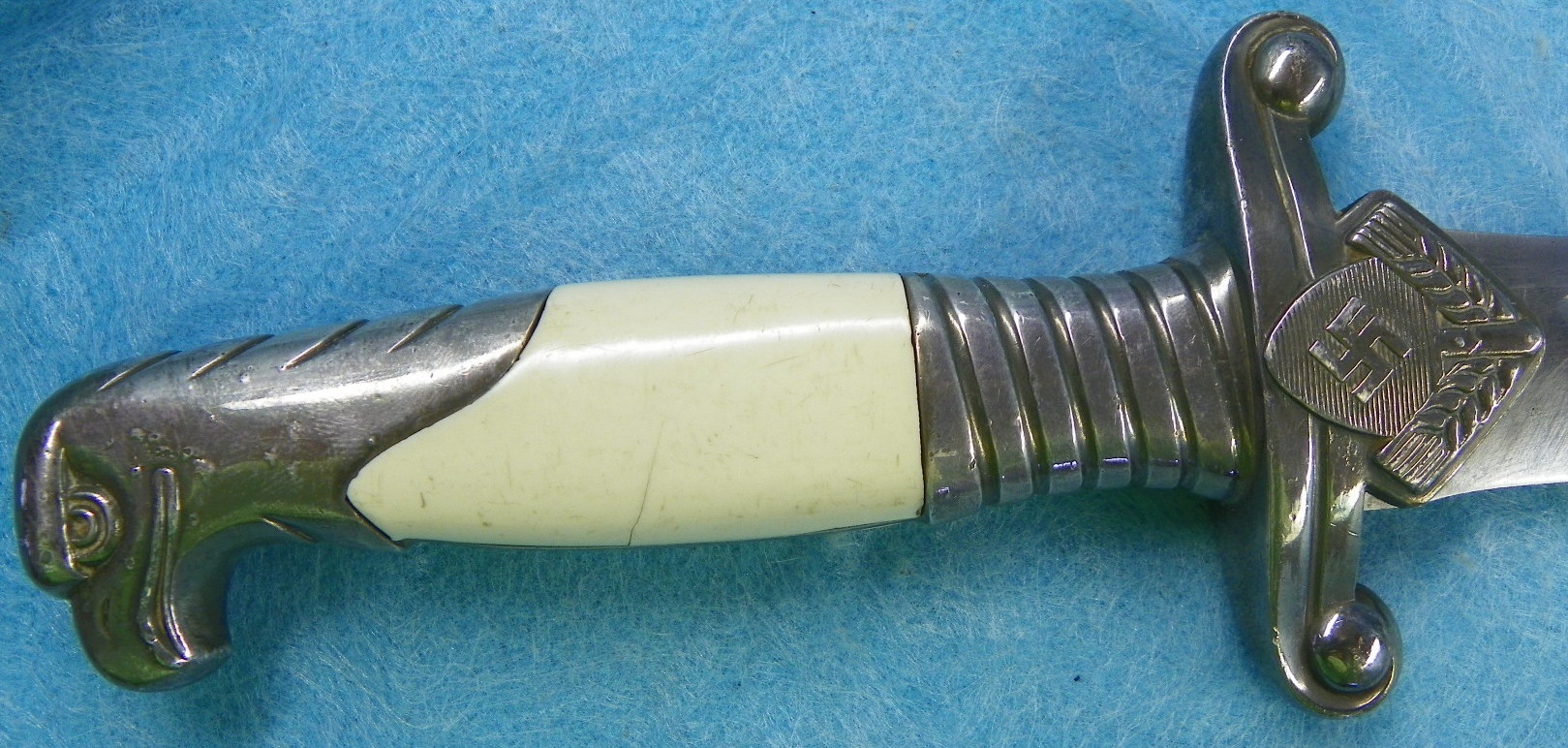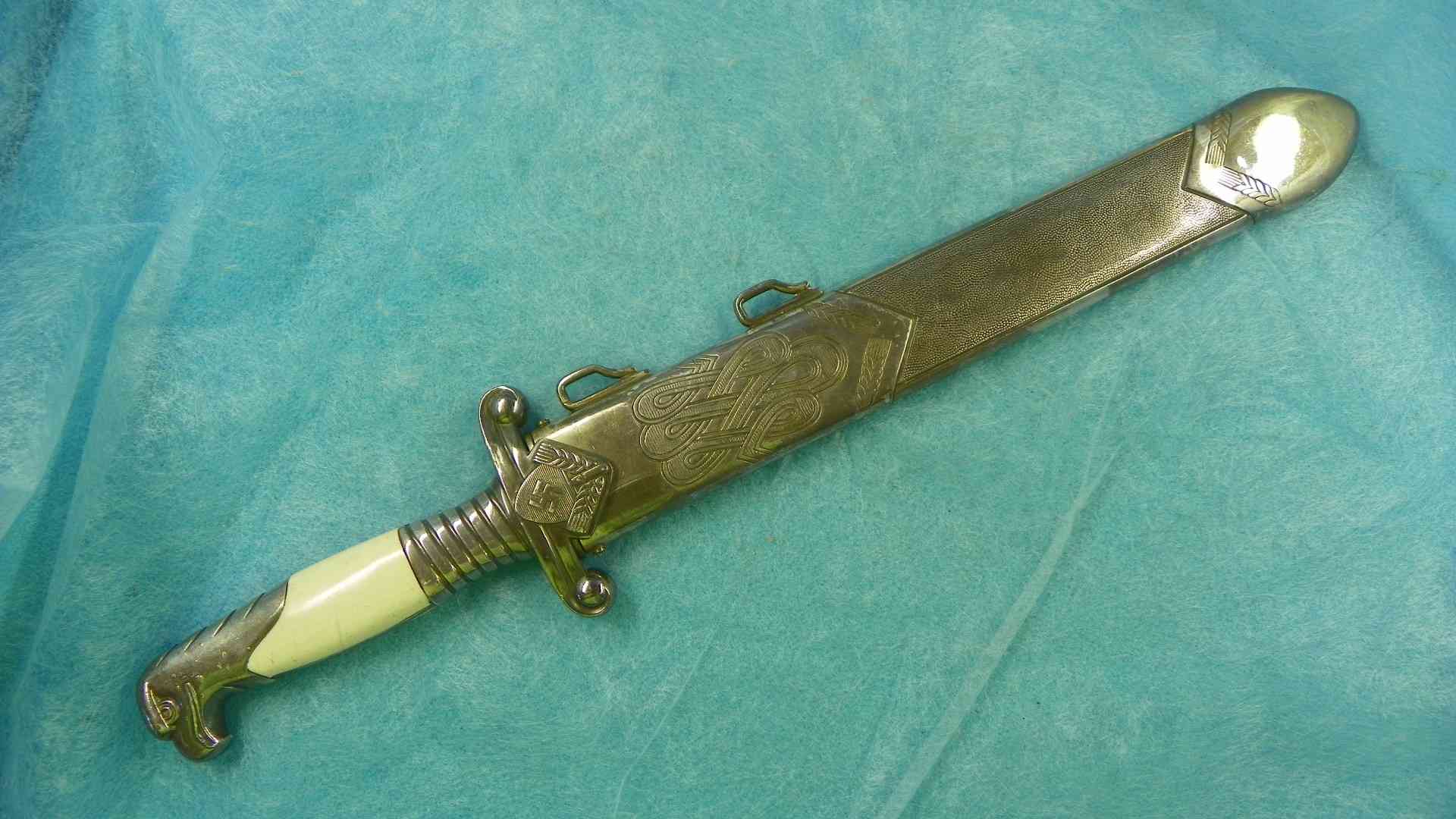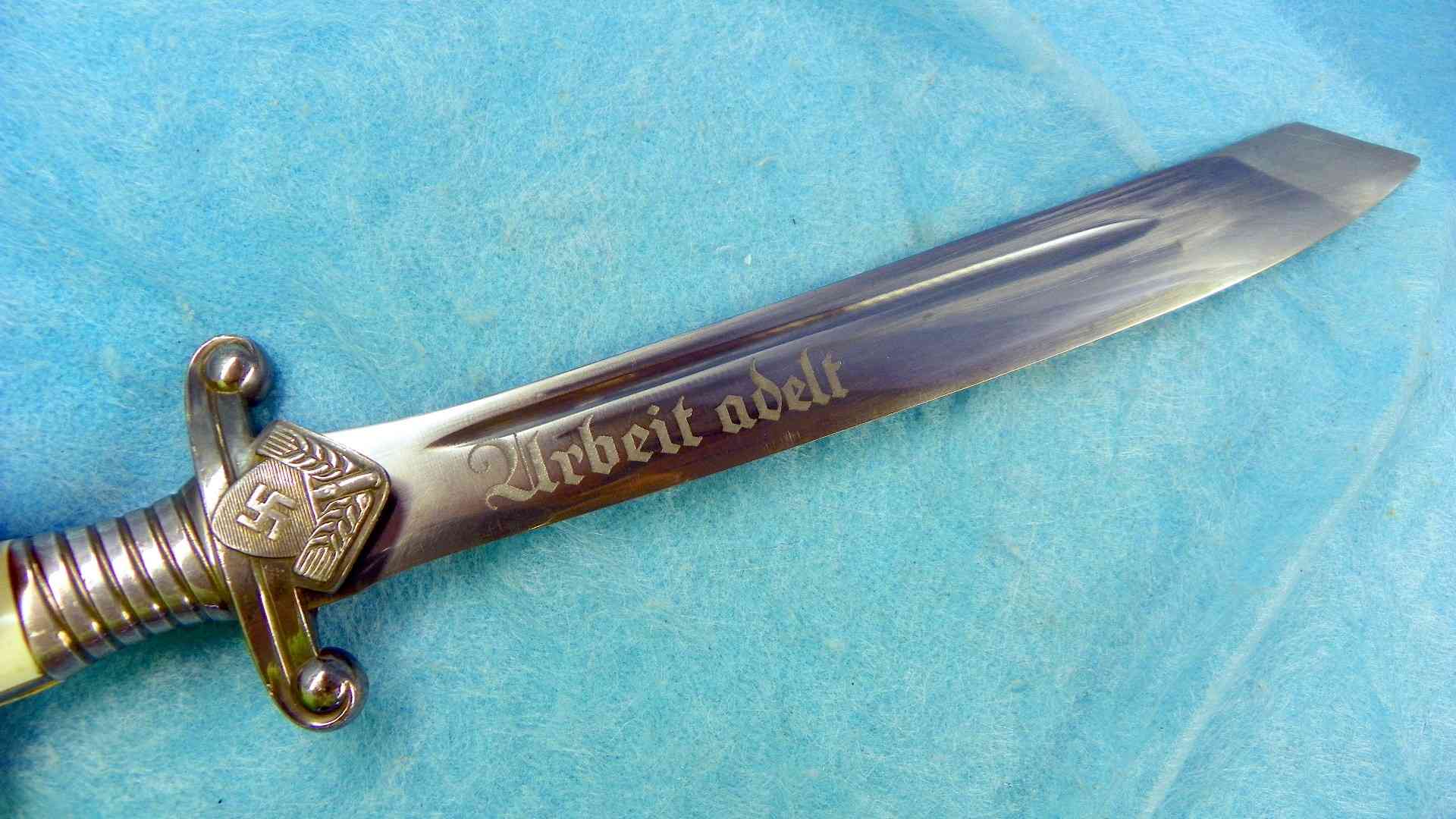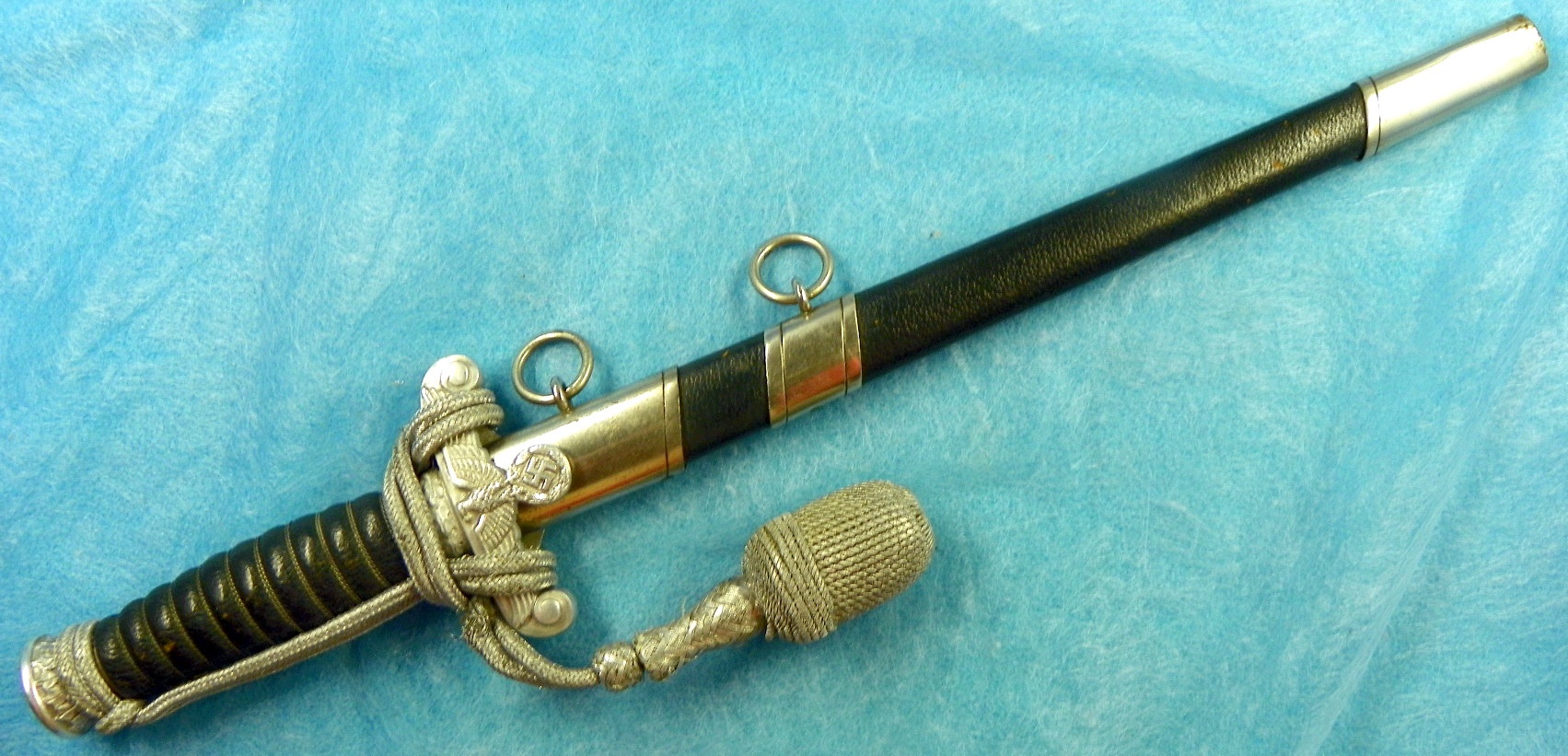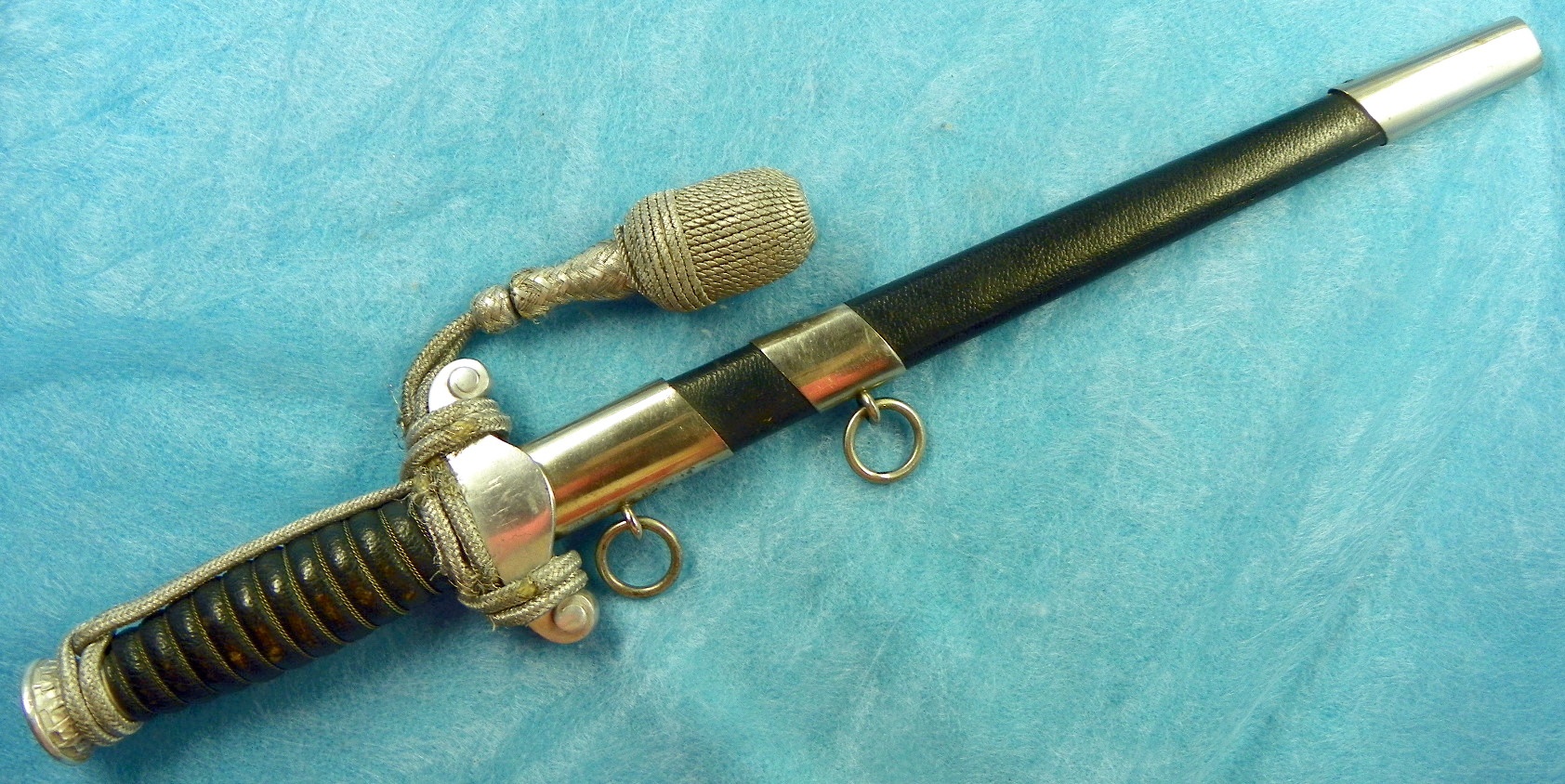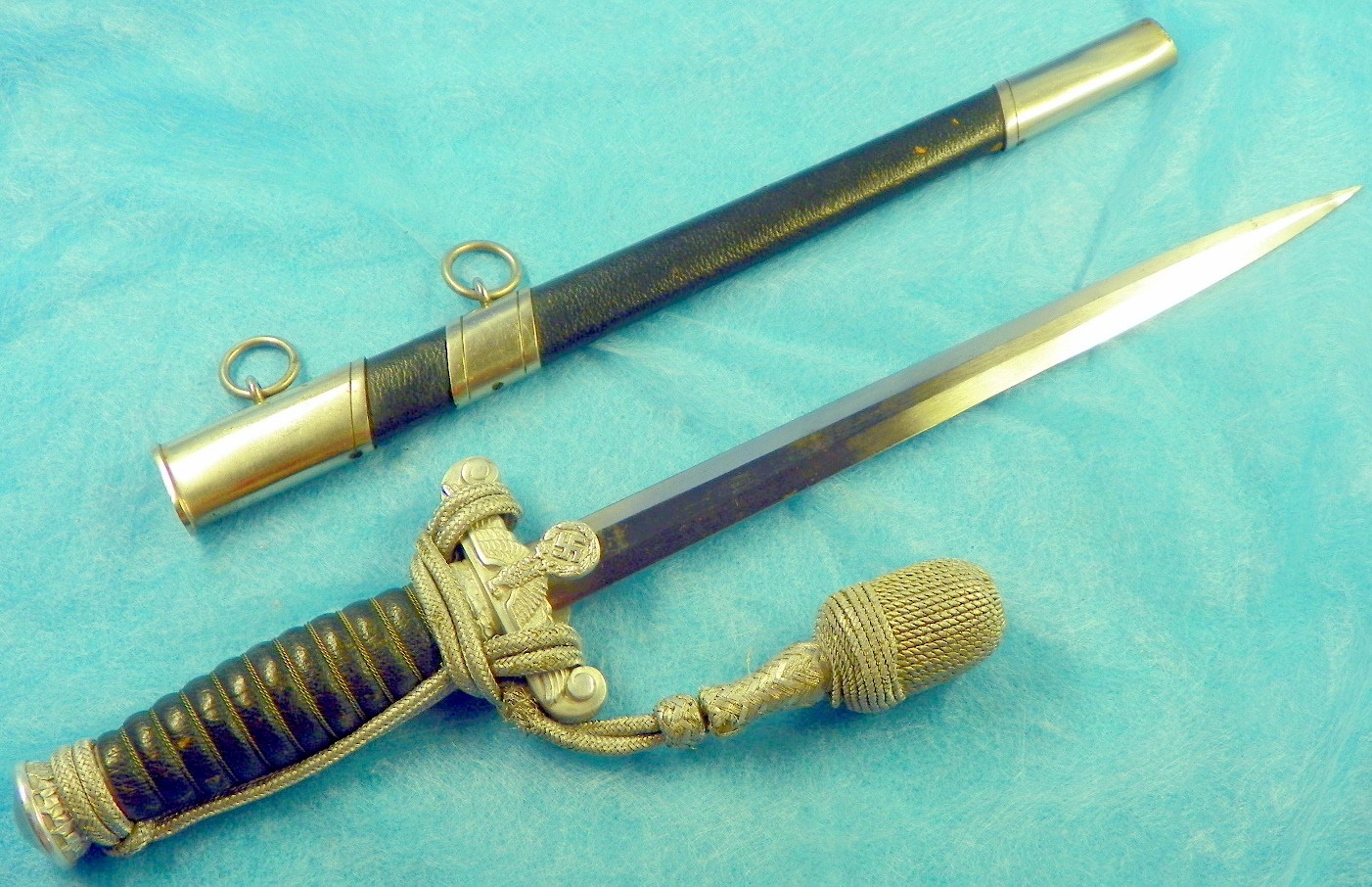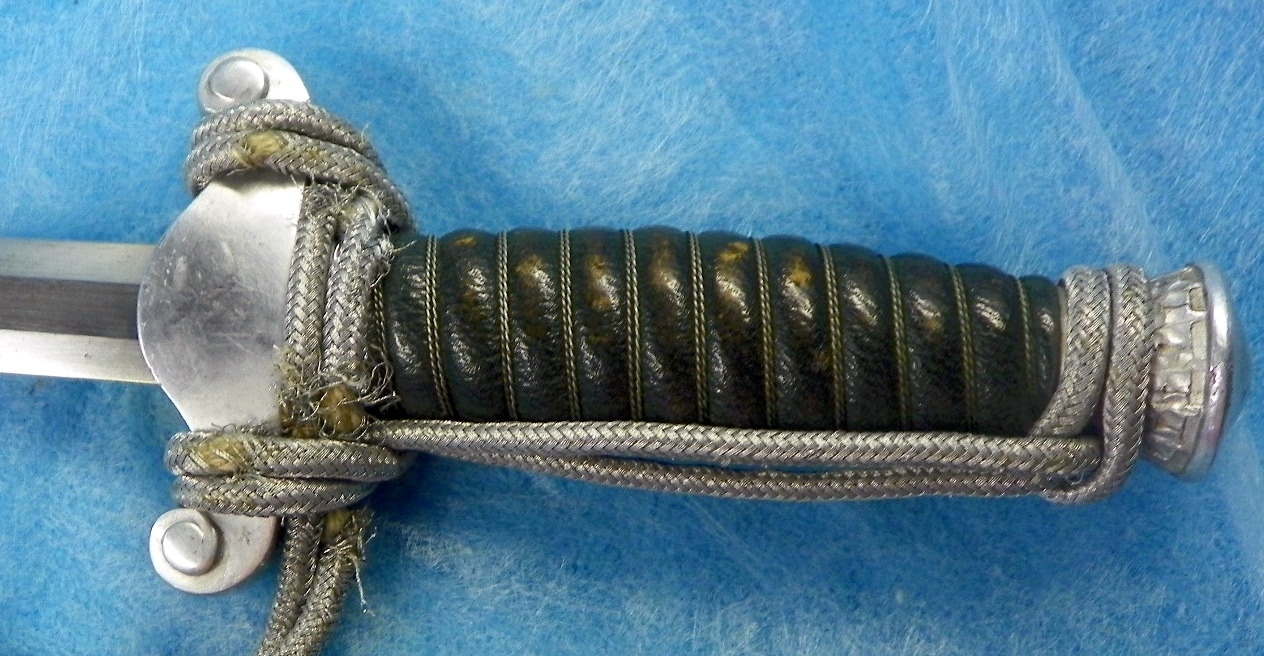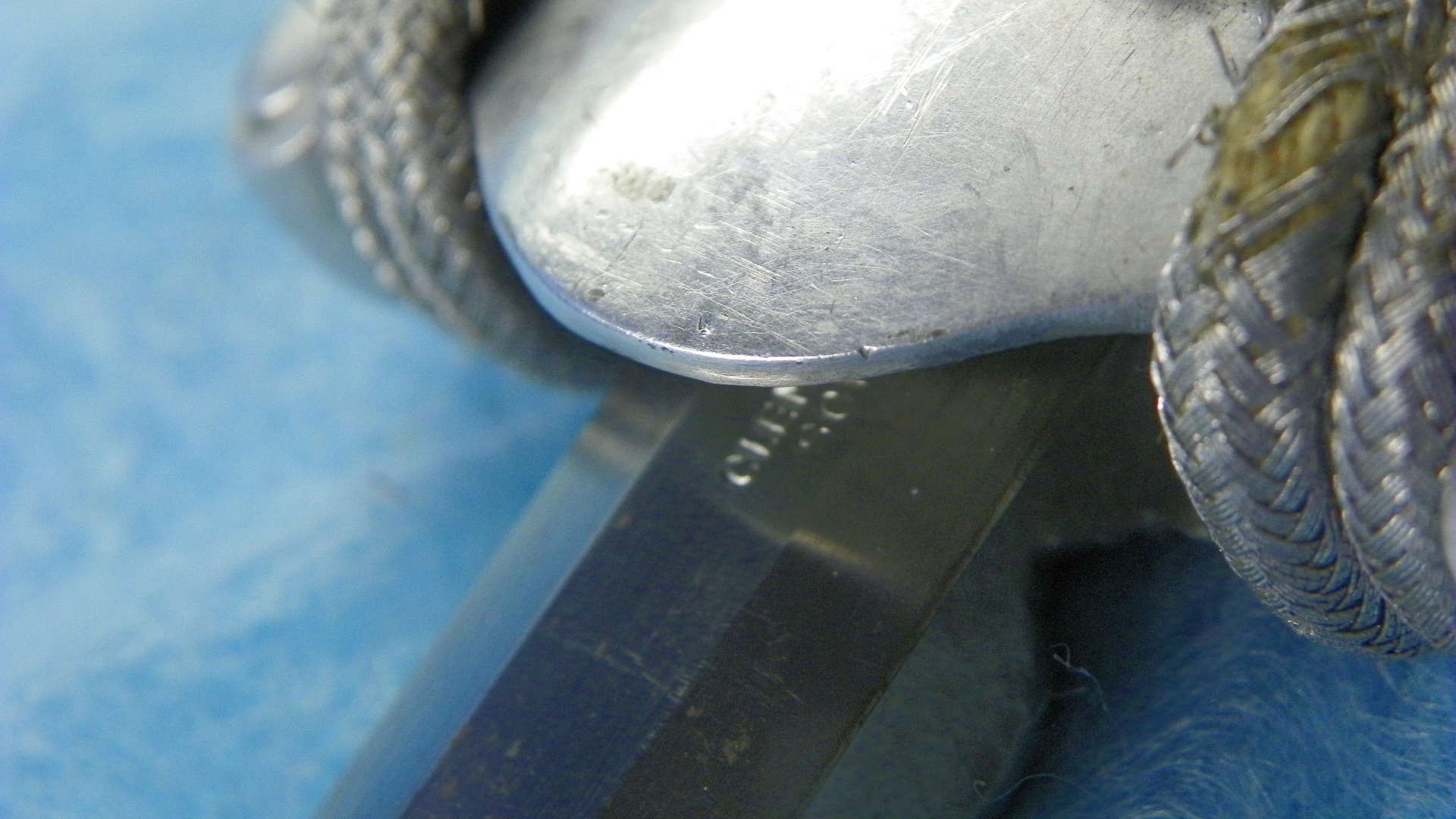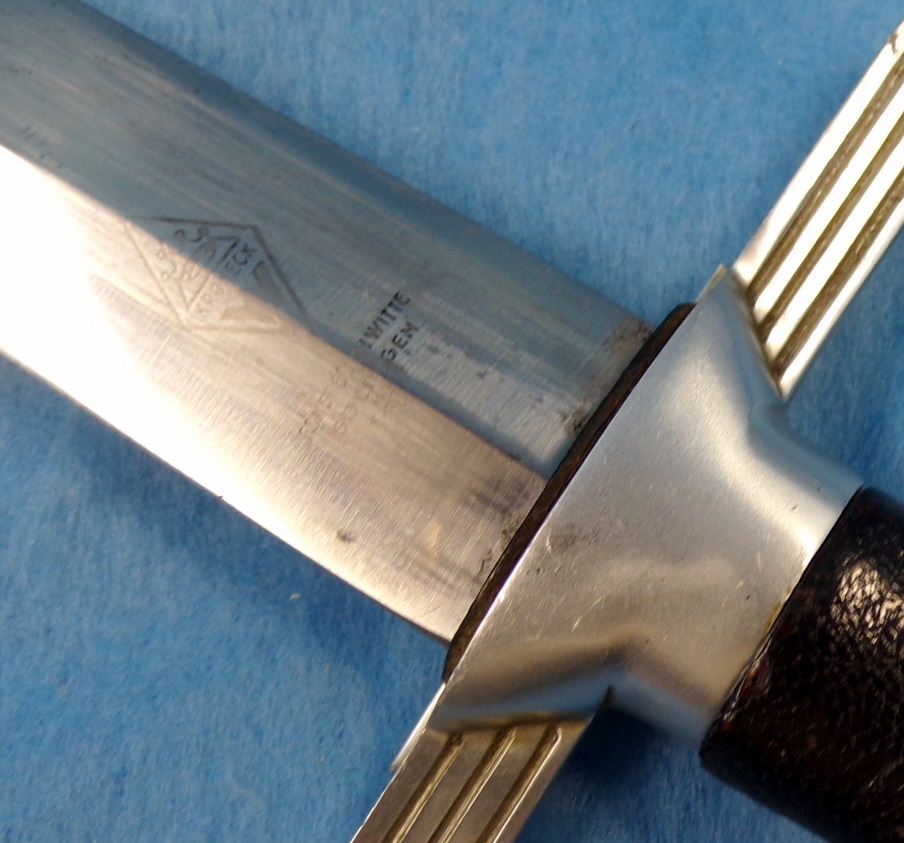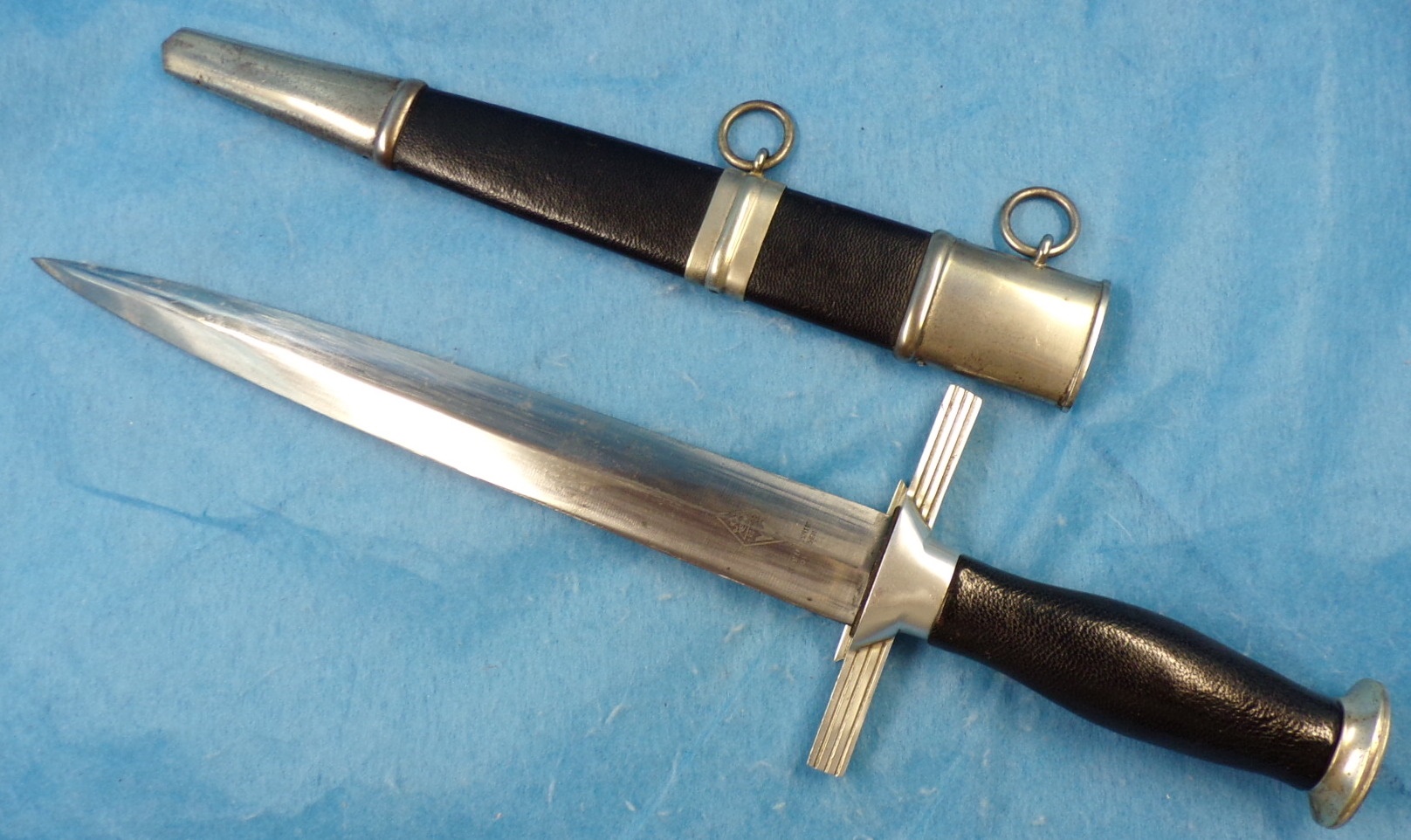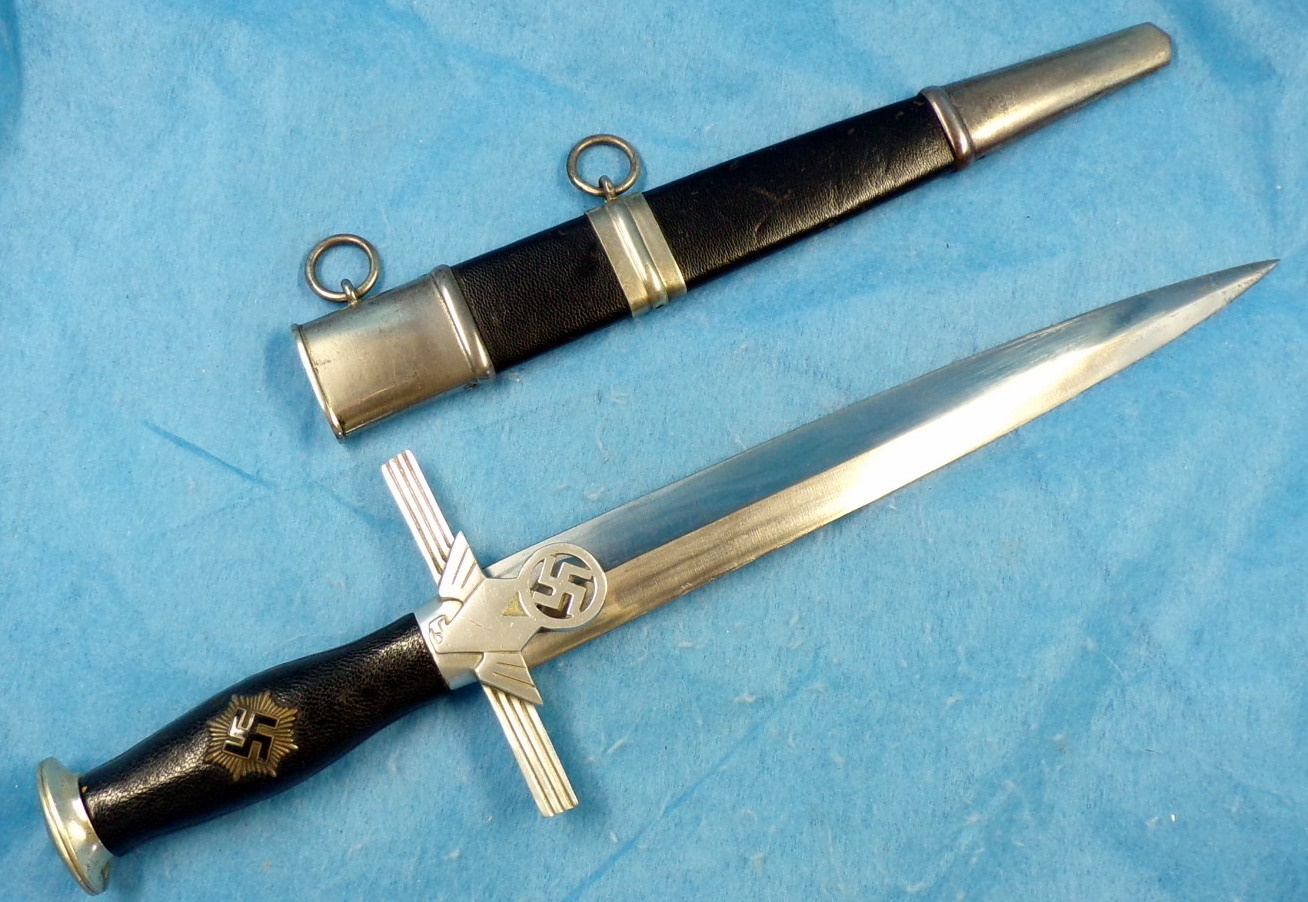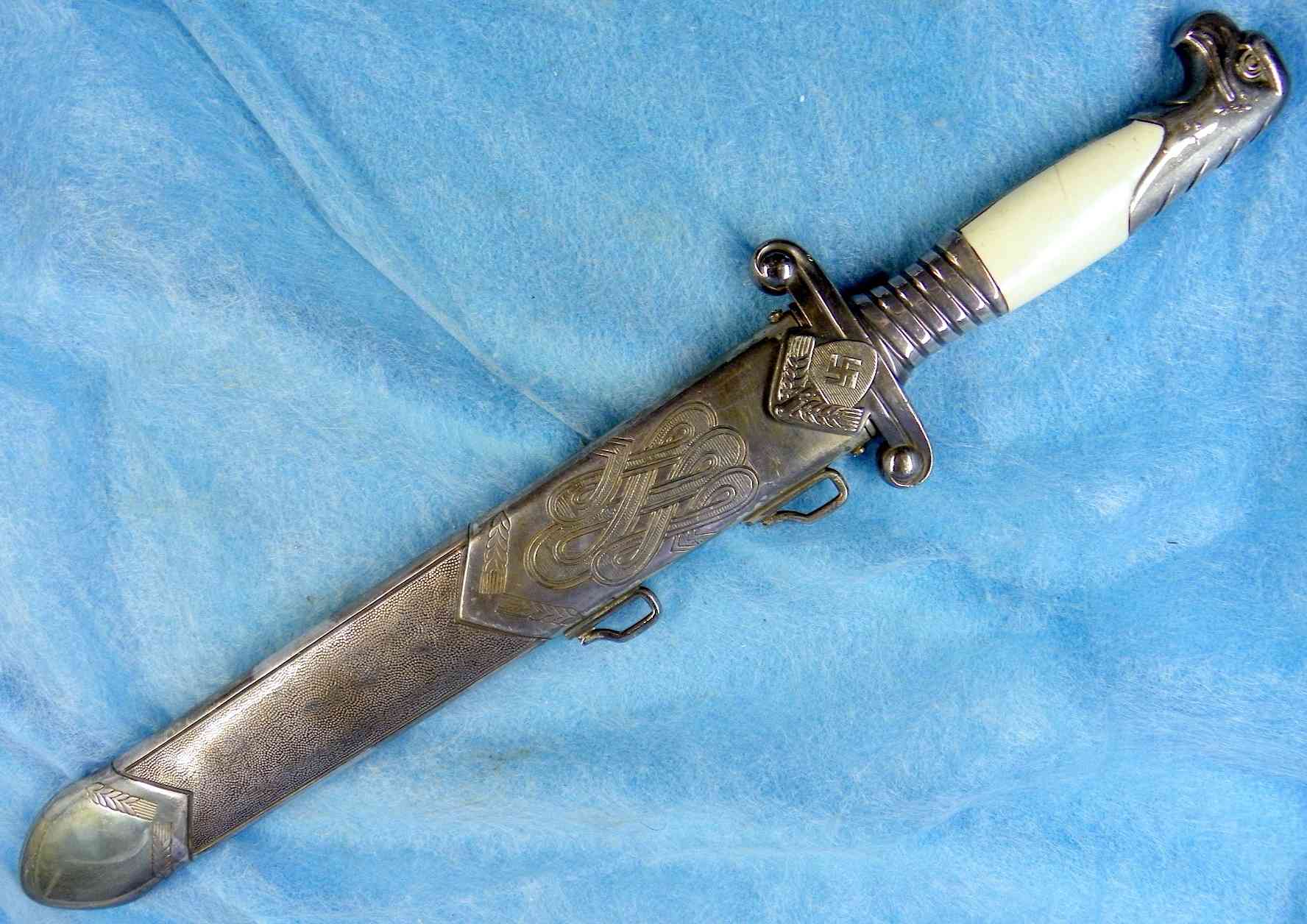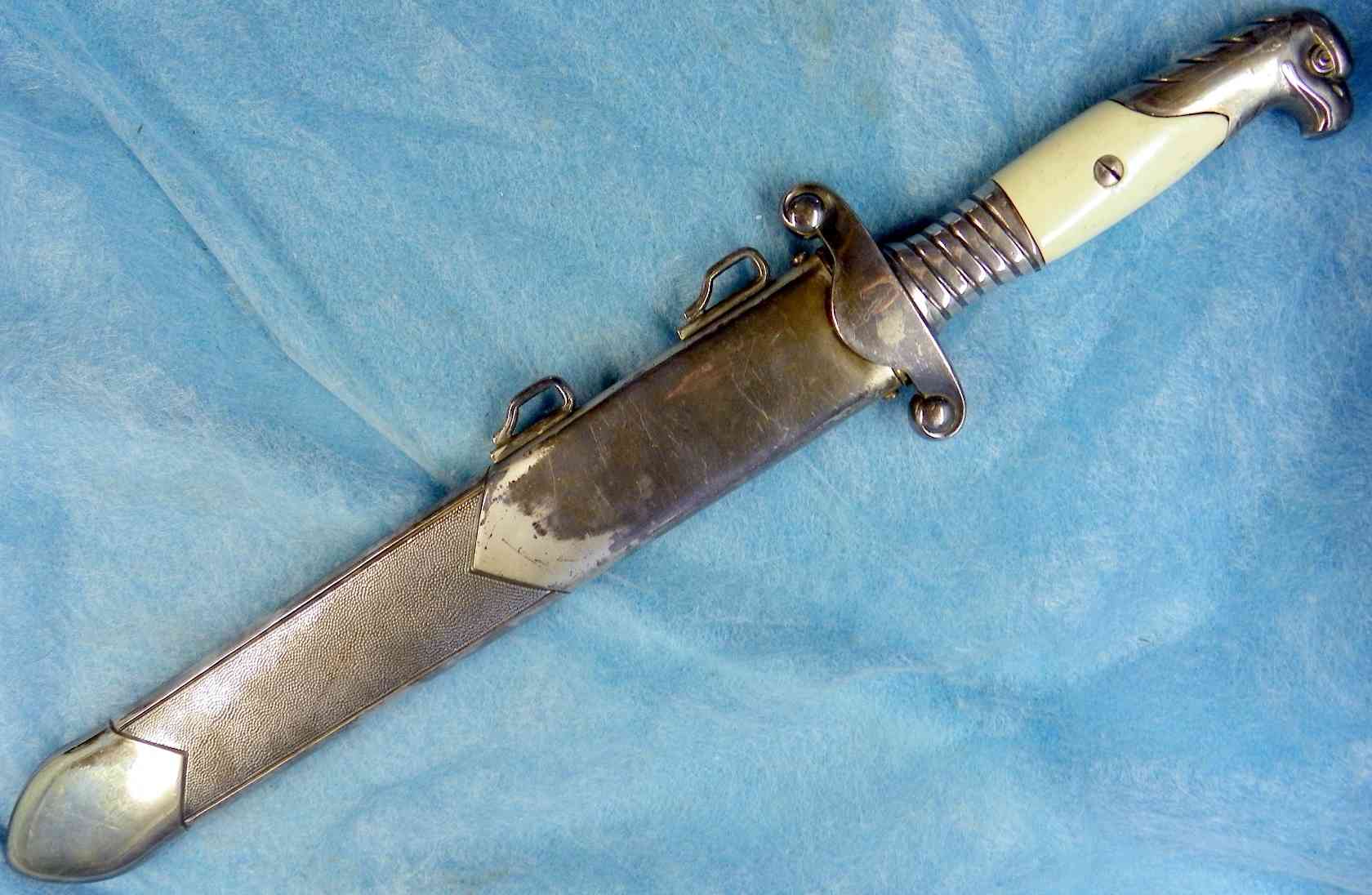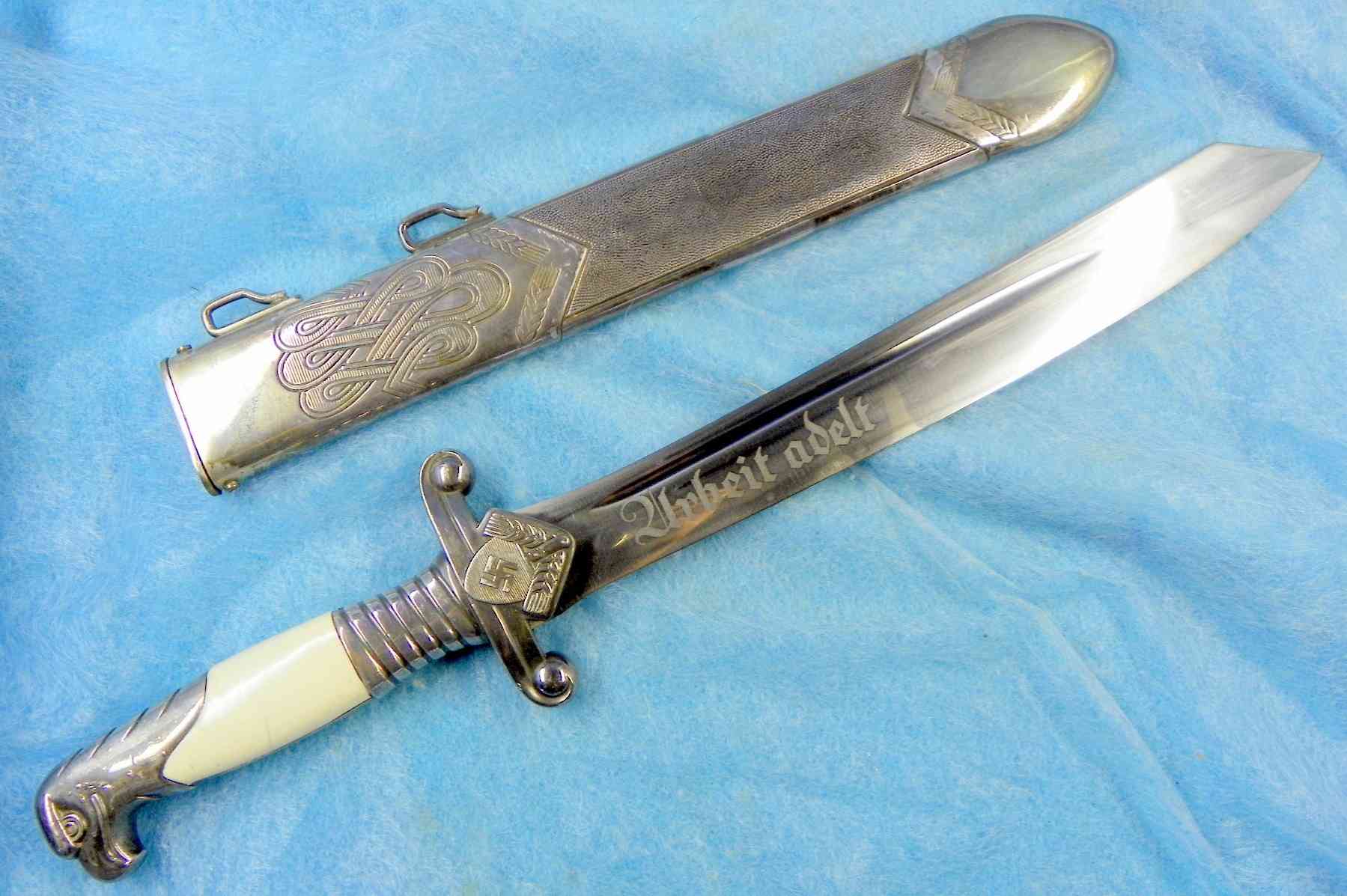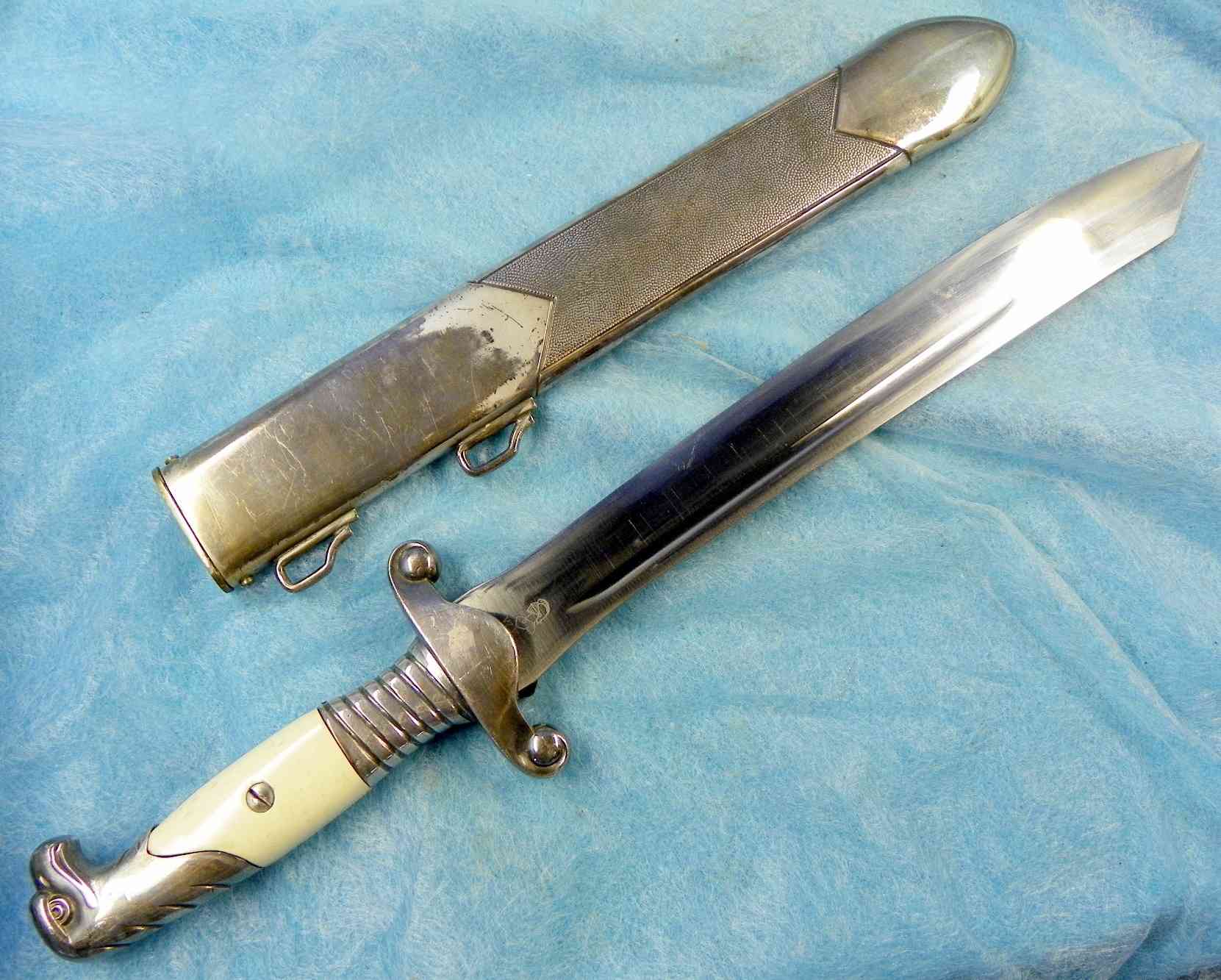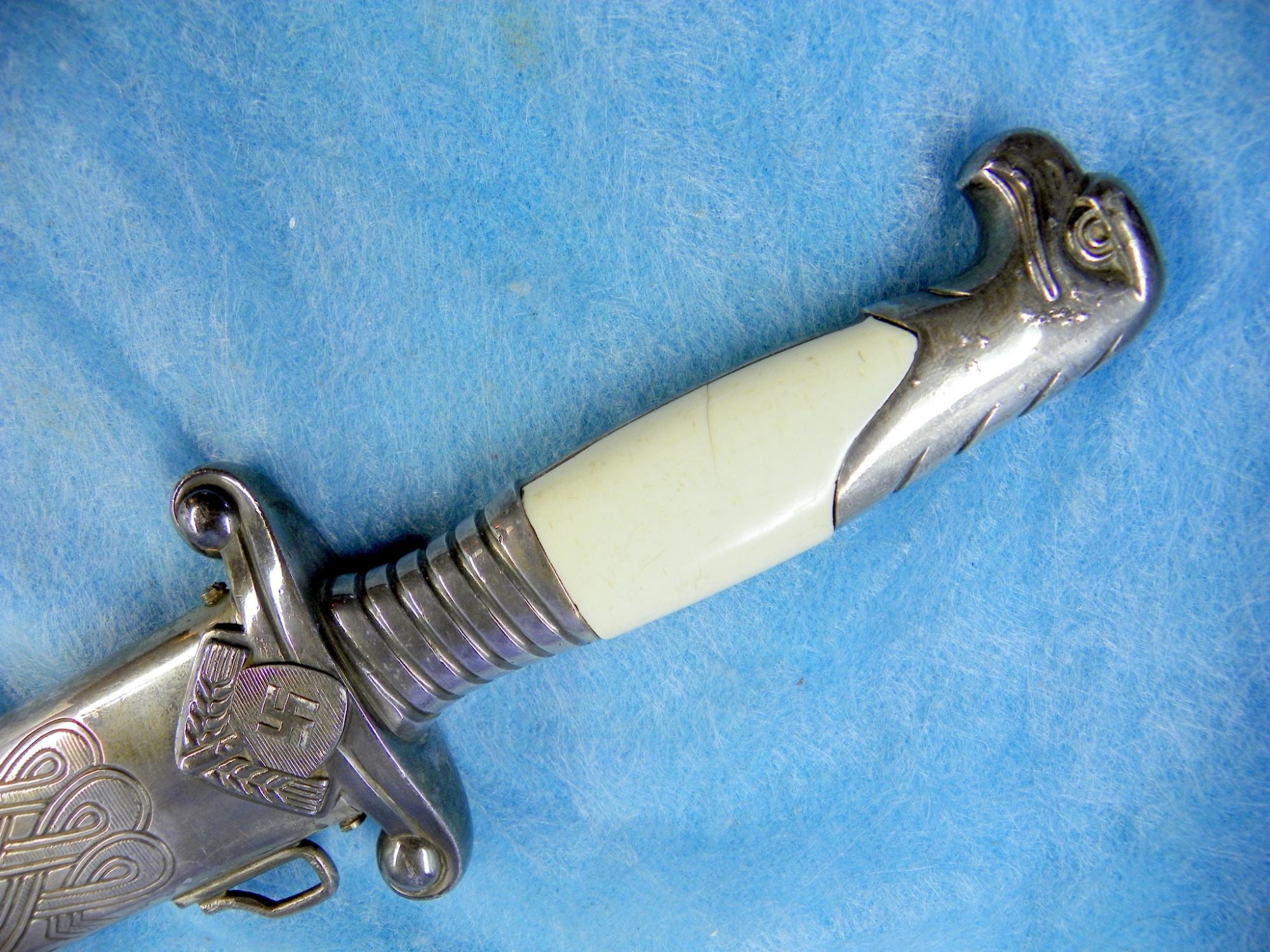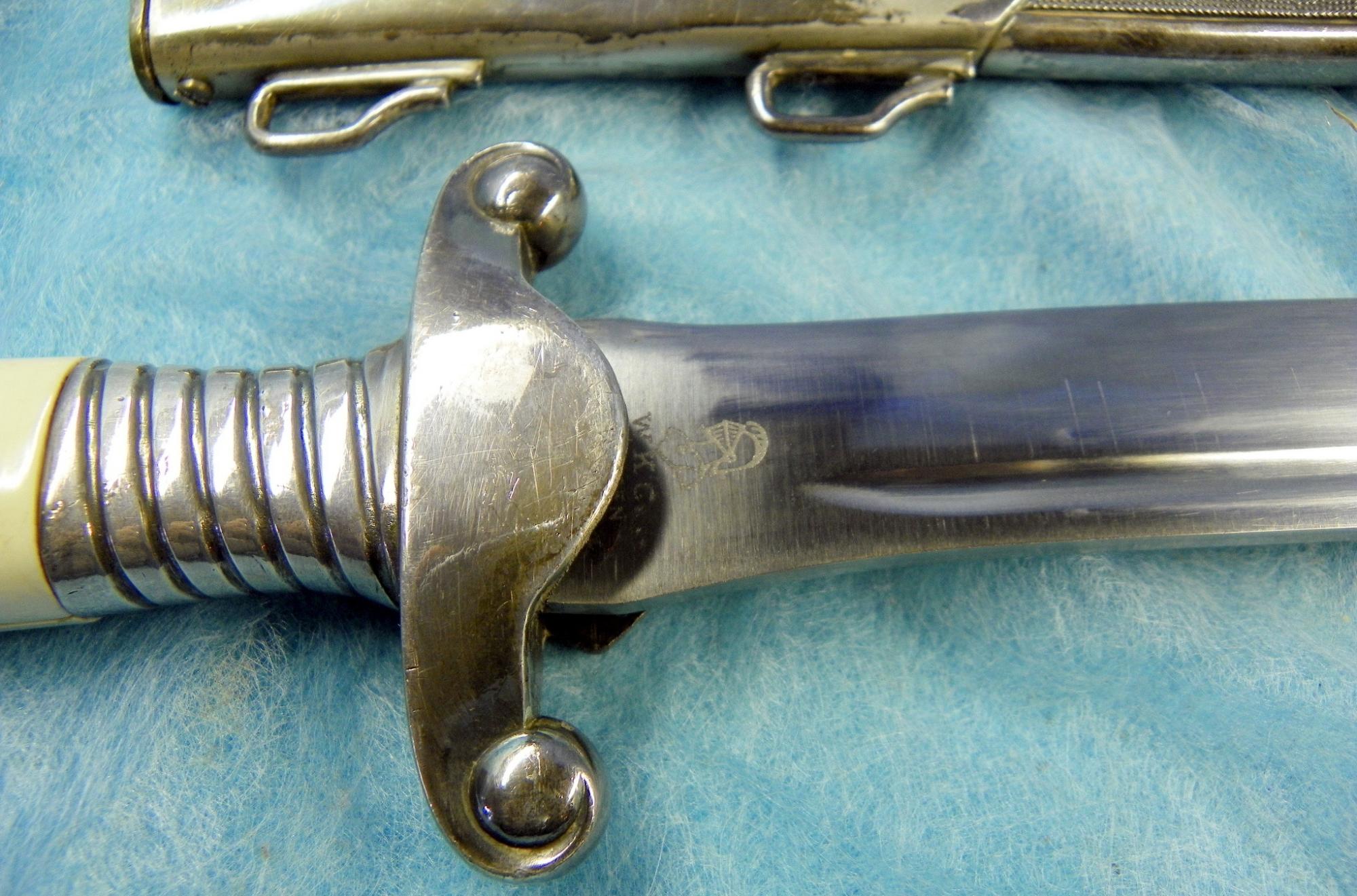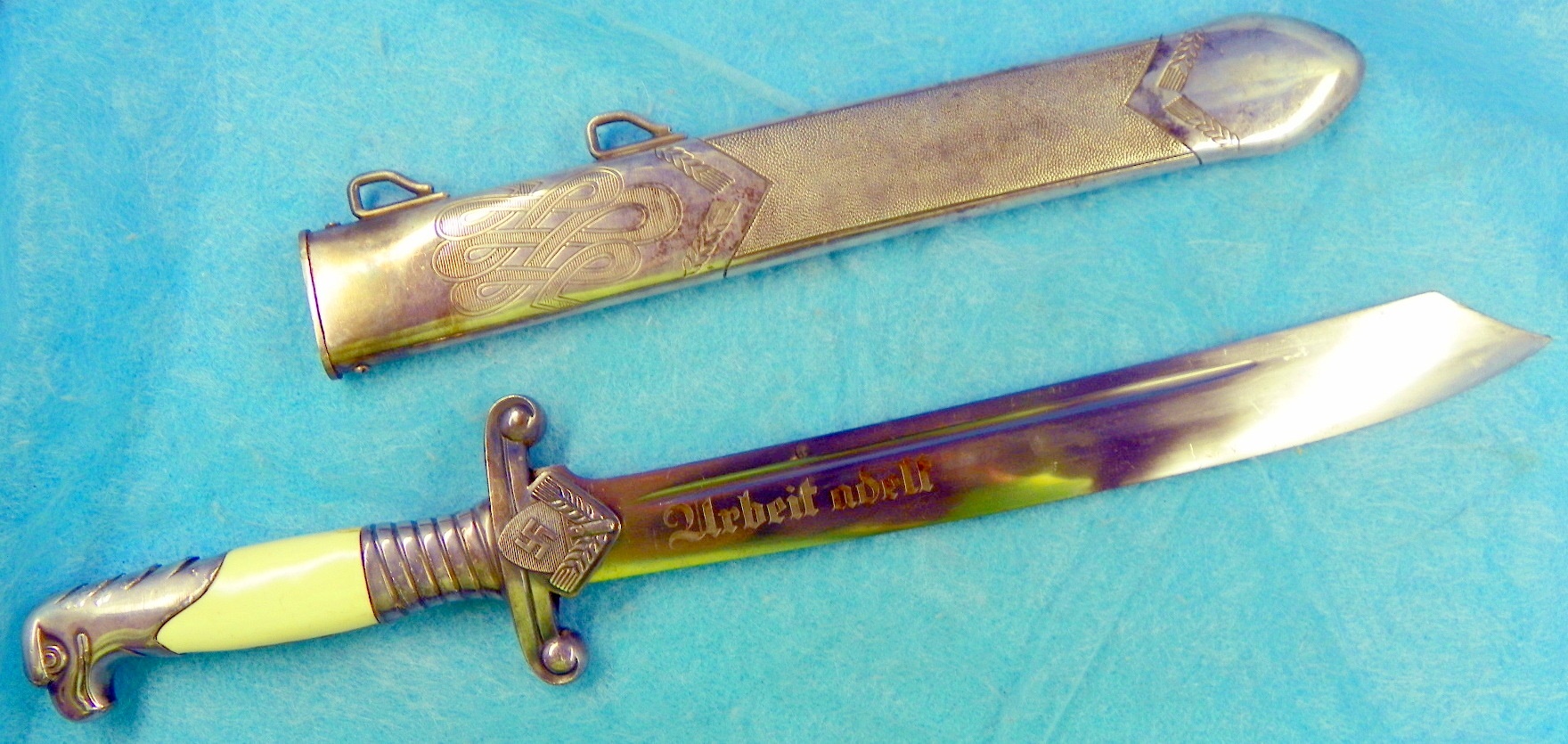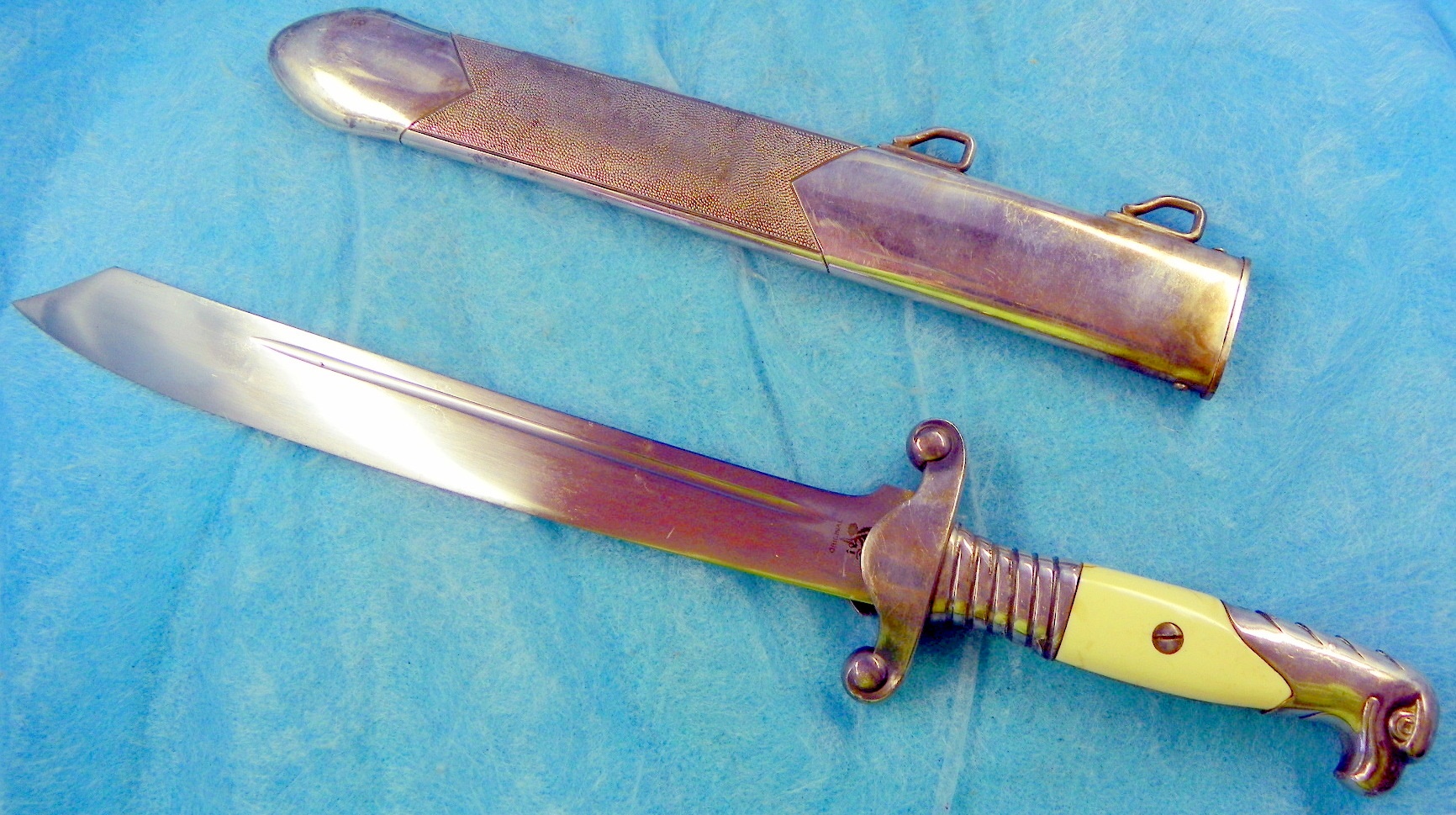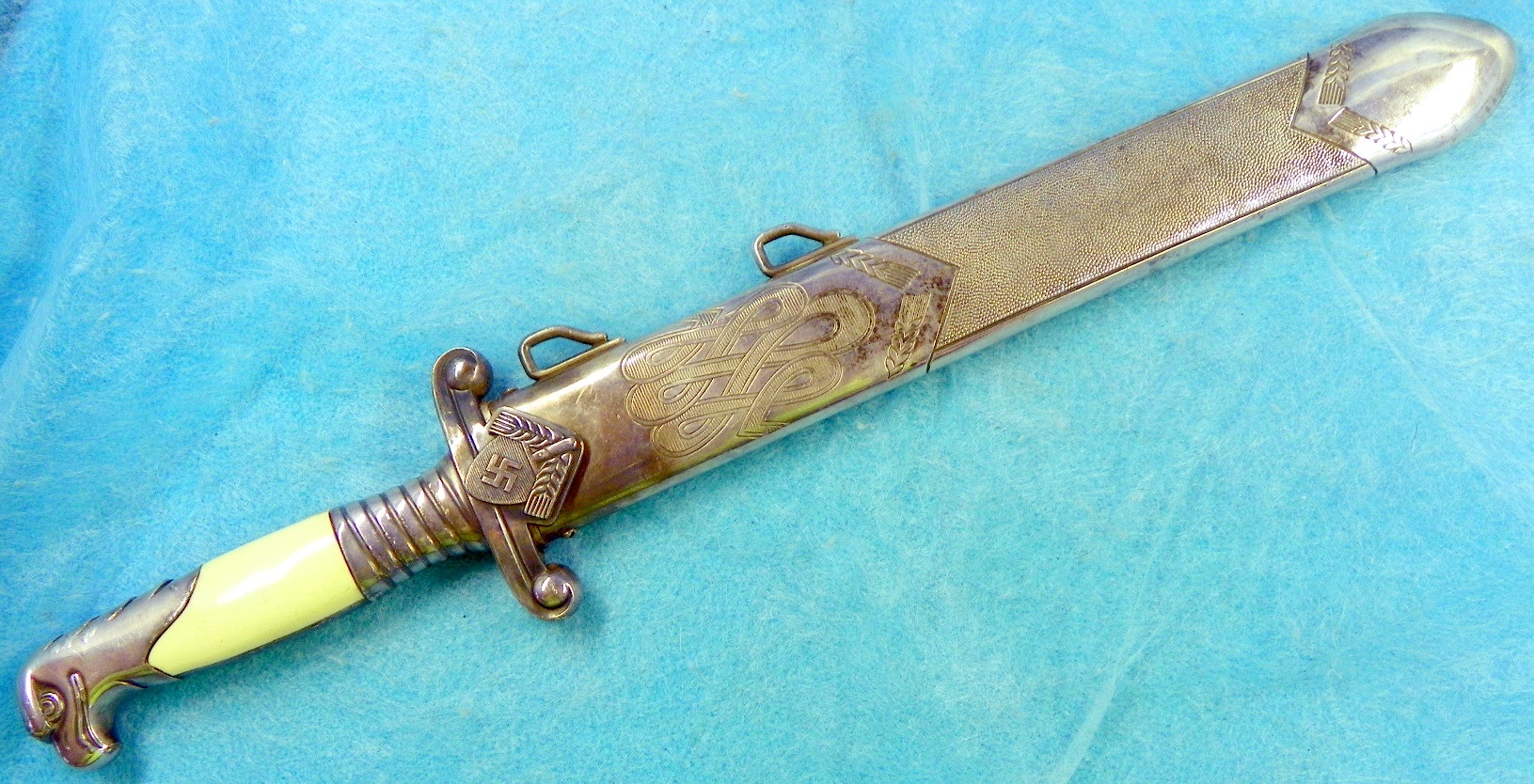 9. RED CROSS OFFICER'S DAGGER (DRK Leader's Dagger).
Choice near mint blade with very nice cross grain polish and NO nicks or sharpening. Nice hilt fittings with NO polishing (as you see on cleaned daggers) andnice frosty finish and pommel screw is not buggered. Beautiful yellow crack free grip. Dent free scabbard with rust free finish and both screws unturned. Choice DRK Leader priced at $1795.00 plus $25.00 shipping stateside Priority Mail signature required.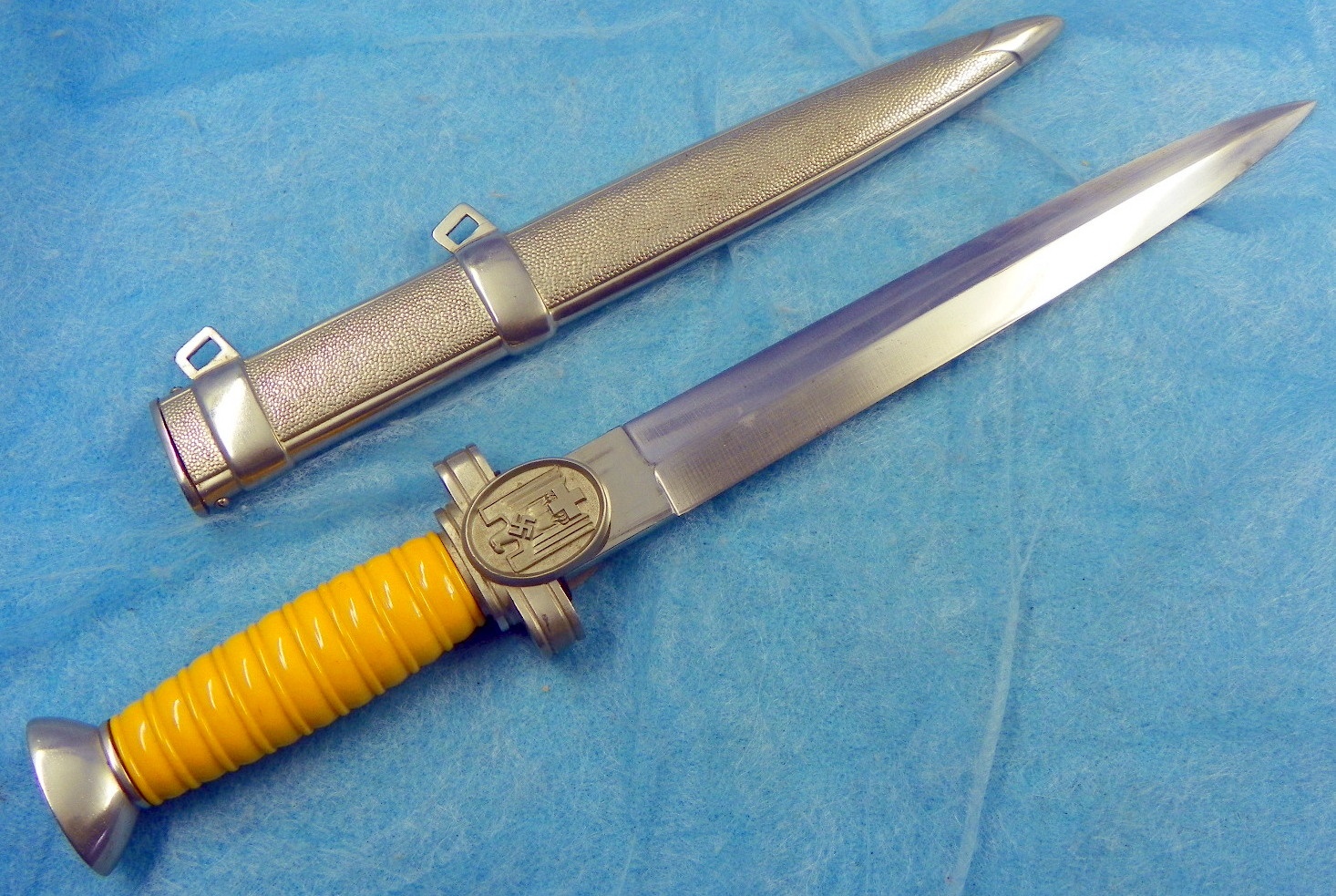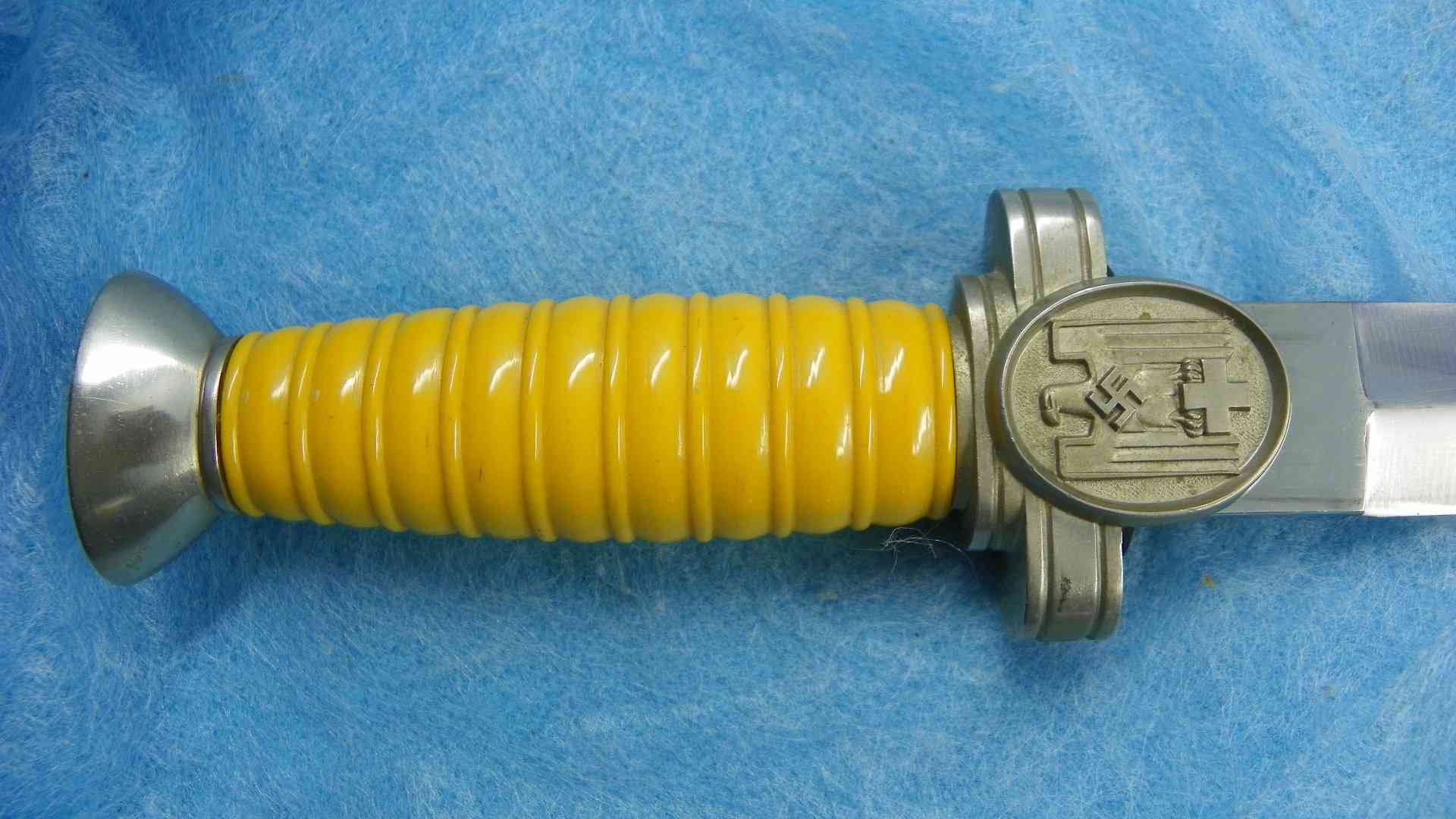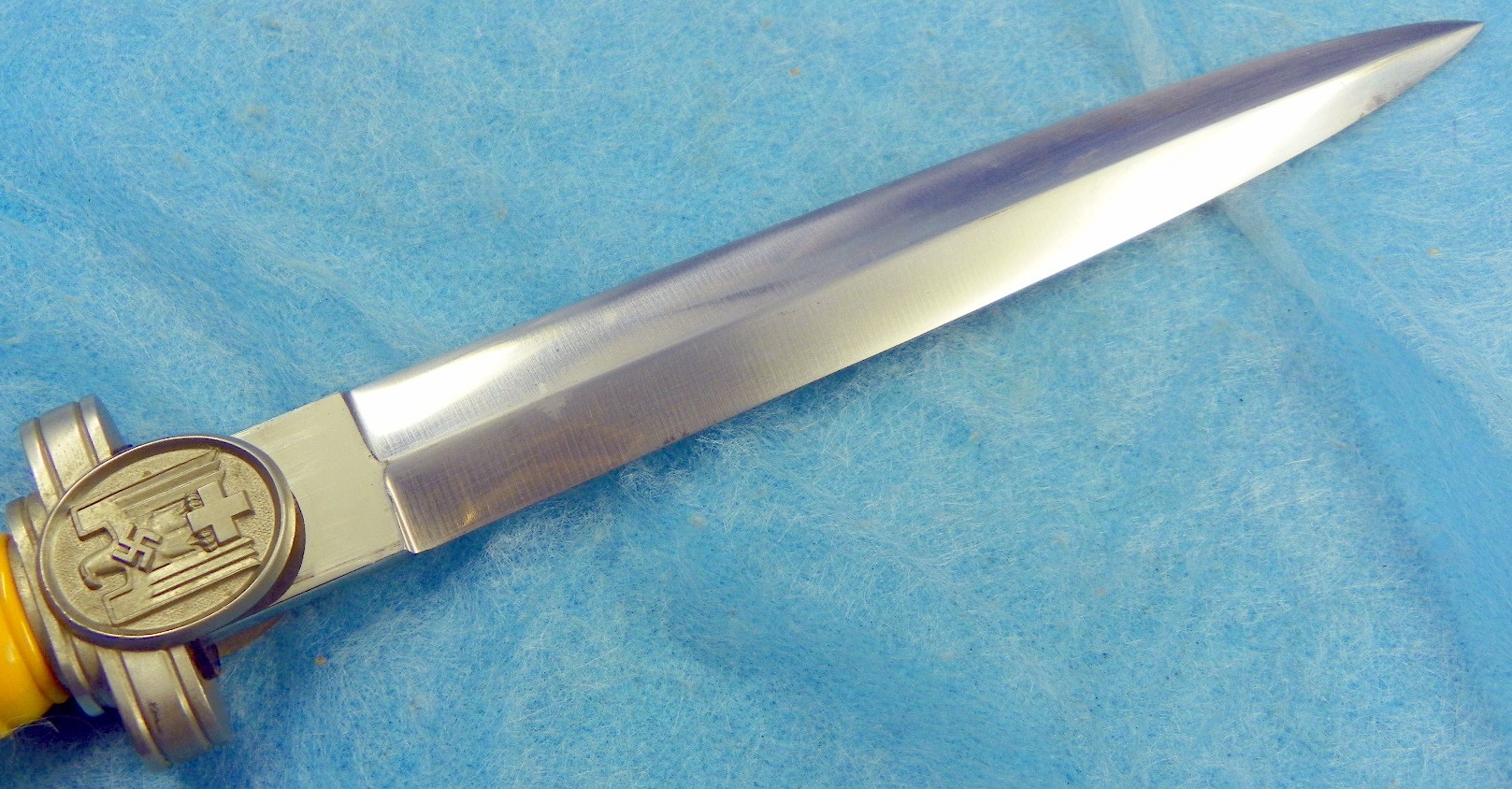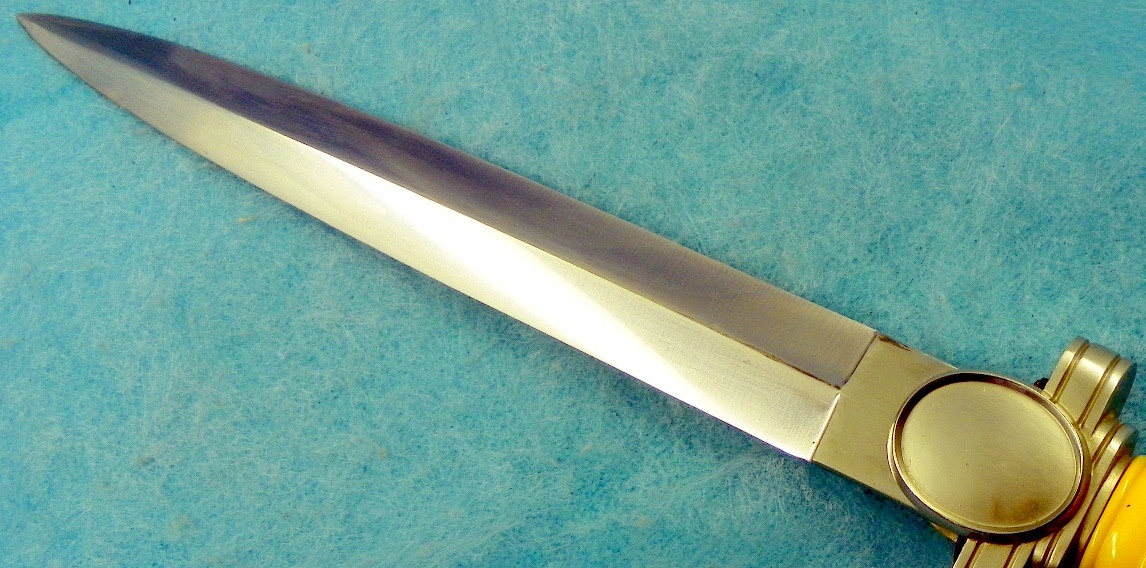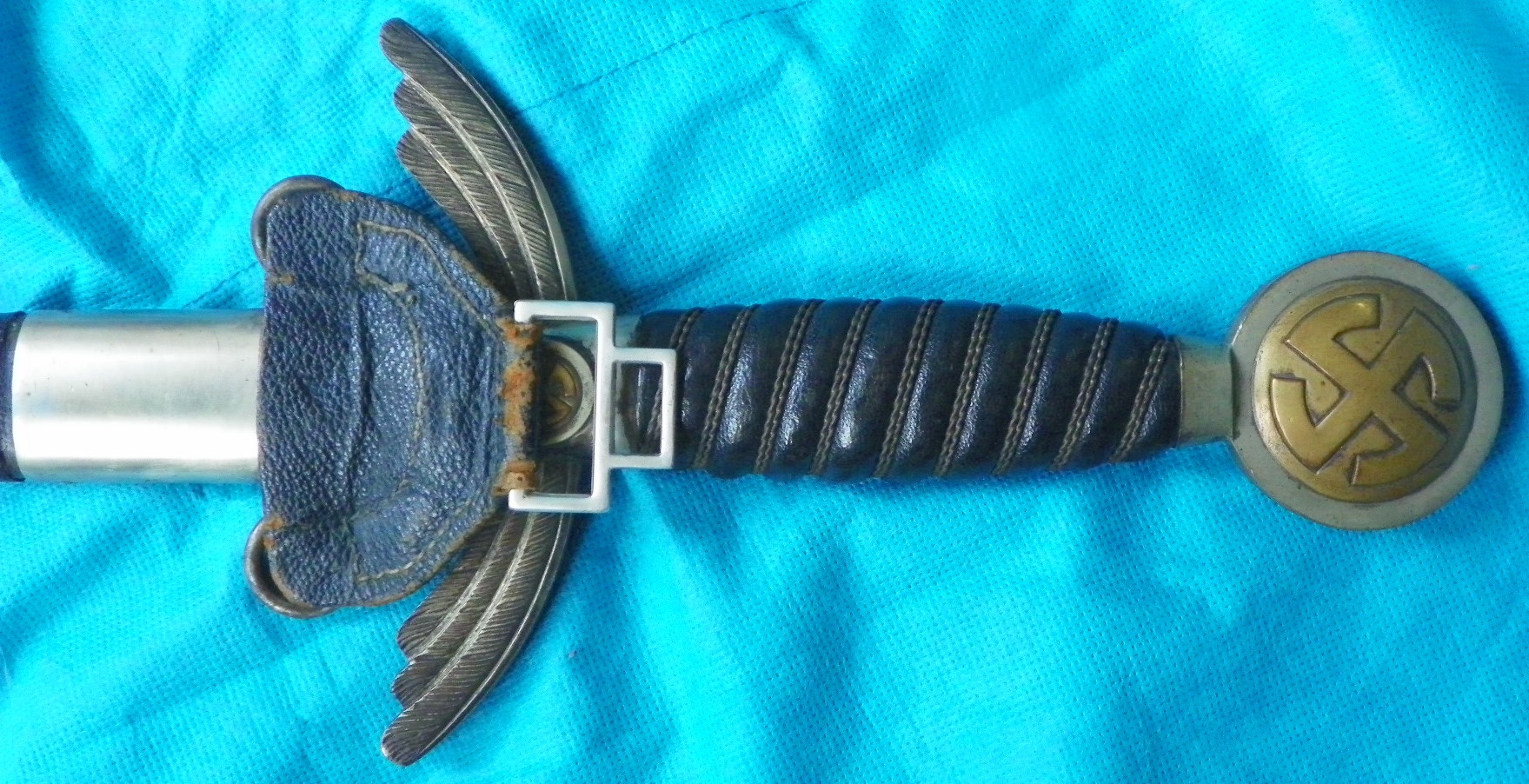 1. LUFTWAFFE SWORD W/ HANGER
by Paul Weyersberg. Plated blade with Weyersberg Trademark and Eagle 5 Waffenamt in excellent condition with only a couple very minor edge dings. Nickel fittings with brass swastikas showing some age and tarnish. Nice leather and only one nail head size edge flake to scabbard seam.
Price is $1275.00 plus $25 shipping.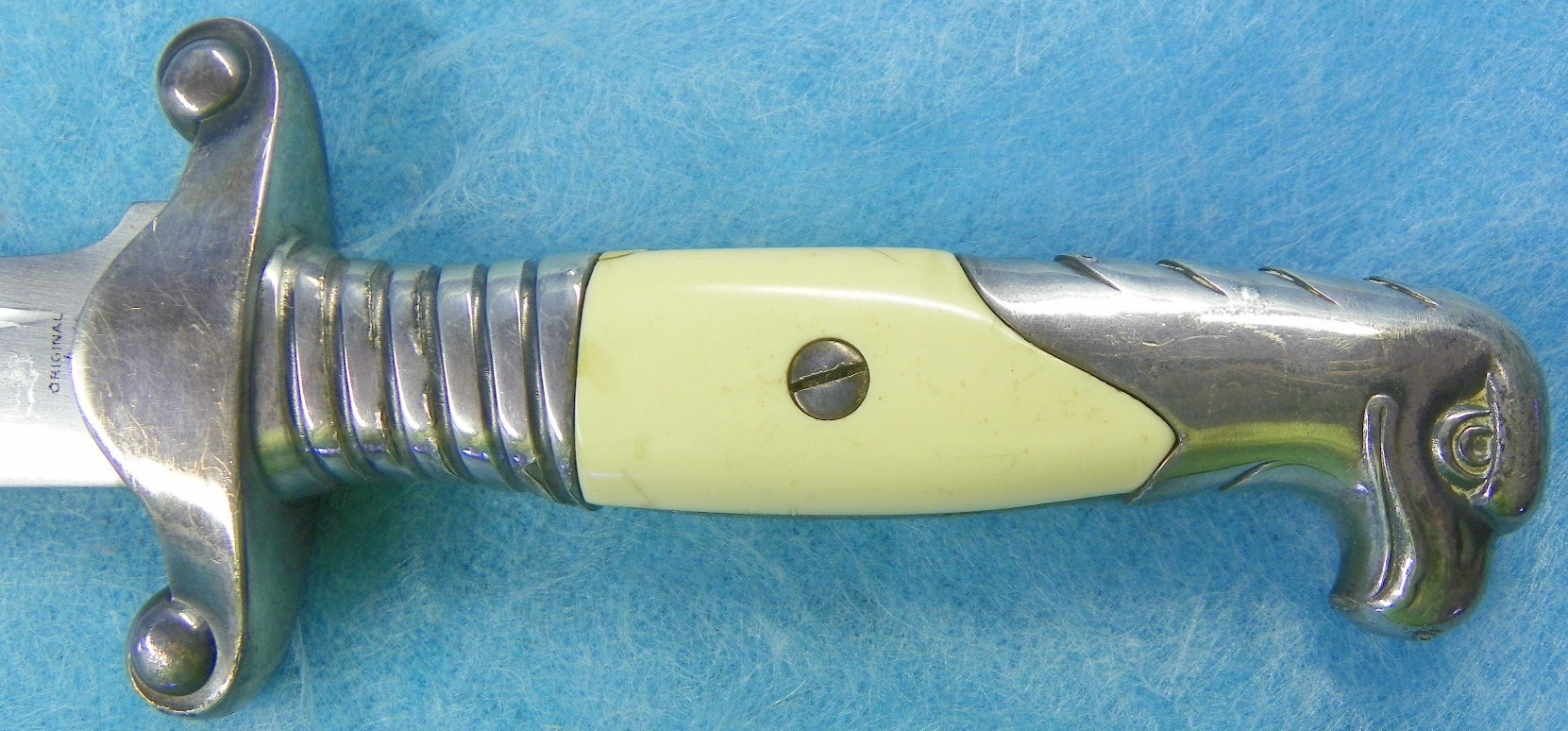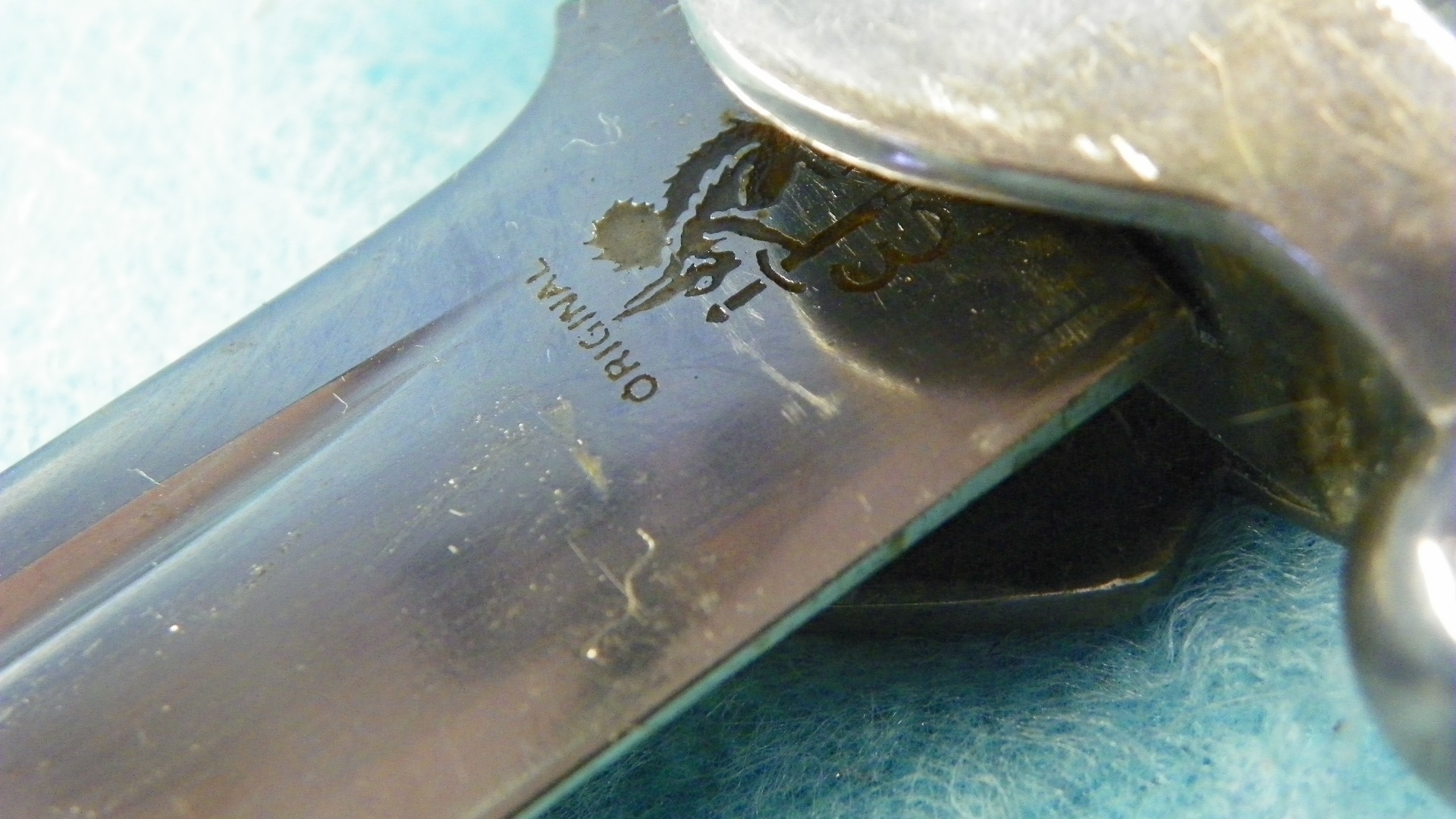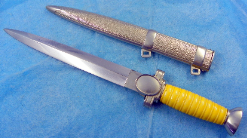 13. EARLY SLANT GRIP GERMAN ARMY DAGGER BY WKC. Near mint blade with nice crossgrain polish with a couple of very minor edge nicks, nice slant
grip orange grip, dent free scabbard. Price is $750 plus $20 stateside
shipping