1. POLITICAL LEADERS BUCKLE in excellent condition and scarce maker
RZM M4/23. Nice gold finish and price is $135 plus $12 shipping
2. LUFTWAFFE FIELD EM BUCKLE. Dark blue painted finish grades 60%
and dent free. Price is $110 plus $12 shipping stateside
3. NICE DLV EM BELT BUCKEL.. EARLY TYPE WITH BLACK PAINTED SWASTIKA.
Near mint condition and no damage. Price is $165.00 plus $11 shipping stateside
4. GERMAN ARMY EM BUCKLE. Aluminum green painted grades 30% and dent free. Price is $95 plus $12 shipping statesidee
5. HITLER YOUTH EM BUCKLE. Injection molded type marked RZM M4/38 greycolor and in very good to excellent condition. Price is $75 plus $5shipping stateside
6. VETERAN'S STAHLHELM BUCKLE (LARGE HELMET VARIETY)
Solid brass buckle with FRONT HEIL and Large Size Helmet. In choice
near mint condition sand priced at $145 plus $10 stateside shipping.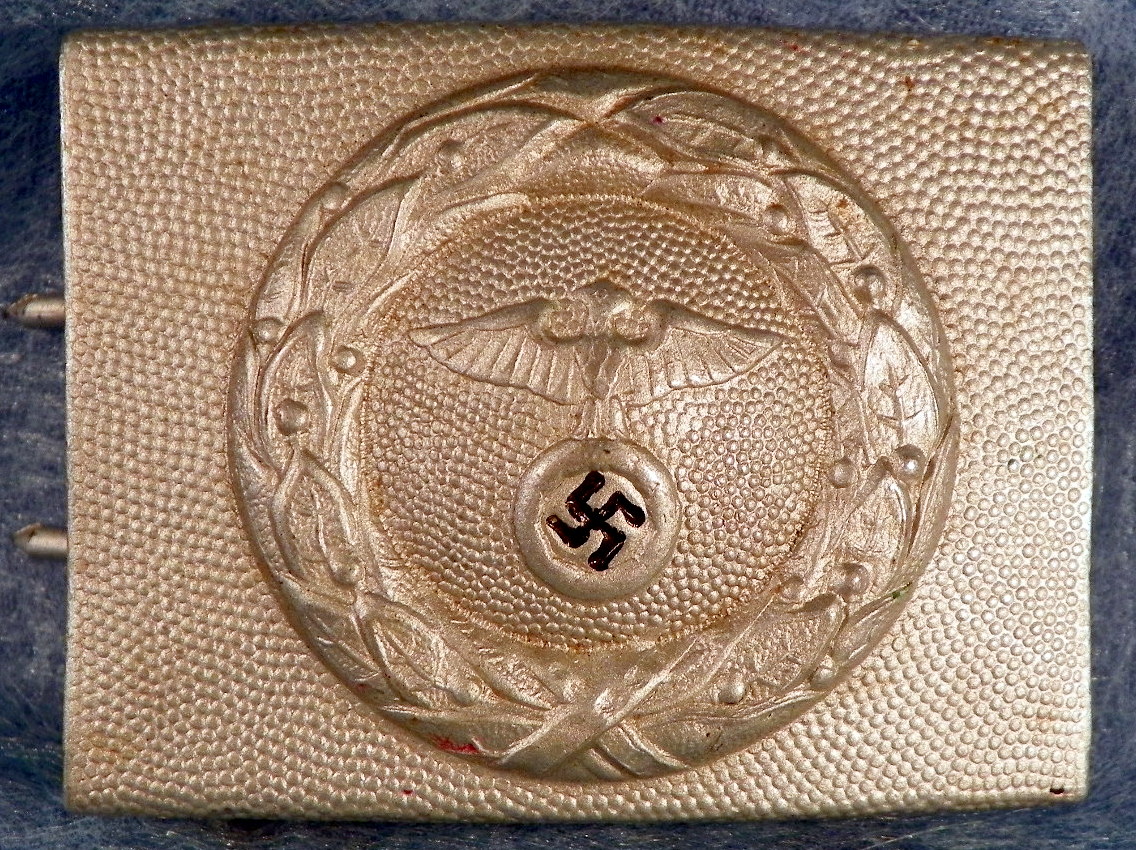 7. EARLY SMALL PANTS SIZE SA STYLE HJ BUCKLE. This buckle is choice near mint/ mint with all silver plating on disc (unusual). Price is $175 plus $11 shipping stateside
8.LUFTWAFFE EM BUCKLE
Gray type with Luft eagle oval attached with 4 tabs. Good detail and no
dents in very good condition. Has vet's name on old tag.
Price is $95 plus $12 stateside shipping.
9. VETERAN'S STAHLHELM FRONT HEIL EM BRASS BUCKLE. Excellent
condition with minor shallow dent to helmet rondell. Price is $140 plus
$11 stateside shipping
10. LABOR CORPS EM BUCKLE AND BELT CATCH. Aluminum and well marked and dated 36 Steinhauer & Luck marked in very good condition. Catch is dated 38. Price is $110 plus $12 stateside shipping
11.SA BUCKLE. Brass 2 piece Buckle with period German repair (added brass catch from a WW1 Helmet chinstrap buckle-unusual). Price is $65 plus $12 stateside shipping.e